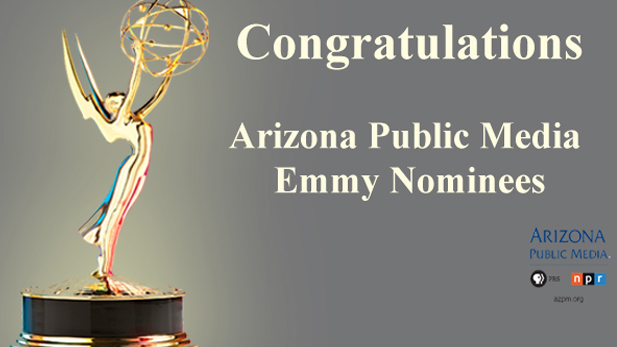 Seventeen nominations were made for AZPM productions and thirty AZPM staff members were nominated to receive awards. In addition, the Governors' Award will be made to AZPM for the 2016 documentary production,
Passing On
. The Governors' Award is the highest and most prestigious award made by the Governors of the Rocky Mountain Chapter of the National Academy of Television Arts and Sciences (NATAS).
AZPM Executive Producer John Booth, will be inducted into the NATAS Silver Circle at the Emmy Awards ceremony on October 8th, recognizing more than a quarter century of service to the industry, the majority of which has been in the Rocky Mountain region.
2016 National Academy of Television Arts and Sciences – Rocky Mountain Chapter Governors' Award
Passing On
AZPM Emmy Nominations:
ARTS/ENTERTAINMENT - PROGRAM FEATURE-SEGMENT
Teré Fowler Chapman
Andrew Brown
Sandra Westdahl

CRIME - NEWS SINGLE STORY/NEWS FEATURE/PROGRAM FEATURE
The Detective
Gisela Telis
Steve Riggs

EDUCATION/SCHOOLS - PROGRAM FEATURE/SEGMENT/PROGRAM SPECIAL
A Veteran's Story
Gisela Telis
Nathan Huffman
HISTORIC/CULTURAL-NEWS SINGLE STORY/SERIES/FEATURE
Art Brown
Andrew Brown
HISTORIC/CULTURAL – PROGRAM FEATURE/SEGMENT/PROGRAM SPECIAL
New Americans
Mitchell Riley
HUMAN INTEREST – PROGRAM FEATURE/SEGMENT
Flags for the Flagless
Antonio Paniagua
Robert Barber
Andrew Brown
Sandra Westdahl
StoryCorps Listens to Tucson
Mark McLemore
Sandra Westdahl
SOCIETAL CONCERNS – PROGRAM FEATURE/SEGMENT/PROGRAM SPECIAL
Sheri's Fight
Gisela Telis
Nathan Huffman
Robert Lindberg
TEEN (13 AND UP) – PROGRAM FEATURE/SEGMENT/PROGRAM SPECIAL
Mariachi Aztlán
Mitchell Riley
DOCUMENTARY - TOPICAL
Passing On
Thomas Kleespie
Steve Riggs
Steve Bayless

MAGAZINE PROGRAM - FEATURE/SEGMENT
Geneva and Hershey
Mitchell Riley
Remembering Mukhi Singh
Mitchell Riley
Sandra Westdahl
MAGAZINE PROGRAM - PROGRAM/SPECIAL
Stories from the Borderlands
Nancy Montoya
SPECIAL EVENT COVERAGE (OTHER THAN NEWS OR SPORTS) LIVE OR EDITED
Arizona Illustrated Presents…Behind the Scenes at Antiques Roadshow in Tucson
John Booth
Andrew Brown
Gisela Telis
Nathan Huffman

TALENT PERFORMER/NARRATOR
Arizona Illustrated Presents…Behind the Scenes at Antiques Roadshow in Tucson
Tom McNamara
PHOTOGRAPHER – PROGRAM (NON-NEWS)
Lightning Photography
Andrew Brown