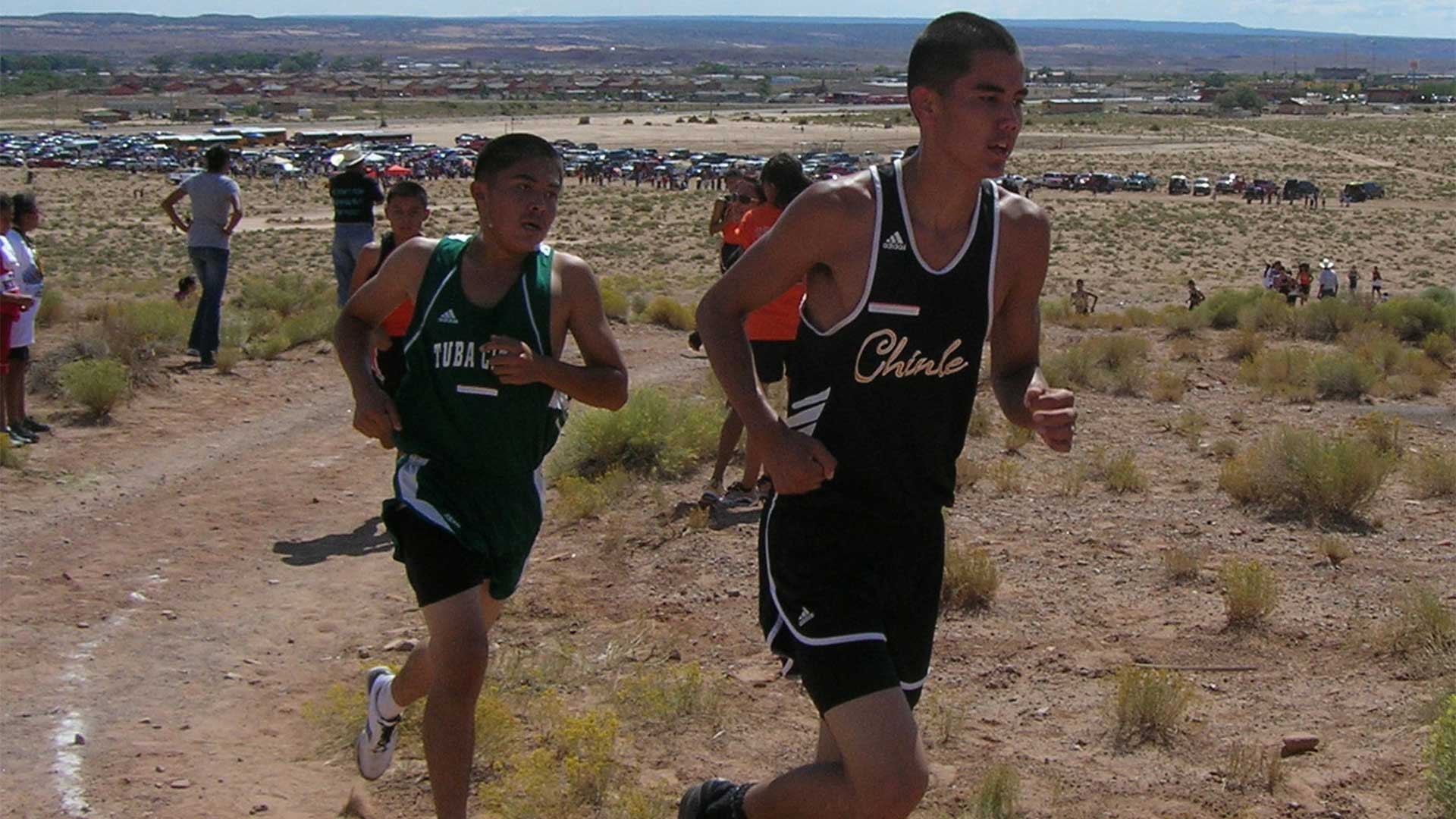 RACING THE REZ offers a rare view into the surprising complexity and diversity of contemporary Navajo and Hopi reservation life, from the point of view of five teenage boys. (PHOTO: 2012 Wolf Hill Films)
Vision Maker Media continues its 40th anniversary celebration with four films streaming in April as part of its collection of 40 films available for free streaming through Aug. 7, 2017. Each week a different film will be available on visionmakermedia.org and americanarchive.org
May 2 - Racing the Rez

May 9 - The Thick Dark Fog

May 16 - Looking Toward Home

May 23 - Hand Game

May 30 - Choctaw Code Talkers


RACING THE REZ
In the rugged canyon lands of Northern Arizona, Navajo and Hopi cross-country runners from two rival high schools put it all on the line for Tribal pride, triumph over adversity and state championship glory. Win or lose, what they learn in the course of their seasons will have a dramatic effect on the rest of their lives. This film moves beyond Native American stereotypes of the past and present by delving deep into the daily grind of these Native teenagers. You'll witness these boys striving to find their place among their Native people and the American culture surrounding them.
Producer: Brian Truglio
THE THICK DARK FOG
Walter Littlemoon, a Lakota author, and public speaker, attended a federal Indian boarding school in South Dakota 60 years ago. The mission of many of these schools in 1950 was to "kill the Indian and save the man." The children were not allowed to speak their language or express their culture or Native identity in any way. This is the story of how Littlemoon confronted his past so that he could renew himself and his community.
Producers: Jonathan Skurnik, Randy Vasquez, and Brian Wescott
LOOKING TOWARD HOME
This film shows how government relocation programs in the 1950s enticed significant numbers of Native Americans to leave the reservation for life in major cities such as Los Angeles, Chicago, New York, and the San Francisco Bay Area. The life and times of urban Indians are shown primarily through the eyes of these individuals and subsequent generations as they maintain their tribal identity far away from the culturally nurturing climate of the reservation.
Producers: Conroy Chino (Acoma Pueblo) and Beverly Morris (Aleut)
HAND GAME
Explore the mythic and historic roots of contemporary gambling in the Northwest Native Society through a look at the traditional hand game (also called "stick game" or "bone game"). Traveling from reservation to reservation and meeting engaging and colorful players, the filmmakers show how traditional ways of thinking are alive today in Indian Country. Get an inside view of an ancient form of gambling that combines strategy, wit, and skill.
Producer: Larry Johnson
CHOCTAW CODE TALKERS
In 1918, not yet citizens of the United States, Choctaw members of the American Expeditionary Forces were asked by the government to use their Native language as a powerful tool against the German Forces in World War I, setting a precedent for code talking as an effective military weapon and establishing them as America's Original Code Talkers.
Producers: Gale Anne Hurd and Valerie Red-Horse (Cherokee)
---
About 40 Years. 40 Films. 40 Weeks.
The same year our nation celebrated its bicentennial and President Ford proclaimed a week in October as "Native American Awareness Week," six Native producers in public television met to charter the Native American Public Broadcasting Consortium (NAPBC), later known as Native American Public Telecommunications (NAPT) and now Vision Maker Media.

In these 40 years, our organization has created more than 500 films, awarded $11 million to independent producers and held hundreds of film-screening events across the nation. In celebration of Vision Maker Media's 40th anniversary, a collection of 40 films will be available for free streaming through Aug. 7, 2017.

About Vision Maker Media
Vision Maker Media is celebrating 40 years as your premier source for quality American Indian and Alaska Native educational and home videos. All aspects of our programs encourage the involvement of young people to learn more about careers in the media--to be the next generation of storytellers. Vision Maker Media envisions the world changed and healed by understanding Native stories and the public conversations they generate.

With funding from the Corporation for Public Broadcasting (CPB), Vision Maker Media's Public Media Content Fund awards support to projects with a Native American theme and significant Native involvement that ultimately benefits the entire public media community. Vision Maker Media, a nonprofit 501(c)(3) empowers and engages Native People in telling stories. visionmakermedia.org

About The American Archive of Public Broadcasting
The American Archive of Public Broadcasting seeks to preserve and make accessible significant historical content created by public media and to coordinate a national effort to save at-risk public media before its content is lost to posterity. americanarchive.org