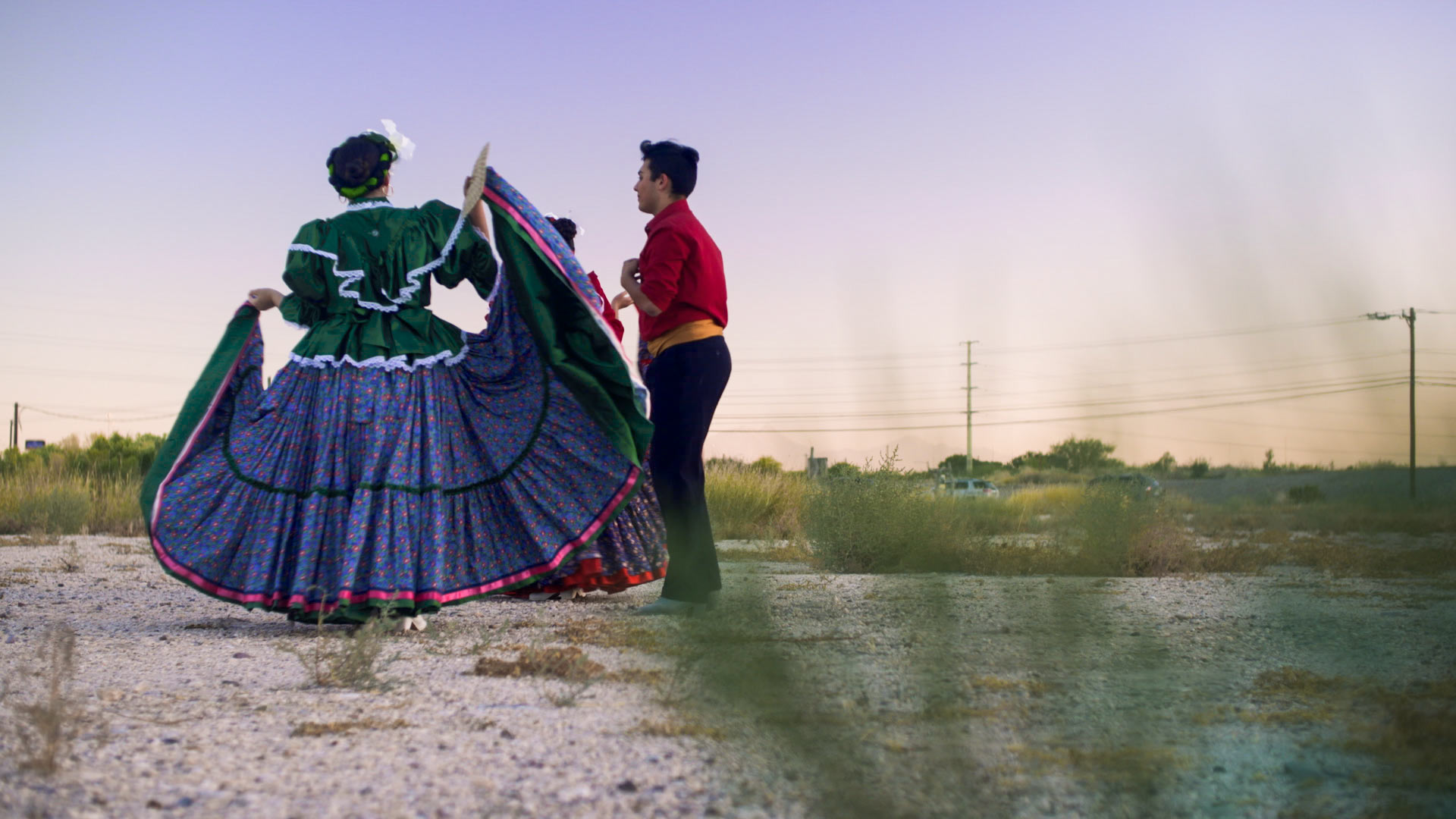 Folklórico dancers in Tucson, Arizona, 2017.
Arlene Islas, AZPM
From September 15 - October 15, Arizona Public Media celebrates Hispanic Heritage by featuring a special programming lineup on PBS 6 and PBS 6 PLUS. Viewers have an opportunity to explore the vibrant history as well as the political, social and cultural contributions of Hispanics to society throughout generations.
Television highlights include:
RED denotes "new" program.
Full schedules are available online.
List includes first air only. See schedule for repeats tv.azpm.org.

Darkness into Light
(PBS 6 PLUS: Saturday, September 15th from 2 – 5 pm)
Classic and vibrant, DARKNESS INTO LIGHT is a series of three documentaries filmed on location in several Mexican states. Each film is complete in itself, but together they present the Mexican people as they have persisted in their spiritual journey from pre-Christian times until today. Narrated by Edward James Olmos.

American Masters: Pedro E. Guerrero, A Photographer's Journey
(PBS 6 PLUS: Saturday, September 15th at 10:30 pm)
Discover the life and work of Mexican-American photographer Pedro E. Guerrero, who collaborated with Frank Lloyd Wright and sculptors Alexander Calder and Louise Nevelson. A co-presentation of VOCES and American Masters.

Barrios and Barriers: The Tucson Civil Rights Era
(PBS 6: Sunday, September 16th at 12:30 pm)
This documentary explores Tucson's Civil Rights struggle during the mid-twentieth century, telling stories of discrimination through a collection of personal experiences and triumphs drawn from the lives of several Tucson residents.

Rise and Fall of the Brown Buffalo
(PBS 6: Sunday, September 16th at 1 pm)
The life of radical Chicano lawyer, author, and countercultural icon, Oscar Zeta Acosta is examined.

POV: Brimstone & Glory
(PBS 6: Sunday, September 16th at 2 pm)
The National Pyrotechnic Festival in Tultepec, Mexico, is the site of a festivity unlike any other in the world. For the three-quarters of Tultepec residents who work in pyrotechnics, the 10-day celebration anchors their way of life.

Antiques Roadshow: Celebrating Latino Heritage
(PBS 6: Monday, September 17th at 8 pm)
Discover amazing items with connections to Latin American history and culture, including a treasure with an updated appraisal of as much as $2.2 million, now the highest-valued items in the entire "Roadshow" archive.

Ruby's Studio: The Feelings Show (Spanish)
(PBS 6 PLUS: Thursday, September 20th at 10:30 am)
"Ruby's Studio: The Feelings Show" helps young children understand, appropriately express, and move through their big feelings. Featuring curriculum guided by child development expert Betsy Brown Braun.
Skills explored: How to identify feelings and name them; Expressing emotions effectively through words; Coping with difficult feelings like anger and frustration; How to better understand ourselves and others.

Voces on PBS: Now en Espanol
(PBS 6 PLUS: Thursday, September 20th at 1 pm)
Explore the ups and downs of being a Latina actress in Hollywood through the lives of the five dynamic women who dub "Desperate Housewives" into Spanish for American audiences.

Pati's Mexican Table, Season 3
(PBS 6 PLUS: Weekdays, September 24th at 9:30 am)
PATI'S MEXICAN TABLE brings authentic Mexican flavors, colors, textures, and warmth into American kitchens. A former policy analyst focused on Latin American politics and history, Pati Jinich is a chef, cooking teacher, food writer and mother of three whose true passion lies in sharing the tastes of her childhood and culinary adventures in her native country.
In each episode, Pati embarks upon an exciting and entertaining journey, where each dish serves as a point of departure into Mexico's rich history and culture, Pati's personal experiences, and her ongoing conversations with cooks in both Mexico and the United States.
Each half-hour highlights a singular Mexican food - from familiar ingredients like vanilla, avocado, and chorizo to the mysterious grains used by the Aztecs and the adventurous and trendy cuisine found across Mexico today. From traditional takes on tomatillos to modern spins on huevos rancheros, Pati inspires viewers to make great Mexican dishes in their own homes.

Mexico—One Plate at A Time w/Rick Bayless, Season 11
(PBS 6: Weekdays, September 24th at 11 am)
In MEXICO - ONE PLATE AT A TIME WITH RICK BAYLESS, the beloved chef and restaurateur seamlessly weaves together techniques, recipes, cultural musings and off-the-wall surprises. This season Rick presents start-to-finish, stress-free, Mexican-inspired fiestas packed with creativity, color, and flavor.
Throughout the series, Rick translates his Mexican travel adventures into unforgettable parties from intimate fireside suppers and casual backyard cocktails with friends to big, boisterous bashes for 25. Rick also suggests clever and practical ideas to make each party special, like creating signature drinks for the occasion, serving ceviche in glass votive holders and transforming supermarket salad bar items into a hip Mexican crudites platter. And to help set the mood, he offers party playlists featuring his favorite musical finds and gardening tips for growing one's own ingredients.

Hemingway in Cuba
(PBS 6 PLUS: Thursday, September 27th at 1 pm)
The story of Ernest Hemingway's 30-year love affair with the West Indies republic is recounted in HEMINGWAY IN CUBA. Cuba captured Ernest Hemingway's fertile imagination and inspired him to create now-legendary fictional characters: Harry Morgan of To Have and Have Not, Thomas Hudson of Islands in the Stream and Santiago of The Old Man and the Sea.
The program travels to Cuba to capture Hemingway's old haunts - many of which remain unchanged - and explores Hemingway's real-life adventures in Cuba, from his passion for marlin fishing and safari hunting, as well as the influence of his wives and lovers on his life and work.
HEMINGWAY IN CUBA presents archival footage and includes interviews with Cuban scholars and Hemingway biographers who discuss how Cuba's culture, religion, and even its volatile politics influenced this legendary American author.

Joshua Bell's Seasons of Cuba
(PBS 6 PLUS: Friday, September 28th at 1 pm)
Witness award-winning, world-famous violinist Joshua Bell lead a LIVE FROM LINCOLN CENTER event with musicians from America and Cuba, building a bridge between cultures and artistry.

Beyond La Bamba
(PBS 6 PLUS: Saturday, September 29th at 4:30 pm)
Through the compelling story of a young musician who leaves home to follow his dreams, Mexico's 300-year-old son jarocho tradition comes vividly to life in Beyond La Bamba. From the rural roots of Veracruz to the urban rhythms of the Midwest, a family of iconic musicians forges a new life but remains true to their music.

Hispanic Heritage Awards 2018
(PBS 6 PLUS: Saturday, September 29th at 10 pm)
The highest honor in the US given by Latinx people to Latinx people, the Hispanic Heritage Awards recognizes excellence in variety of fields from arts to leadership to STEM and many more, and features special musical performances and celebrity appearances.


PBS 6 (KUAT 6.1 & 27.1)

Barrios and Barriers
Sep 16th at 12:30 pm

Rise and Fall of the Brown Buffalo
Sep 16th at 1 pm

POV: Brimstone & Glory
Sep 16th at 2 pm

Antiques Roadshow: Celebrating Latino Heritage
Sep 17th at 8pm

Mexico—One Plate at a Time w/Rick Bayless, Season 11
Sep 24th at 11 am (Weekdays)



PBS 6 PLUS (KUAT 6.3 & 27.3)

Darkness into Light
Sep 15th from 2 – 5 pm

American Masters: Pedro E. Guerrero: A Photographer's Journey
Sep 15th at 10:30 pm

Barrios and Barriers
Sep 15th at 11:30 pm

Get Ready to Rio w/Chef Hubert Keller
Sep 17th, 24th, 26th at 9 am

Moveable Feast w/Fine Dining
Sep 17th, 19th, at 9:30 am

Rise and Fall of the Brown Buffalo
Sep 17th at 1 pm

Ruby's Studio: The Feelings Show (Spanish)
Sep 20th at 10:30 am

Voces on PBS: Now en Espanol
Sep 20th at 1 pm

Antiques Roadshow: Celebrating Latino Heritage
Sep 23rd at 12 pm

Pati's Mexican Table Season 3
Sep 24th at 9:30 am (weekdays)

Get Ready to Rio! Special w/Hubert Keller
Sep 28th at 9 am

New Environmentalist: From Peru to Tanzania
Sep 25th at 11 am

Hemingway in Cuba
Sep 27th at 1 pm

Joshua Bell's Seasons of Cuba
Sep 28th at 1 pm

Beyond La Bamba
Sep 29th at 4:30 pm

Hispanic Heritage Awards 2018
Sep 29th at 10 pm