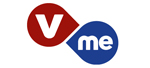 Vme TV — the first and only Spanish broadcast television network associated with public television stations — recently announced it is transitioning to commercial cable over the next year. Vme officials confirmed that the network is no longer making its programming available to Arizona Public Media and other public television stations as of 11:59 p.m. Friday, March 31, 2017.
Visit Vme online for station information.
Read more about Vme's transition here.