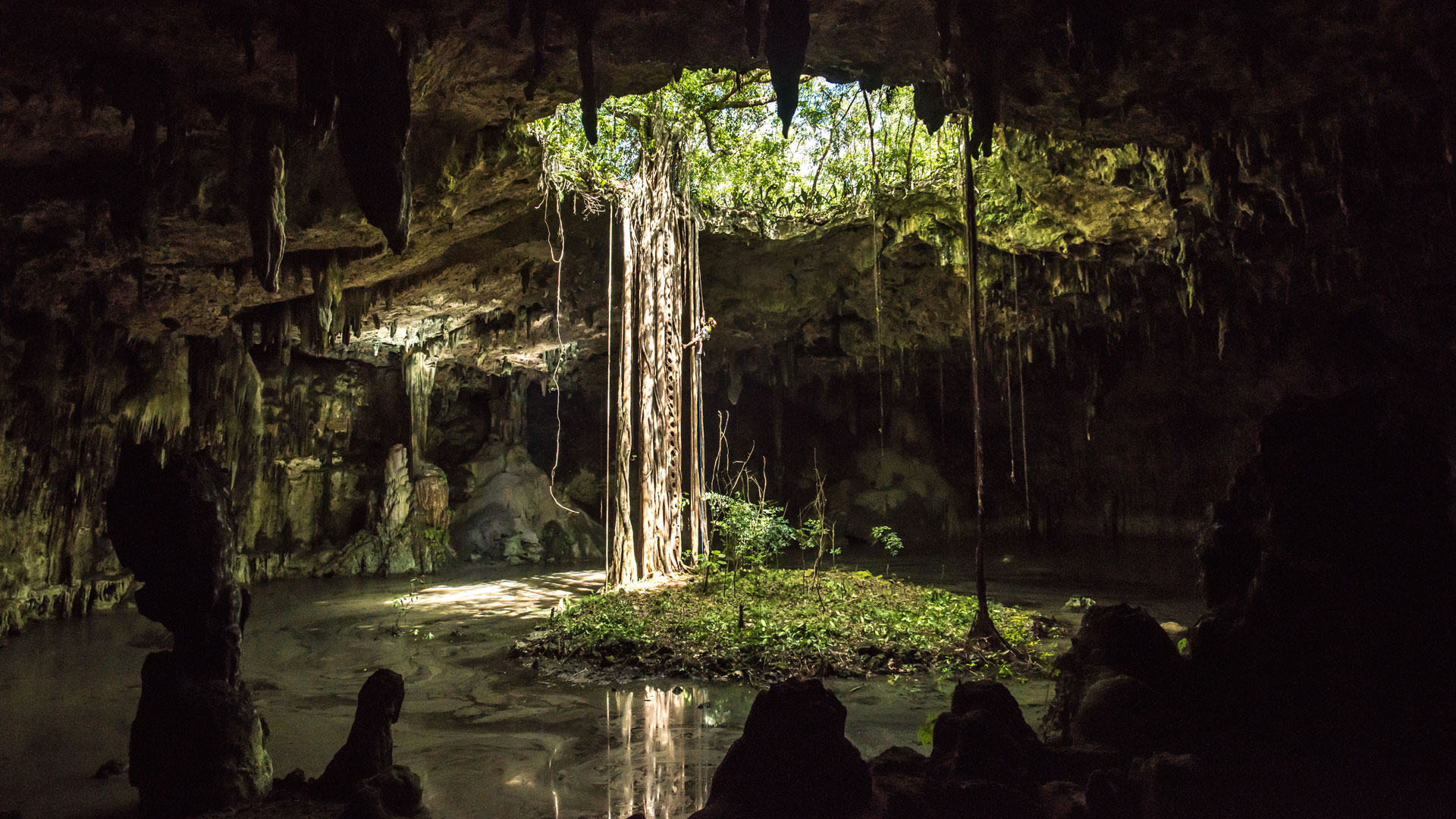 Catbej Cenote and its strangler fig, near Valladolid, Yucatan state.
Courtesy of Richard Kirby
This summer, the adventure continues as PBS 6 presents a lineup of programs that take viewers to some of the most remarkable destinations in the U.S. and abroad, from touring the vibrant immigrant communities in American cities with Chef Marcus Samuelsson in NO PASSPORT REQUIRED (Tuesdays, July 10-August 14) to climbing to the top of the Rocky Mountains, the Himalayas and the Andes in KINGDOMS OF THE SKY (Wednesdays, July 11-25).

In addition, viewers will visit places where human survival is pushed to the limits in EARTH'S NATURAL WONDERS (Wednesdays, July 11-25) and journey to the outer regions of the remote Australian wilderness in THE OUTBACK (Wednesdays, August 1-15). As if that weren't enough, audiences will explore streets, monuments and modern marvels in 10 THAT CHANGED AMERICA (Tuesdays, July 10-24) and journey deep into the depths of Mexico's tropical rainforests in WONDERS OF MEXICO (Wednesdays, August 1-15).

In honor of the centennial of Baseball Hall of Famer Ted Williams, AMERICAN MASTERS presents a new biography of the Boston Red Sox player who may have been the greatest hitter who ever lived. In partnership with Major League Baseball, the documentary not only reveals Williams' complicated relationships with family and friends but also explores the impact he has had on the current generation of MLB stars (Monday, July 23).
Drama brightens summer Sunday nights with the fifth season of "Endeavour" on MASTERPIECE (Sundays, June 24-July 29), and "Man in an Orange Shirt," a MASTERPIECE drama starring Vanessa Redgrave, airing during Pride Month (Sunday, June 17), while fan favorite THE TUNNEL returns for its final season (Sundays, July 1-August 5).

And what would summer be without THE GREAT BRITISH BAKING SHOW? PBS presents original judges Mary Berry and Paul Hollywood in a season never before seen in the U.S. The beloved judges test the culinary prowess of Britain's best amateur bakers with classic challenges (Saturdays, June 23-August 18).
Summer also brings the return of the BBC co-production CIVILIZATIONS, with four additional episodes that explore the power of art from past to present (Tuesdays, June 12-July 3).

View the full television schedule here.