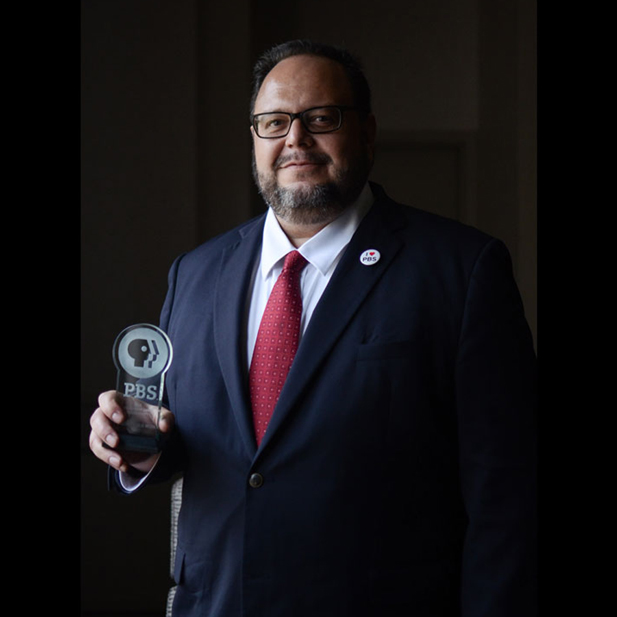 Enrique Aldana, AZPM's Director of Development

Greg Birman, PBS
Arizona Public Media Director of Development, Enrique Aldana, was honored with the PBS Philanthropy Award at the PBS Development Conference in Chicago last month. The award recognizes successful fundraising efforts that directly strengthen a station's financial sustainability.
Reduction or elimination of funding from the Corporation for Public Broadcasting is a very real concern for public media stations across the country. For many, a loss of these funds would be a catastrophic blow at best and potentially fatal at worst. As other stations considered how to remain viable in the event of losing funding from the CPB, Arizona Public Media was faced with an even greater reduction in funding of $2 million from the overall budget.
"Overcoming a budget cut of that size poses a significant challenge for any organization," said Jack Gibson, AZPM Chief Executive Officer. "That AZPM has been able to weather the storm is a testament to an outstanding team effort – one that could not have been successful without Enrique Aldana's leadership."
Aldana and his team channeled all of their creativity and resourcefulness and put a plan into place. The development department responded by further cultivating its strong support in the community, instilling "pride of ownership" in its Leadership Society and motivating its members to build a better southern Arizona.
AZPM engaged, empowered and mobilized key stakeholders to raise more money. From 2015 to 2017, AZPM increased fundraising revenue by 103%. As a result of these efforts, AZPM continues to benefit from a stronger bond between donors, station volunteer leaders and the community at large.
To find out more about how you can become involved in AZPM's mission to build a better Southern Arizona, visit support.azpm.org.