Tom Bateman stars as the enigmatic John Beecham, a handsome former soldier who has purchased the mansion, Beecham House, to begin a new life with his family in 19th century Delhi.
Greetings,

This month, Arizona Public Media (AZPM) wraps up its 60th Anniversary celebration as KUAT Channel 6, Arizona's first public television station, and the flagship station in AZPM turns 61. Also, this month, the highly anticipated new MASTERPIECE drama from Gurinder Chadha, director of Bend It Like Beckham, will premiere exclusively on AZPM Passport. Set in 1795, Beecham House follows John Beecham, a handsome former soldier who has purchased a magnificent mansion in India to begin a new life with his family. Shot largely on location in Rajasthan and Delhi in India, Beecham House recaptures the majesty of the old imperial capital. Starring Tom Bateman (Vanity Fair), Lesley Nicol (Downton Abbey), and Dakota Blue Richards (Endeavour) the series showcases the culture, grandeur, and unbridled ambition of one of the greatest civilizations on Earth at the end of the 18th century. The six-part epic will premiere March 1st on AZPM Passport, an added member benefit which provides extended access to a digital, on-demand library of PBS programs. The series will air on PBS 6 in early Summer, 2020. Learn more about becoming a member and AZPM Passport online or call our friendly membership services representatives at 621-1600.
PBS recently announced American Portrait, a digital-first, national storytelling project about what it really means to be an American today. PBS American Portrait begins as a platform for people to share photos, videos, and text submissions and capture the state and spirit of our nation. As PBS's most ambitious initiative to date, the project is envisioned to encompass publishing, short-form content, classroom engagement, a web miniseries, public art installations, live events, and, in January 2021, a nationally televised documentary series. I invite you to share your story at pbs.org/americanportrait. You can also find more information at the AZPM booth during the 2020 Tucson Festival of Books, March 14th-15th.
The Tucson Festival of Books returns to the University of Arizona campus this month. The fourth largest literary festival in the country, TFOB attracts more than 100,000 visitors to the University each spring. Book lovers and authors from across the U.S. come together to celebrate the written word. AZPM's presence at the festival this year includes photo booths and a prize wheel, station tours, opportunities to mingle with PBS 6, NPR 89.1, and Classical 90.5 broadcast talent, and multiple chances to meet your favorite PBS Kids characters throughout the day. Stop by and say hello in front of the Modern Languages Building (Booth #352A) from 9:30 a.m. - 5:30 p.m. on Saturday, March 14th and Sunday, March 15th. Click here for a festival map or download the festival app on iTunes, Google or Amazon.
Arizona Public Media's spring membership campaign runs through March 15th on PBS 6, and from March 16th through March 23rd on NPR 89.1 and Classical 90.5 with a combined goal of $323,000. I urge you to tune in to hear from community members how public media has affected their lives and how you can join them in supporting AZPM.
Thank you for your support which makes it possible for AZPM to bring the best in informative and educational programming to audiences throughout Southern Arizona.
Sincerely,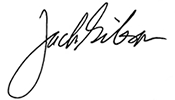 Jack Gibson
Chief Executive Officer