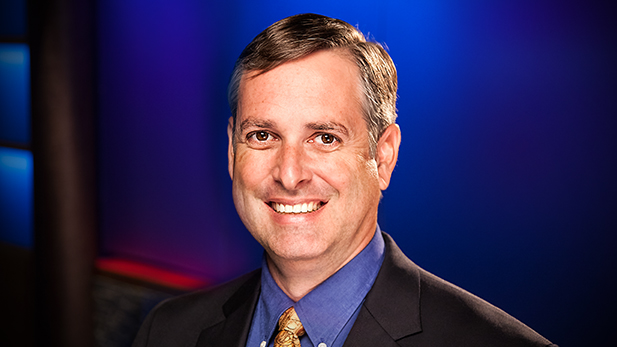 Christopher Conover
TUCSON, AZ – January 28, 2021 - Arizona Public Media (AZPM) announced today that veteran broadcaster and award-winning journalist Christopher Conover will lead the company's news organization. Conover has served as Interim News Director since October of last year.
"Christopher has the respect of the newsroom, the station, our audiences, and the community," said AZPM CEO Jack Gibson. "During his service as Interim News Director, he displayed the leadership, vision, and initiative required to move AZPM's newsroom forward."
Since coming to AZPM in 2005, Conover has become a familiar and trusted journalist to both radio and television audiences.
"In my time here, I've learned that Arizona Public Media is more than just radio stations, TV stations, and digital platforms; it is a part of the Southern Arizona community," said Conover. "I believe we have a responsibility not only to bring the audience the voices of its neighbors but also to serve as a trusted watchdog. Looking to the future, AZPM is poised to continue to reflect the voices of our community and to expand our audience, bringing the stories of southern Arizona to the world."
Conover previously served as AZPM's Interim News Director from 2013 to 2015. Prior to coming to AZPM, Conover held a variety of positions in Florida television and radio newsrooms in Miami and Tallahassee.
While at AZPM, Conover has also served as an Adjunct Professor at the University of Arizona School of Journalism.
In addition to leading the newsroom, Conover will continue to host The Buzz each week on NPR 89.1.
---
About Arizona Public Media:
Arizona Public Media (AZPM) is an editorially independent, nonprofit public service of the University of Arizona (UA) and provides three television program services (PBS 6, PBS 6 Plus, and PBS Kids), four radio services (NPR 89.1, Classical 90.5, Jazz 89.1 HD2 and the BBC World Service) and a variety of online program offerings. AZPM is funded by the generous support of annual and sustaining members, the business community through program underwriting, fee-for-service production activities, the Corporation for Public Broadcasting, and direct and in-kind support from UA. Arizona Public Media® and AZPM® are registered trademarks of the Arizona Board of Regents, which holds the FCC broadcast licenses for all AZPM stations for the benefit of the University of Arizona. More information about AZPM, including program schedules and Video-on-Demand offerings, can be found online at azpm.org.