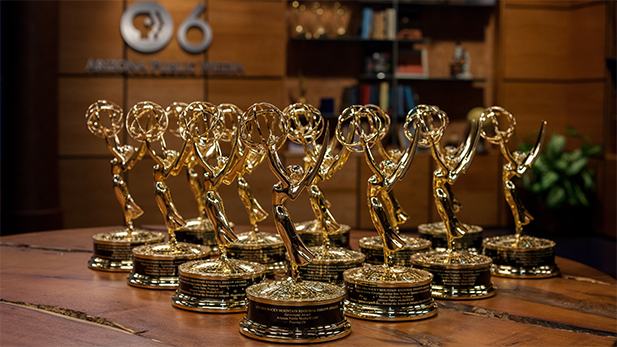 PHOTO: Malcolm Critcher, AZPM
TUCSON, AZ – October 11, 2016 – Arizona Public Media was honored with the prestigious 2016 Governors' Award and 12 individual Emmys® in four categories at the annual Rocky Mountain Southwest Chapter of the National Academy of Television Arts and Sciences (NATAS) Emmy Awards® Ceremony at the Talking Stick Resort in Scottsdale on Oct. 8.
AZPM staff received more nominations than any other station in Tucson and more than any other public broadcaster in the Rocky Mountain region, which includes Arizona, New Mexico, Utah, Wyoming and El Centro, Calif. AZPM also received the Governors' Award for the outreach and programs surrounding the original production, Passing On.
"I am proud of the talented team of AZPM producers, editors, reporters and videographers that bring these stories to life," said Jack Gibson, general manager of AZPM. "It is an honor to be recognized by our industry peers for the quality, original programming that we strive to produce."
AZPM Executive Producer, John Booth was also inducted into the NATAS Silver Circle for his 30+ years of television experience. The Silver Circle Award recognizes individuals who have worked in the industry for a minimum of 25 years, with the majority being spent in the Rocky Mountain Region.
AZPM received Emmy Awards in the following categories:
CRIME - NEWS SINGLE STORY/NEWS FEATURE/PROGRAM FEATURE
The Detective
Gisela Telis
Steve Riggs

HUMAN INTEREST – PROGRAM FEATURE/SEGMENT
Robert Barber
Andrew Brown
Sandra Westdahl
StoryCorps Listens to Tucson
Mark McLemore
Sandra Westdahl
MAGAZINE PROGRAM - FEATURE/SEGMENT
Remembering Mukhi Singh
Mitchell Riley
Sandra Westdahl

SPECIAL EVENT COVERAGE (OTHER THAN NEWS OR SPORTS) LIVE OR EDITED
Arizona Illustrated Presents…Behind the Scenes at Antiques Roadshow in Tucson
John Booth
Andrew Brown
Gisela Telis
Nathan Huffman

---
About AZPM
AZPM is an Emmy® award-winning, member-supported media organization serving all of Southern Arizona. AZPM has six public television channels and three radio stations, including PBS 6, PBS Kids and NPR 89.1. AZPM produces local content from its digital studios on the campus of the University of Arizona and is provided as a community service and educational resource. More information about AZPM, including program schedules and Video-on-Demand offerings, can be found online at azpm.org.

Arizona Public Media® and AZPM® are registered trademarks of the Arizona Board of Regents.

Twitter: @azpmnews, @azpm | Facebook: azpublicmedia | You Tube: arizonapublicmedia