Listen: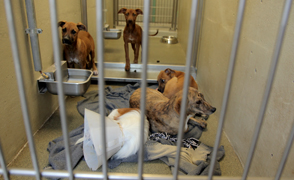 Dogs at the Pima Animal Care Center

Fernanda Echavarri
Pima County voters are deciding whether to raise their property taxes to expand the animal care center.
The Pima Animal Care Center takes in stray or unwanted animals, and promotes adoption. It was built in the 1960s, and has had no permanent upgrades since.
The county has a policy to save as many animals from being euthanized as possible, and that has led to overcrowding. So, the county wants voters to approve a $22 million upgrade to the facility to improve conditions and fund an expansion.
A property tax increase would pay for the work, and it would come to about $5 a year for every $100,000 of assessed value for a residential property.
Neal Cash, president and CEO of the Community Partnership of Southern Arizona, the regional behavioral health agency, said people should vote for the measure because animals help with therapy.
"It's not a big reach, I can tell you that, between supporting this initiative and the work that we do in the mental health system," Cash said.
In the voter-education pamphlet, 41 people or groups supported the proposal, and no one wrote in opposition. There is an opposition committee, called Stop Prop 415.
Attempts to reach the committee by phone and email were unsuccessful.