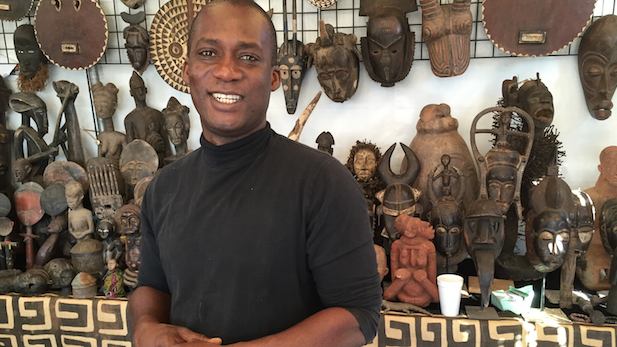 Sorakata Sylla comes from Ghana each year for the Gem and Mineral shows.

Vanessa Barchfield, AZPM
The African Art Village is a decades-old mainstay of the Tucson Gem, Mineral and Fossil shows each February.
Sorakata Sylla has made the annual trip from his home in Accra, Ghana, for the past 23 years to sell his wares at the show, at Interstate 10 and Starr Pass Road.
Carved masks and strings of beads hang inside his tent, which he calls A Touch of Africa. He also carries clothing, hats, drums and carved furniture from west and central Africa.
Sylla said the musical instruments are probably his most popular items, and other big sellers are beads, which range in price from tens of dollars to thousands. His Venetian beads, priced at $8,000 a strand, were made in Italy 400 years ago, and traded into West Africa, "for gold, slaves, anything they could get their hands on," Sylla said.
The Tucson show is important for Sylla's business – and it's not just the sales he makes during the two weeks. The show will fuel orders throughout the year, after he packs up and heads back to his family.
The African Village is open to the public every day from 7.30 a.m. until 7 p.m. through Feb. 15.