Watch the video of THE EAST TOWER, originally aired on ARIZONA ILLUSTRATED:
Work to restore the structural integrity of the Mission San Xavier del Bac has been going on for decades. Efforts during the 1950's and 60's involved, among other things, the use of cement and rubberized roofing paint, which failed.

Bob Vint has been the Preservation Architect at San Xavier del Bac for the past 25 years. He has seen the damage caused by the hard coat of cement applied in previous restoration efforts.
"The head of our masonry crew, Danny Morales, I've been with him when he'll open up a piece of wall with a hammer and chisel and just a spurt of red dust will come out, because the brick has disintegrated," Vint said.
"One thing we've learned is you need to use ancient materials for ancient buildings, you can't use modern materials, they end up doing more harm than good."
Listen to a radio adaptation as heard on Arizona Spotlight:
The folkloric ingredient, Nopal Cactus mucilage is one of those ancient materials that is being added to the traditional plaster of lime and sand.

"Essentially, it is a fluidifier, it makes the mortar handle better when the masons are putting it on the wall," Vint said. "I believe what it does is it slows the drying time of the lime plaster, if it drys to quickly it doesn't fully cure. I've visited other lime projects around the southwest that have failed, because the lime didn't cure and it fell off the wall. I think cactus glue helps us with that, it's very widely practiced throughout Mexico."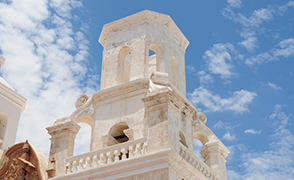 The east tower at San Xavier Mission. Restoration efforts are being funded through The White Dove Campaign.

Mitchell Riley
Architect Bob Vint learned of the technique from Jorge Olvera, the renowned Mexican scholar and architect, who helped find the remains of Father Francisco Kino, the Jesuit priest who founded Mission San Xavier del Bac.
Restoration of the west tower was completed in December 2008. Now, plans are focusing on the east tower.
For the past two decades funding for work at the Mission has come from donations to Patronato San Xavier, a non-sectarian non-profit organization founded by Southern Arizona community leaders. Their mission is promote the preservation and restoration of Mission San Xavier del Bac.
Patronato members estimated restoration of the east tower will cost $3 million. They've dubbed this funding effort The White Dove Campaign. Click here to donate.
Radio news story about The White Dove Campaign: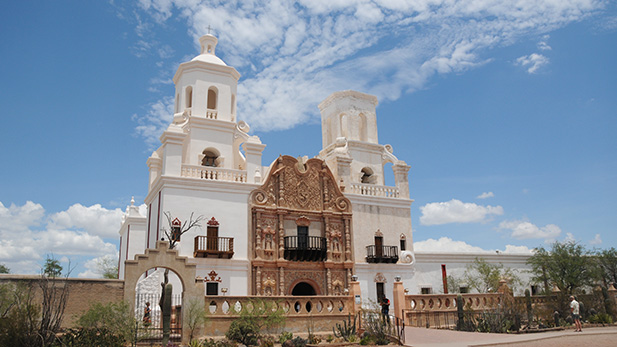 Mission San Xavier del Bac

Mitchell Riley