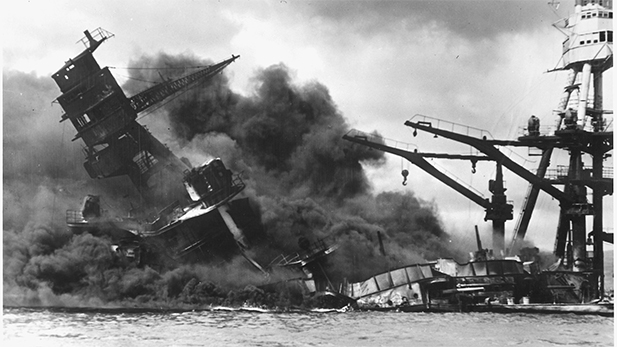 The battleship USS ARIZONA sinking after being hit by Japanese air attack on Dec. 7,1941.

Courtesy of National Archives
By Michael Hernandez
Listen:
The University of Arizona will dedicate a memorial of the USS Arizona this weekend to commemorate the 75th anniversary of the attack on Pearl Harbor.
The UA has worked this fall to build a memorial of the USS Arizona, one of eight battleships attacked at Pearl Harbor on Dec. 7, 1941.
Located on the school mall, the memorial is a full-scale outline of the ship's deck and displays bronze medallions to honor each of the 1,177 service members who died that fateful day.
Jane Prescott-Smith from University Libraries helped plan the details for the dedication ceremony. She said she hopes students who walk past the memorial stop to reflect on the sacrifices people before them made.
"I hope that as they cross from one side to the other that they'll see some of the dates on those medallions and realize just how young the men were who lost their lives," Prescott-Smith said.
The Pearl Harbor Remembrance Ceremony will begin Sunday at 3 p.m. with a flyover led by the 47th Fighter Squadron at Davis-Monthan Air Force Base.
Visitors can also view The Life and Legacy of the USS Arizona exhibit in Special Collections at University Libraries through Dec. 23. The library created a companion online exhibit.
Michael Hernandez is a University of Arizona journalism student and an intern at Arizona Public Media.