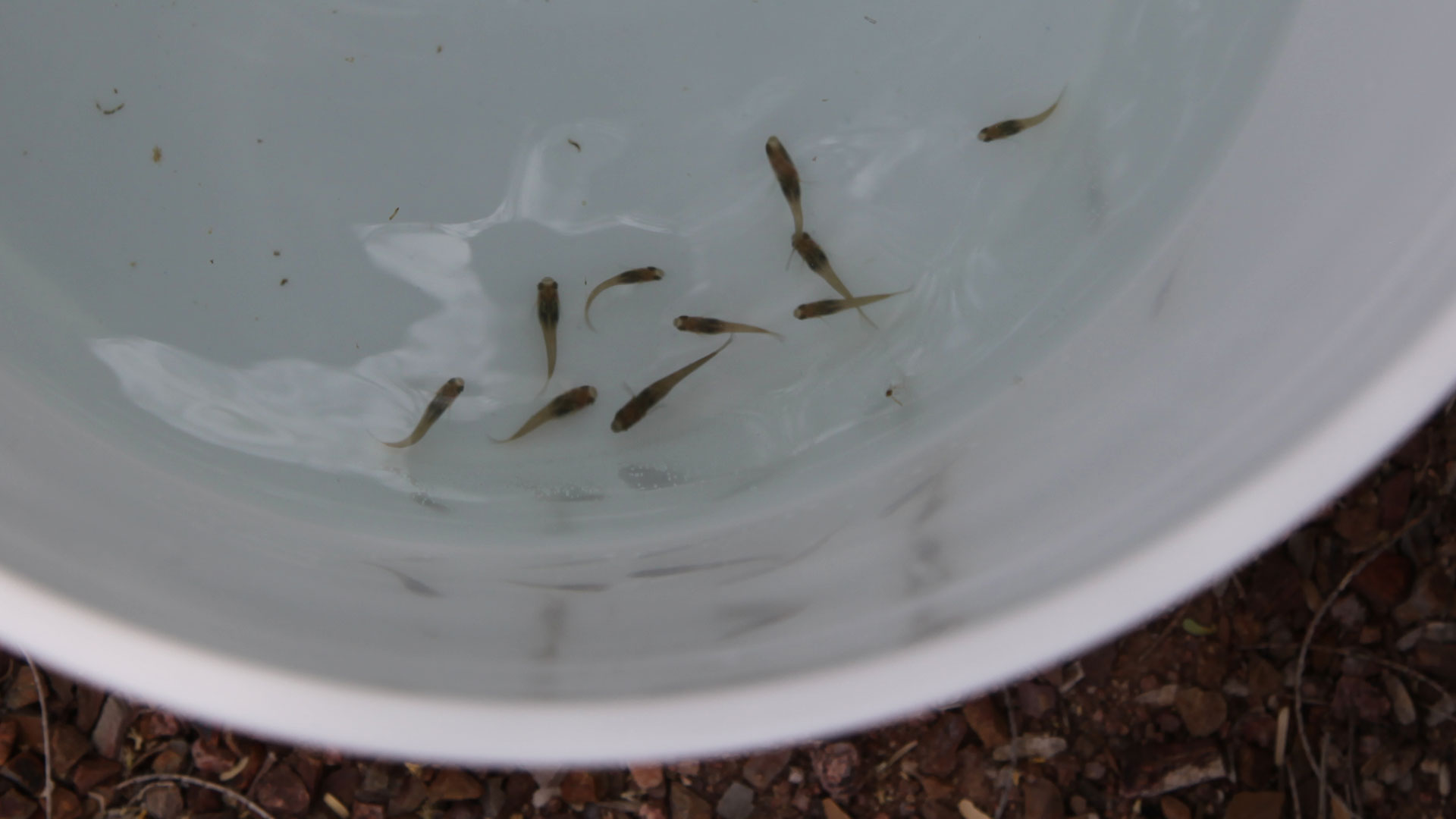 The Gila topminnows are bred in two county aquariums and transported in an aerated bucket.
Tony Paniagua, AZPM
The Pima County Health Department planted a native fish in an abandoned swimming pool on the Tucson metro area's northeast side Thursday so it can eat mosquito larvae to reduce numbers of the flying pest.
Ten Gila topminnows, a tiny fish on the endangered species list, went into an algae-green pool in an abandoned house's back yard.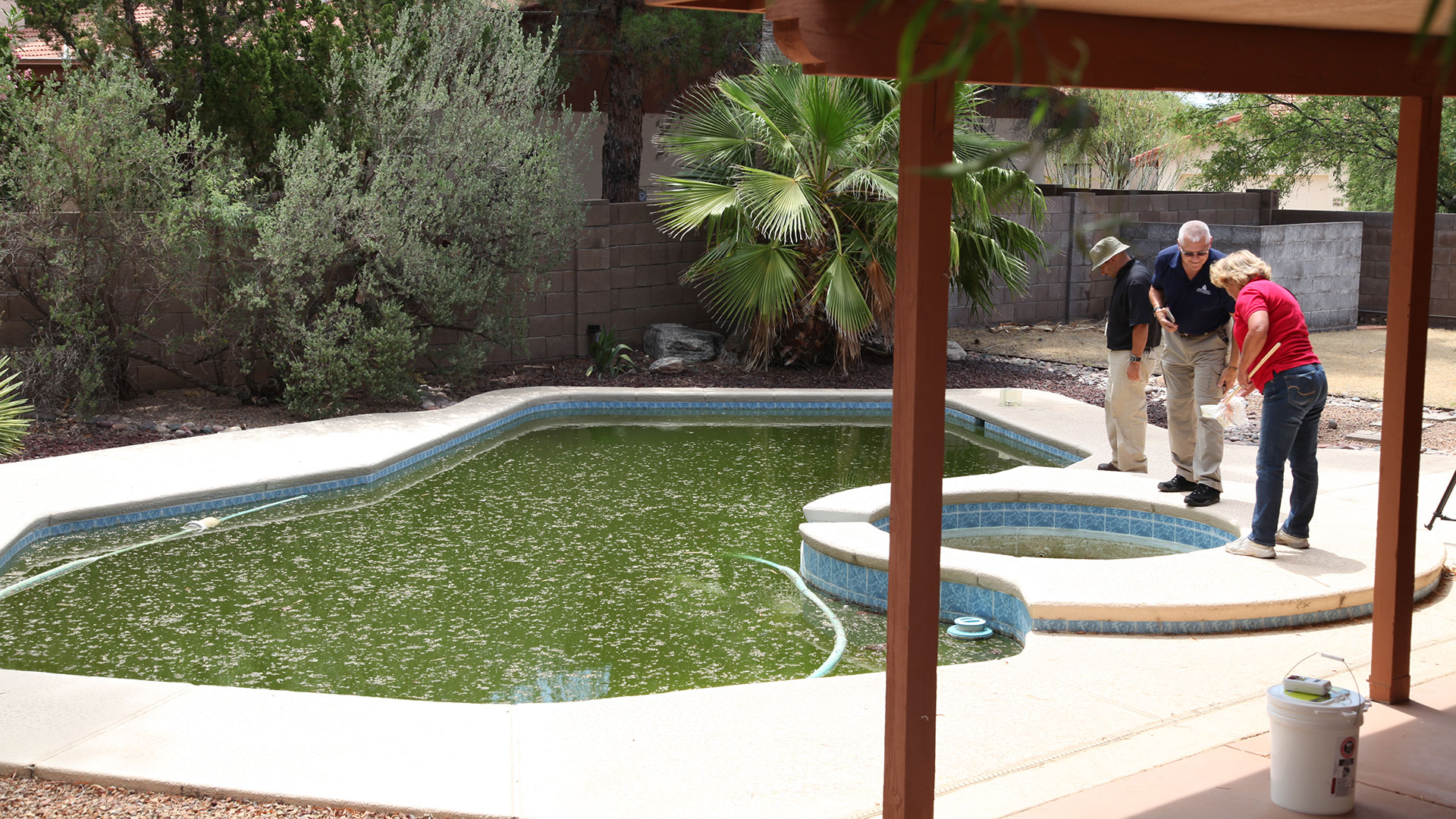 The pool and spa in the vacant pool have turned green with algae and are being used by mosquitoes.
Tony Paniagua, AZPM
"This is historical because it is the first, not only for Pima County but also in the state, where the Gila topminnow has been released for mosquito control," said David Ludwig of the county health department.
The county has been working with Arizona Game and Fish, U.S. Fish and Wildlife Service, the Phoenix Zoo and other agencies on the program.
After fielding complaints about mosquitoes in the northeast side neighborhood, experts determined the fish could be used to control mosquitoes.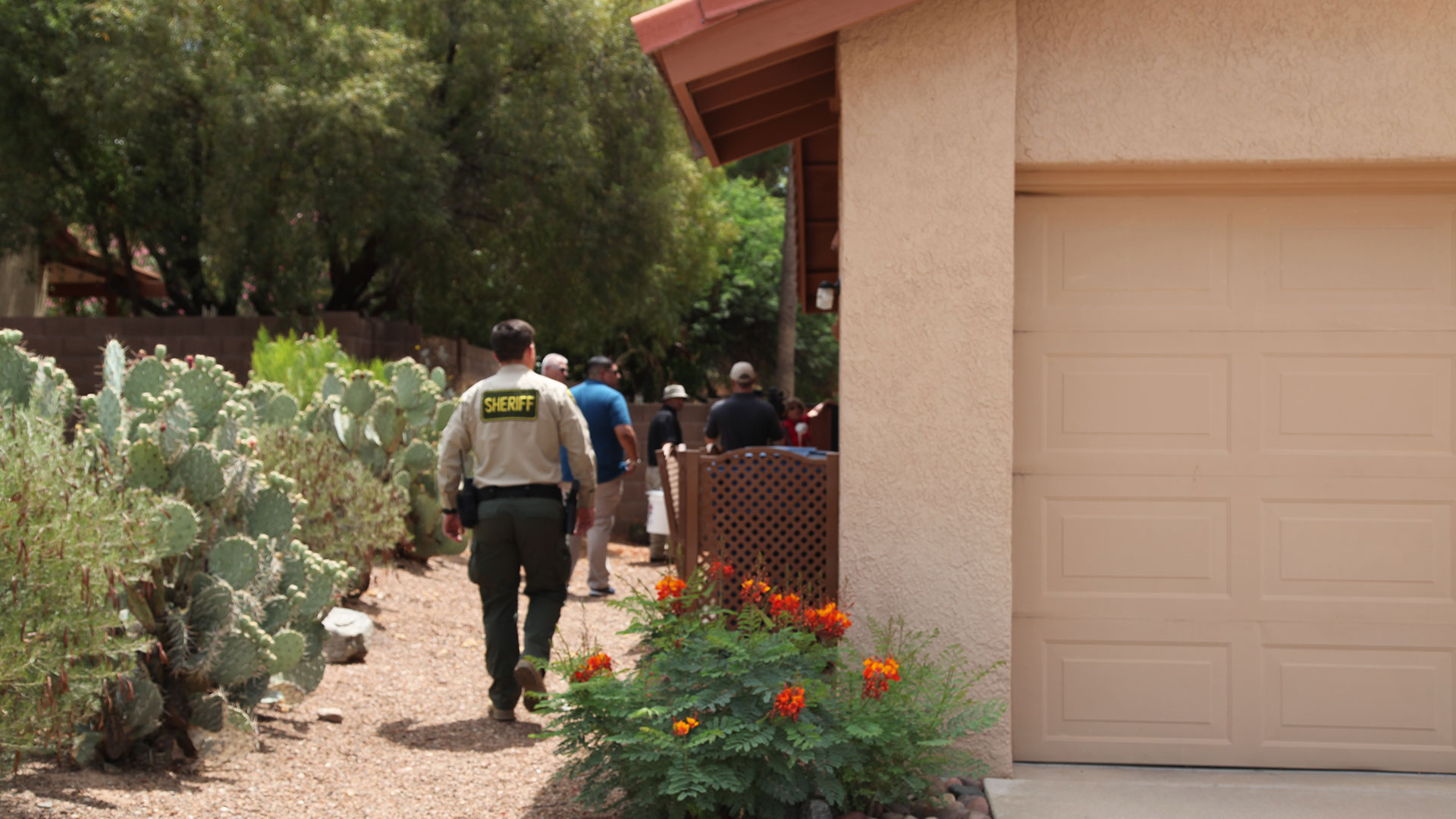 Health department officials obtained a search warrant before releasing the fish into the backyard pool and spa.
Tony Paniagua, AZPM
But first, they had to obtain a search warrant from a Pima County judge to enter the property. They waited for sheriff's deputies before proceeding with the operation.
"What we're doing is looking to eliminate the mosquito breeding," Ludwig said, pointing out that the fish feeds on mosquito larvae, or eggs, which the insect lays in stagnant water.
Neighborhood resident Jeannette Walker said she was glad the county got involved because the abandoned pool led to a noticeable increase in the mosquito population.
"And you know, with the Zika virus and all that happening we don't want that," Walker said. "We don't want any calamity coming from someone's abuse of property ownership."
Walker said she thought the county was going to show up with chemicals instead of live animals, so she was pleasantly surprised when she saw the one- to two-inch native fish in a five-gallon bucket before they were put to work.
"I think any time we can use natural remedies, it's better than using pesticides because the long-term effect of a pesticide," she said.
The county wants to find more properties where the Gila topminnow can be used.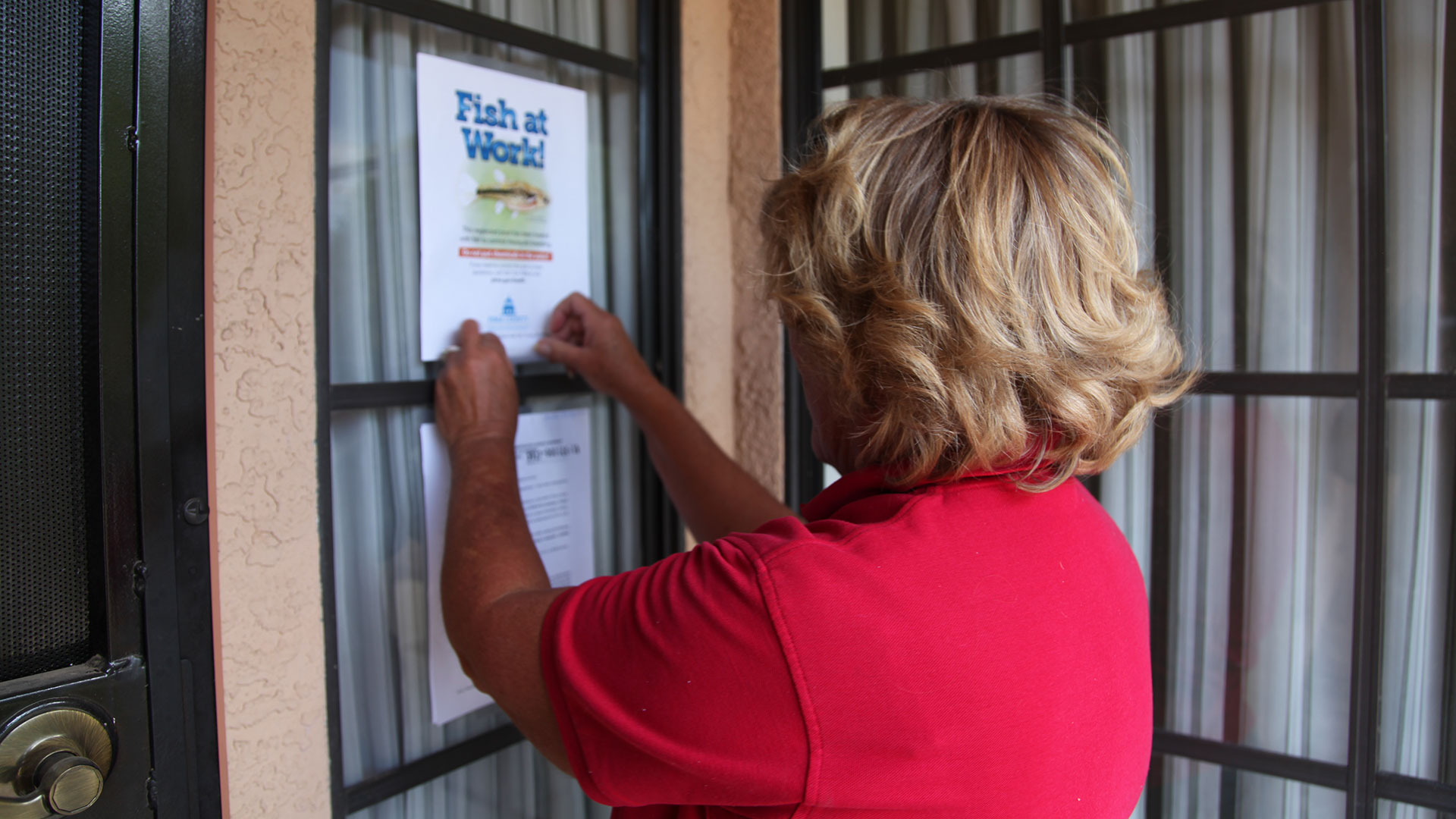 An employee from the Pima County Health Department attaches information that informs people about the Gila topminnow program.
Tony Paniagua, AZPM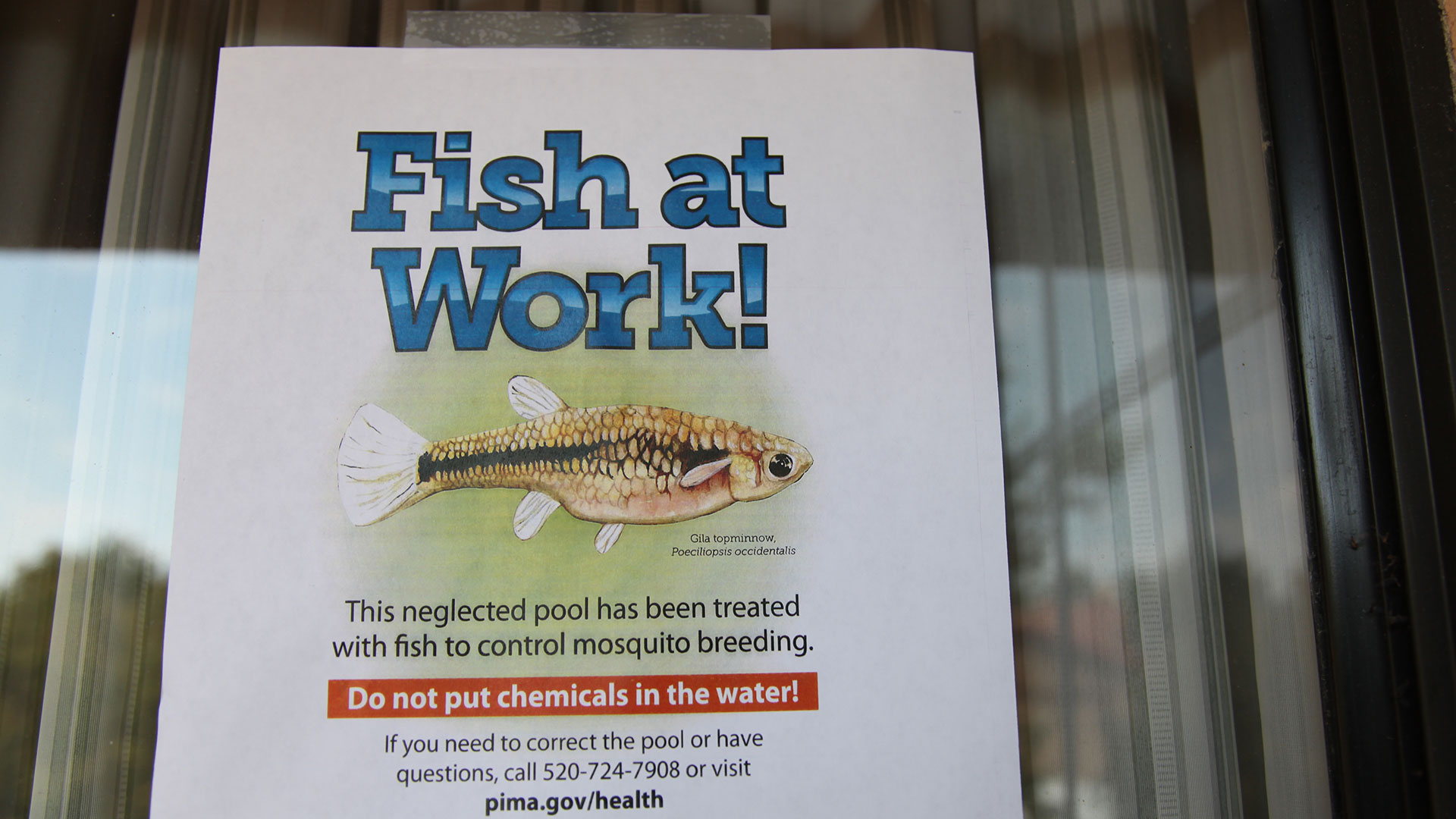 The flyer from the Pima County Health Department provides information about the program.
Tony Paniagua, AZPM