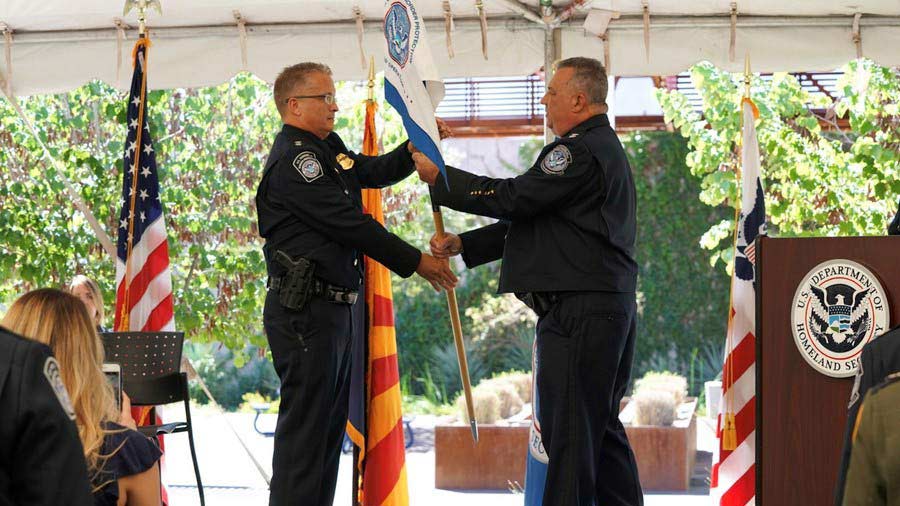 Michael Humphries is sworn in as new Nogales-Area Port Director for Customs and Border Protection, Sept. 27, 2018.

Customs and Border Protection
Michael Humphries has been climbing the ladder for more than 30 years to become the No. 1 customs agent at the Nogales-area port of entry.
Humphries was officially sworn in last month, but had been the interim director for a year. He says the Mariposa crossing is the most high-tech ground border crossing in the U.S.
Customs and Border Protection says almost every new piece of technology heading to any border is almost always first tested at the Mariposa crossing. The latest — facial recognition technology.
"Right now that technology is working at and being tested at some U.S. airports," says Humphries. He adds, "Before the U.S. spends millions and millions of dollars on new technology, we better be sure it works and it is worth the investment."
Staying up with new technology is one of the new port director's main goals, but Humphries adds that he is old school and that more important, is investing time and resources in his staff.

According to the union that represents customs agents, the six ports of entry in the Nogales area are more than 300 agents short. As a stop gap, 150 agents from around the country have been deployed on 90-day rotations. Humphries says he expects to be able to cut the agent shortage almost in half, with the upcoming academy that will graduate more than 70 new officers that will be sent to Nogales.

Listen to the extended interview with new Customs and Border Protection Area Port Director for Nogales: