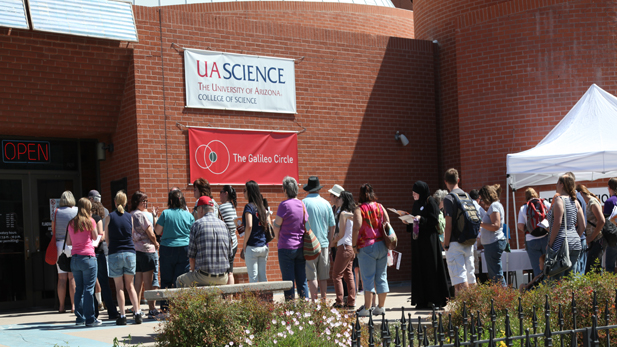 A line forms just before Teacher Appreciation Day begins on the U of A campus

Mark McLemore
Sponsored by Tucson Values Teachers, Teacher Appreciation Day 2011 was held on Saturday, April 30th on the University of Arizona mall. It provided an opportunity for the community-at-large to pay back some of the tremendous time and energy that teachers put into what they do.
U of A physics professor Elliot Cheu and his daughter at the Flandrau Science Center on Teacher Appreciation Day (PHOTO: Mark McLemore)
In addition to food and entertainment, over a thousand Arizona teachers and their families were given tours and demonstrations. These explored some of the many ways that the University and other community partners can add to the classroom experience.
During this time of extreme budget cuts and belt-tightening, Teacher Appreciation Day provided proof of the support that exists for what teachers do every day, and what a community can accomplish when working together.
In this Audio Postcard you'll hear Susan Mitchell (art teacher, Mountain View High School), Wayne Notarangelo (special education, Indian Oasis-Baboquivari School District), Shelby (age 7 and a half, student at Ocotillo Ridge Elementary), Kelly French (6th grade language arts, Hohokam Middle School), Theodora (age 9, student at Arizona Virtual Academy), Elliot Cheu (physics professor, University of Arizona), and Valerie Daren (special education, La Paloma Academy).

Listen: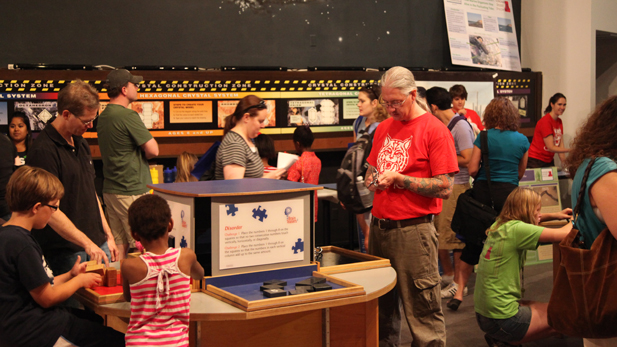 Teachers and their families explore the Flandrau Science Center on Teacher Appreciation Day

Mark McLemore
To hear more stories, visit the Teachers' Voices archive.
(Funding for the production of Teachers' Voices is provided by Wells Fargo and the University of Arizona College of Education. The series is produced by Matt Felix for Arizona Spotlight.)