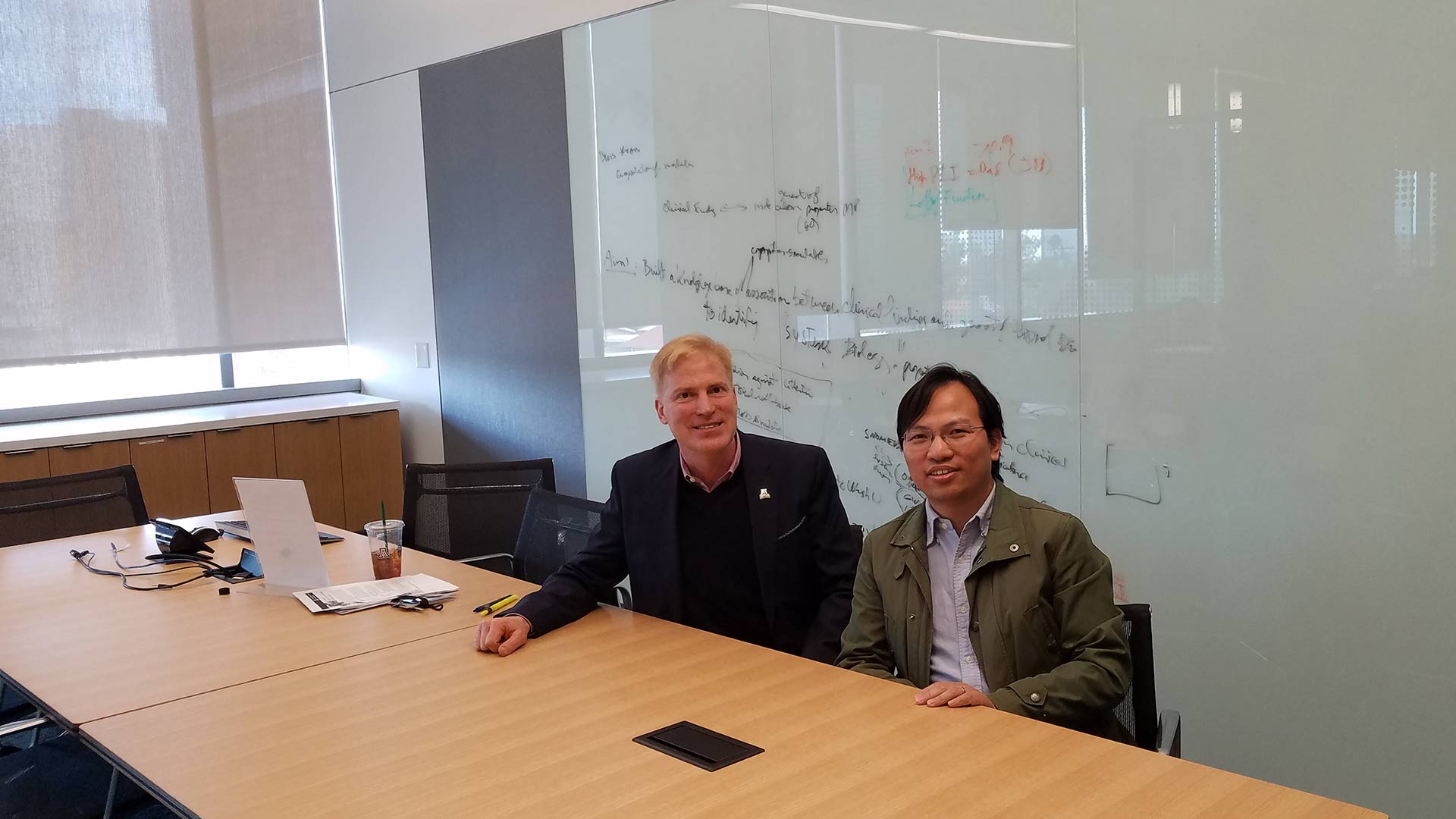 Yves Lussier, left, and Haiquan Li.
Candace Manriquez Wrenn/AZPM
Students usually have to wait until graduate school, or sometimes until post-doctoral studies, to become a published researcher. But an internship at the University of Arizona's BIO5 Institute laboratory gives high school students the opportunity to be published scientific authors.

Arizona high school students Wesley Chiu, Minsu Pumarejo and Liam Wilson each completed summer data science internships in a UA bioinformatics lab. Within a couple of days of starting, the high school students were expected to analyze results, curate information from literature reviews and be able to cross reference their findings. Finally, they had to validate the findings from Yves Lussier's bioinformatics study on so-called junk DNA, the area of the DNA that does not code for proteins.
Lussier is a professor of medicine and director of the Center for Biomedical Informatics and Biostatistics. He says they worked just as hard as undergraduate and graduate students.
"The rule was to provide a figure or a table that they could provide that no one else either desired to that or had the skill set to that," Lussier said.
Lussier says the high schoolers delivered.
"I would've had to train, substantially, programmers to do what they did. And I'm not sure that, since they don't have a calling for that, I'm not sure they would've done as good a job as these high school students. And for that they merited a co-authorship, not just an acknowledgement," he says.
Haiquan Li, one of the study's authors, says that the students come in with a high level of knowledge.
"Many kids, even in high school have been exposed to this type of training. For example, at Basis North they have a programming club. They even have a biomedics club."
He says with such exposure there should be more opportunities created for them to grow into scientists.
Chiu, a senior at Basis Tucson North, says he initially saw his internship with BIO5 as way to learn, but co-authoring a scientific article gave the opportunity much more meaning.
"I think this authorship is a sign that we as interns were really able to contribute to the publication and contribute to the study in a very meaningful way," Chiu said.
The internship is part of the Keys Research Internship, which provides hands-on experience for high school students with an interest in STEM fields. It is highly competitive, with only 40 students chosen out of around 350 applicants.