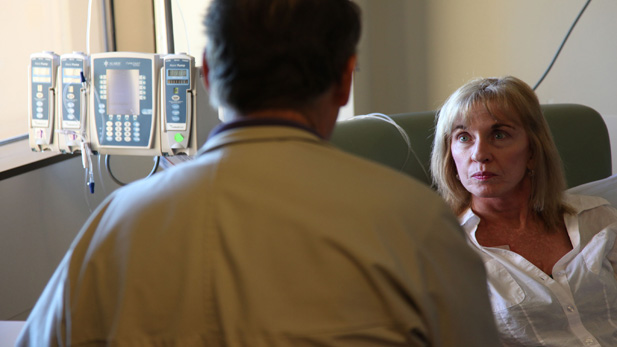 Patient Kelli Guinn consults with a nurse at the Arizona Cancer Center.

Tom Kleespie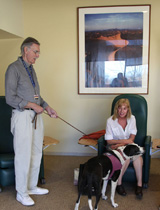 While waiting at the Arizona Cancer Center, Kelli Guinn receives a visit from Roxy, a therapy dog who is also a cancer survivor herself. (PHOTO: Tom Kleespie)
In 2010, according to the American Cancer Society, there were more than one and a half million newly diagnosed cases of cancer. That's a significant increase from the statistics for 2009.
In their efforts to fight the disease, many patients will undergo surgery, which may be followed by adjuvant therapies like chemotherapy or radiation in an attempt to kill any cancer cells that may be left behind.
This story, produced by Tom Kleespie and Martin Rubio, focuses on the growing body of evidence which shows that the psychological and social aspects of healing can be powerful allies as well. Their guide through the complexities of living with cancer is 57-year-old cancer survivor Kelli Guinn.
Listen: