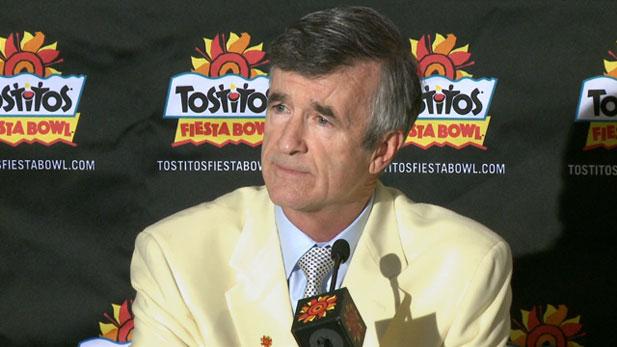 AZPM
Listen:
The news that UA President Robert Shelton is leaving Tucson may have surprised some people, but there were indications this week that his move was in the works for at least a little while. He announced he's going to Phoenix to be the executive director of the Fiesta Bowl. In a written statement, Shelton said his five-year anniversary with the U of A was a good time to explore new opportunities.
Arizona Board of Regents chairwoman Anne Mariucci also indicated it was time for a change in leadership. Shelton's contract expires next year, and she said it's typical to give a year's notice on whether it will be renewed.
"We have an opportunity to find somebody who is a real dynamic, innovative leader that embraces what higher education needs to be in an era of reduced state funding for higher education," Mariucci said. "I think that this situation gives us an op to ID and attract someone who actually thrives in that kind of environment."
Shelton said he made the decision quickly.
"I've heard from a few people, including other university presidents, that: here's this opportunity, you might be well suited to it you should take a look at it. They've really made great strides and they're sharp people there. That was when I contacted the headhunter and he put me in touch with Duane and Don and others and as I said and this all happened in about a three-week period," he said.
The Regents' meeting late this week included time for the regents to talk about the transition in a closed-door session.
During the public comment portion of the meeting, David Martinez, the Associated Students of Arizona government affairs director, thanked Shelton for listening to students during his tenure, as did J.C. Mutchler, the secretary of the faculty at the University of Arizona.
"The announcement on Monday that President Shelton would be leaving the U of A has saddened many of us across campus, as you might expect. With a great sense of dignity, Robert Shelton has exhibited extraordinary leadership during an economic crisis of historic proportions," Mutchler said.
The faculty wants to continue to have a role in administrative decisions, he said.
"We believe as a community that it is important right now, more than ever, that we stand united as a university com and strive to move the u of a forward in a positive direction. The faculty leadership is working with the provost, the President's cabinet, the regents and our wider family of wildcats to make sure that our u of a cult of shared governance and community-based decision making is honored as we move towards the future," Mutchler said.
Others in the U of A community is also responding to the news.
"Knowing that he's been here a while now, we might not even have the same wildcat experience. I don't know what exactly is going to happen," said Student David Hrostoski.
"It's kind of crazy for me because I came from a school with a lot of transition like that, and if it's the same as it was for that, for high school, then it's going to be a big difference. It just affects the staff and all the different classes that didn't exist anymore. And I don't know if something like that would happen here, but that's what I would be concerned about, is not being able to have the same experience," said Briana Galland, also a student.
The regents are poised to appoint an interim president before launching a nationwide search for Shelton's permanent replacement.