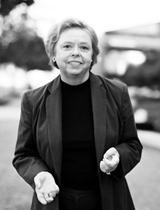 Newscaster Ann Taylor, a 22-year veteran of NPR (PHOTO: Courtesy of NPR)
Ann Taylor has had a fortunate and historic career in journalism, from covering the activities that led to the Watergate trial when she was with NBC, to the heartfelt newscasts she broadcast on 9/11 for NPR. For the last 22 years, Ann's warm voice has been breaking news both good and bad to NPR listeners around the world via the top-of-the-hour newscasts that she writes and produces herself.
By her choice, the end of the month will also mark the end of this phase of her broadcasting career, as Ann moves on to follow other pursuits. Her last newscasts for NPR will be heard on Thursday, June 30th, but the network says she is always welcome to return in the future.
For this interview with the woman behind a voice that NPR listeners know so well, Mark McLemore starts by asking her to contrast her earlier news career at NBC with what she discovered at NPR…