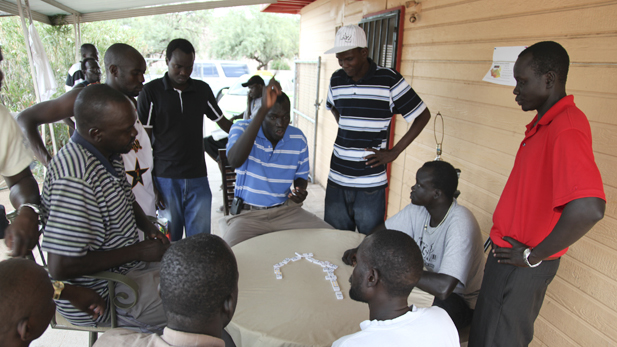 The young men once known as the "Lost Boys of Sudan" usually meet on weekends to play dominoes and soccer.

Devlin Houser
Listen:
Meet Bior Keech, a man of contrasts. He holds two degrees from the University of Arizona – one in agricultural economics, one in business economics. He lives in the richest country in the world, and has kept his job as a program supervisor even during the Great Recession.
But his roots are half a world away, in the youngest and one of the poorest countries on Earth: South Sudan. His striped blue shirt and khaki pants mark him as a professional; the pattern of scars on his face and head will forever mark him as a member of the Africa's Dinka people. He's not sure, but he estimates his age at 28.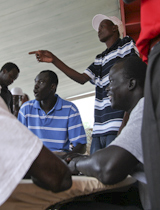 Bior Keech (left, in blue) plans to return home to South Sudan by the end of 2011. (PHOTO: Devlin Houser)
He came to the U.S. as one of the Sudanese Lost Boys.They escaped the horrors of the country's second civil war through a joint program between the U.S. government and the U.N. High Commissioner for Refugees.
The war lasted more than two decades, from 1983-2005. The peace agreement signed in 2005 ensured a chance for independence from the North, and a chance for a new beginning. Last month, nearly 98 percent of voters cast their ballot in favor of secession, creating the country of South Sudan.
Now he and his compatriots are looking to the future, and how they can best help their new homeland.
About Devlin Houser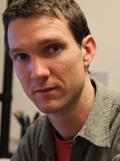 Martin Rubio
Devlin Houser is a bilingual freelance reporter based in Tucson, and a regular contributor to Arizona Public Media. He studies journalism and Spanish at the University of Arizona. He was born and raised in Tucson, has lived in Mexico and spent time in Europe and South America.