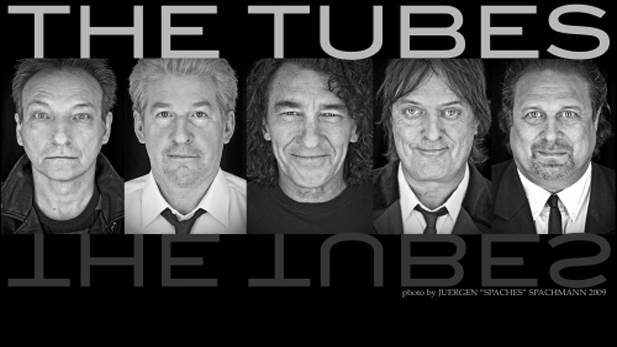 The Tubes in 2011: Rick Anderson (bass), Roger Steen (guitar), Fee Waybill (vocals), Prairie Prince (drums), and David Medd (keyboards)
Employing slick visual design with serious musicianship and a heavy does of satire, The Tubes stood out from the rock and roll crowd of the 1970s and '80s. In many ways, they were a group that was truly ahead of their time.
Their list of hits includes "Talk to Ya Later", "She's a Beauty", "White Punks on Dope", and "Prime Time", along with many songs that may not have been featured on American Bandstand, but which became legendary cult classics.
The idea to combine catchy pop hooks with a healthy dose of satire was born when two separate bands from Phoenix - The Beans and The Red White and Blues Band - decided to join forces. The result was a seven-man band which earned its fame by presenting some of the most outrageous stage shows that the early '70s San Francisco music scene ever witnessed.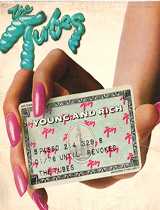 The Tubes' second album was "Young and Rich" (1976)
Lead vocalist Fee Waybill is best known for the many costumed characters he portrays onstage, from exaggerated glam rockers to carnival barkers to Fellini-esque tragedians. Since The Tubes first disbanded in 1986, Fee has had a second career as an actor, appearing in films like Bill & Ted's Excellent Adventure, and in stage productions like The Rocky Horror Show. He spoke to us from his home in Venice Beach, California.
Drummer Prairie Prince stays busy as an in-demand session musician and graphic artist who has designed and built multi-media stage shows for acts like Todd Rundgren, Bette Midler, Shania Twain, Billy Joel, Moby, and N'Sync. He also paints murals and custom drum kits, and we talked from his art studio, a top-secret installation located somewhere in California.
Over the past decade, The Tubes have reunited and played several short tours on the East and West coasts, while occasionally returning to their Arizona roots.
The Tubes are playing at Club Congress in Tucson on Saturday, September 14th.
Listen: