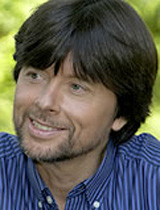 Documentary film maker Ken Burns (PHOTO: Courtesy PBS)
Not many documentary film makers ever become household names, but Ken Burns is perhaps the most widely-known of our generation.
Even before The Civil War aired in 1990, Ken Burns had been making films about some of the most moving and transformative stories in American history.
His latest project is Prohibition, a three-part series debuting October 2nd on PBS stations around the country, including PBS-HD Channel 6. It looks at a remarkable phase in the 20th century, when the American people were sold on the idea of legislating a new morality. But, the impact that the 18th amendment to the constitution had on America would be far more staggering than the strongest drink.
(Mark McLemore spoke to Ken Burns by telephone, and the call had some audio interference.)
Listen:
The first installment of the Prohibition premiers on Sunday, October 2nd at 8 pm on PBS-HD Channel 6.
Arizona Public Media will also add a local focus to the Prohibition story with The Dry Run: Prohibition in Arizona, produced by Tom Kleespie. It airs on Thursday, September 29th at 6:30 p.m. as a part of Arizona Illustrated.