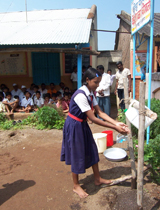 A student from the primary school in Chikali demonstrates the school's tippy tap to the other students. (PHOTO: Grampari)
When we in the United States think about improving pubic health, we might think about tightening pollution controls or making sure children's toys are free of harmful chemicals. But in many developing regions, the focus is on clean drinking water, promoting the use of toilets, and making hand washing part of the daily routine.
Sowmya Somnath and her colleagues are doing just that – helping people in the western India understand just how important it is to wash their hands. Somnath works at the Tucson-based Watershed Management Group's India office, in the western state of Maharashtra, with the group's local partner Grampari. There are some 2 million diarrhea-related deaths globally, and proper hand washing can cut that number in half.
Often, the highest hurdle isn't a soap shortage or a lack of running water, but that many people think hand washing isn't important enough to use soap. To change that perception, Somnath and her colleagues use games and an innovative gadget called the Tippy Tap to encourage children and adults alike to wash their hands. Though it may not be glamorous – it's no high-tech vaccine or new state-of-the-art hospital – hand washing can be one of the most effective and cost-effective ways to improve public health.
LISTEN:
About Devlin Houser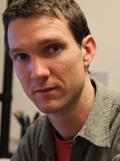 Martin Rubio
Devlin Houser is a bilingual freelance reporter based in Tucson, and a regular contributor to Arizona Public Media. He studied journalism and Spanish at the University of Arizona. He was born and raised in Tucson, has lived in Mexico and spent time in Europe and South America.