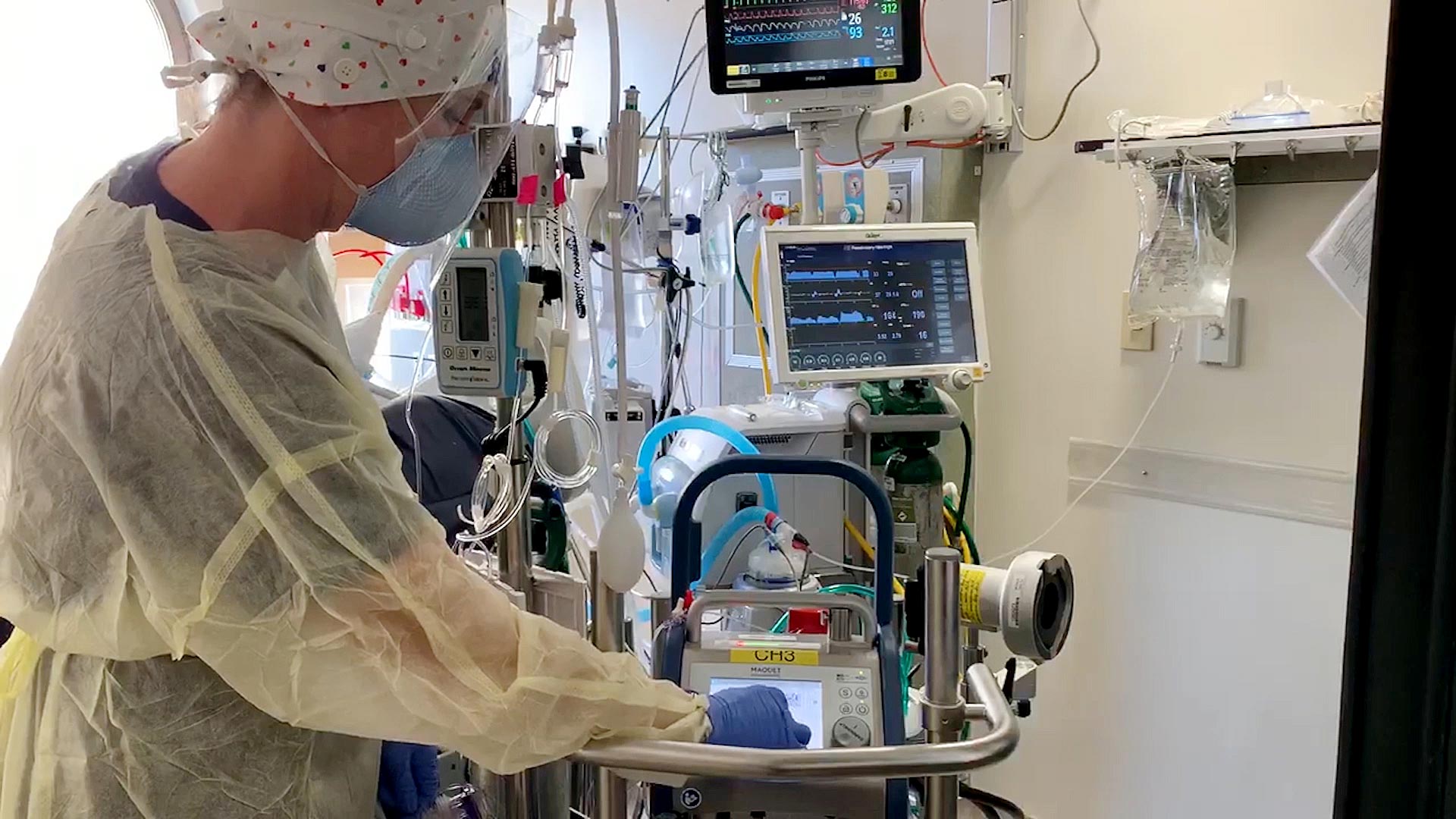 A handout image from Banner Health shows a health care worker in one of the hospital's COVID-19 units.
Banner Health
Arizona currently has the worst COVID-19 diagnosis rate in the country. State health officials reported 9,398 new cases on Thursday afternoon and more than 240 more deaths.
As the pandemic continues, funeral homes and hospitals are increasingly strained. Last Wednesday, Pima County Coroner's Office reached capacity for storing bodies.
Pima County Medical Examiner Greg Hess usually receives human remains only when the cause of death requires additional analysis.
But his office opened its doors to the community last summer during Arizona's first COVID-19 surge. Last week was the first time even that space was overwhelmed.
"We did have funeral homes and hospitals use our storage from July to Christmas eve 2020. We brought in 48 remains from the community, were diverted here to the medical examiner's office. So that's not insignificant, but it wasn't overwhelming," he said. "Then from Christmas day to the morning of January 12, 233 remains came in, which was too many. We simply didn't have space and couldn't take anymore."
Last week Hess's office ordered two additional refrigerated trucks to accommodate the surge. He said this week they're just below capacity again, with about 300 bodies stored there. But he's worried.
"We had not really anticipated it getting to this extent, and then we brought it the two additional trucks. And time will tell if we need to go and procure more," he said.
Arizona Department of Health Services data showed 244 new COVID-19 deaths statewide on Thursday, including 36 in Pima County. Hess compares what's happening now to a mass casualty event.
"So it's not that we are doing post-mortem examinations or documenting injuries like I described from a plane crash or that type of mass fatality event," he said. "This is simply too many decedents in the system that overwhelms the system and then what do you do with those remains while the system works through final disposition?"
Hess saod it's hard to know how long capacity issues will continue. That's partly because funeral homes and hospitals are not communicating daily about when they're able to take back more remains. And there's no telling when infections will slow.
"I don't know when it's going to go down, but if you look at the projections from the state and county in terms of infections and people in the hospital, it doesn't look like it's going to go down in the near future," he said.
In normal times, Hess said his office receives requests to examine about 30 percent of all fatalities county wide. But in the wake of the pandemic, they've also carried out new investigations for those suspected of dying of COVID-19 at home.
"So maybe someone dies at home you know so law enforcement is called and they respond to the scene and the narrative is that several members of the family tested positive for COVID, the deceased was sick and short of breath prior to their death, they themselves were never tested, there's this looming question of whether or not COVID played a role in their death," he said.
That's where his office would come in.
'We may go to the scene of the death and do a nasopharyngeal swab or maybe the remains have to come here, but we can do testing after death to determine if that person does or does not have COVID. And if they do, maybe we would certify the death, and COVID may be a component in that," he said.
Hess said right now he estimates those investigations happen everyday. As the crisis deepens, he said his office is ready to rent more storage trucks as needed. And for now, the pandemic doesn't seem to be slowing down anytime soon.