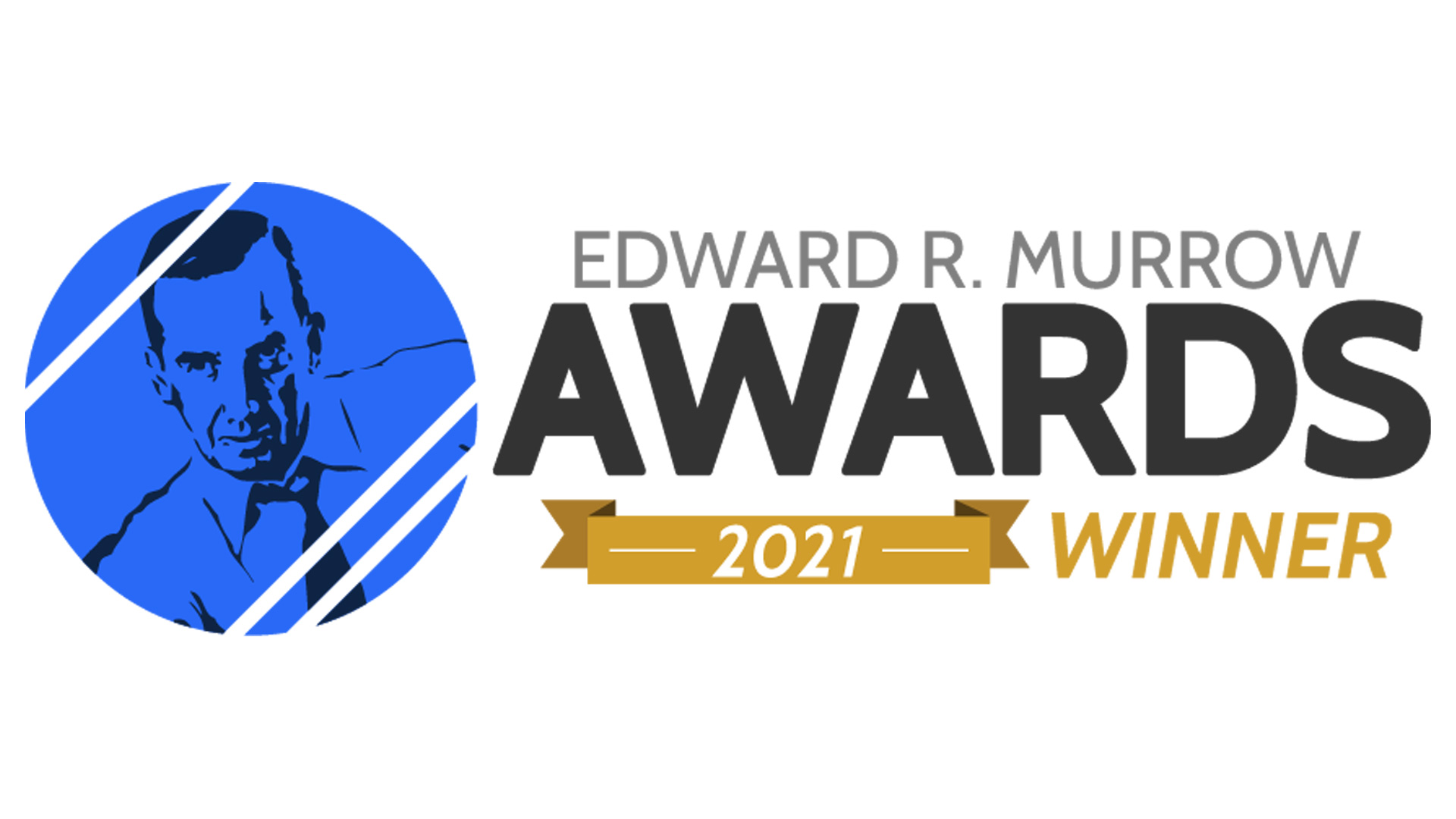 AZPM received six regional Edward R. Murrow Awards in the categories of Excellence in Diversity, Equity and Inclusion, Excellence in Video, and News Documentary.
RTDNA
May 6, 2021 - TUCSON, AZ - Arizona Public Media (AZPM) was honored today with six Regional Edward R. Murrow Awards by the Radio Television Digital News Association (RTDNA).
The Murrow Awards are the embodiment of the values, principles and standards set forth by Edward R. Murrow, a journalism pioneer who set the standards for the highest quality of broadcast journalism.
"Such an accomplishment would be a source of great pride in any year, but producing such outstanding content during a global pandemic, working remotely and with reduced resources, is an exceptional feat," said Jack Gibson, AZPM Chief Executive Officer.
AZPM received Regional Murrow Awards in the following categories:
Small Market Television Region 3 Awards
Excellence in Diversity, Equity, and Inclusion
Arizona Illustrated Two Spirit Powwow
Andrew Brown, David Fenster
Traditionally, powwow categories are listed with the gender binary "Women" and "Men". However, many tribes recognize more than two genders. When the 2nd Annual Two Spirit Powwow took place in Phoenix last February, the powwow committee decided to remove gender from all categories. The Two Spirit Powwow is hosted by Native PFLAG, an organization that works to keep families together and foster the traditional teachings of what it means to be LGBT and/or Two-Spirit. They envision a world where diversity is celebrated and all people are respected, valued, and affirmed inclusive of their sexual orientation, gender identity, and gender expression.

Excellence in Video
Arizona Illustrated Wildlife and the Bighorn
Mitch Riley, Nate Huffman, Bob Lindberg, Gage Judd
Wildfire is a natural process that can lead to a healthier forest and potentially healthier habitat for the species that make their home in the Santa Catalina Mountains, including Big Horn Sheep, the Desert Tortoise, the Mexican Spotted Owl, the Gila Chub, the Goulds Turkey, and the Mountain Lion.
News Documentary
La Vaquita
Vanessa Barchfield, Nate Huffman
Producer Vanessa Barchfield takes viewers on a journey to the Sea of Cortez where the most endangered marine mammal on earth is fighting for survival against overwhelming odds. Only 12 vaquitas, a small porpoise that lives in the salty waters of the Upper Gulf of California, are estimated to remain.
Feature Reporting
OSIRIS REx: Touch and Go
Bryan Nelson, Martin Rubio, Nate Huffman

On October 20th, 2020, the OSIRIS-REx spacecraft unfurled its robotic arm and briefly touched one of the oldest objects in our solar system - the asteroid Bennu - and captured a sample of material to bring back to Earth. The moment was the pinnacle of this record-making mission and an example of the scientific ingenuity and engineering acumen of the team behind it at the University of Arizona. AZPM was there to capture every anxious and exhilarating moment as the event unfolded.
Hard News
Arizona 360 Police program offers drug treatment instead of arrest
Kassandra Lau, Lorraine Rivera

While the state's opioid epidemic resulted in the more widespread use of fentanyl and heroin, that hasn't necessarily translated into more arrests for those caught with the drugs in Tucson. Arizona 360 joined the Tucson Police Department's Substance Use Resource Team to see how officers implement the department's deflection program. Instead of taking people to jail, officers and peer support specialists with CODAC Health, Recovery and Wellness can talk them into treatment.
Small Market Radio Region 3 Award
Continued Coverage
Quitobaquito Protests
Alisa Reznick
Located a few paces from the U.S.-Mexico border, the Quitobaquito spring system is the only source of fresh water for miles and has existed for some 10,000 years. It feeds into a pond that used to be home to Hia-Ced O'odham and Tohono O'odham tribal communities. Border wall construction threatens the land and communities there.
---
About Arizona Public Media:
Arizona Public Media (AZPM) is an editorially independent, nonprofit community service of the University of Arizona and provides three television program services (PBS 6, PBS 6 Plus, and PBS Kids), four radio services (NPR 89.1, Classical 90.5, Jazz 89.1 HD2, and the BBC World Service) and a variety of online program offerings at azpm.org. AZPM is funded through the generous support of annual and sustaining members, the business community through program underwriting, fee-for-service production activities, the Corporation for Public Broadcasting, and direct and in-kind support from the University of Arizona.
Arizona Public Media® and AZPM® are registered trademarks of the Arizona Board of Regents, which holds the FCC broadcast licenses for all AZPM stations, for the benefit of the University of Arizona. More information about AZPM, including program schedules and Video-on-Demand offerings, can be found online at azpm.org.