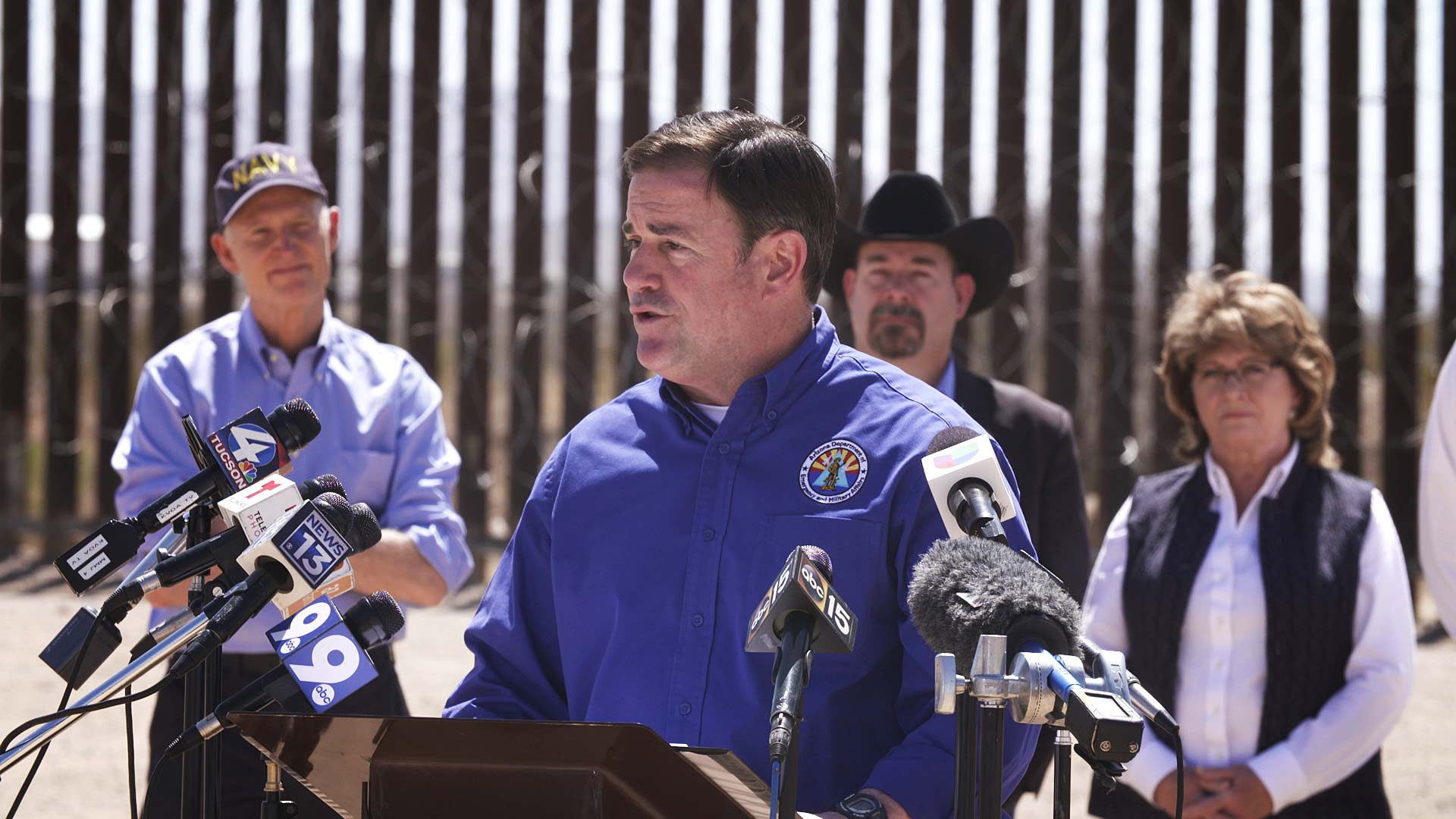 Arizona Gov. Ducey speaks to reporters at a news conference held along the border in Douglas on March 19, 2021.
Gage Judd/AZPM Staff
Florida Governor Ron DeSantis held a Wednesday news conference to announce he is sending state law enforcement officers and county deputy sheriffs to Arizona and Texas to help with border enforcement.
The move is in response to a letter sent to governors last week by Governor Doug Ducey and Texas Governor Greg Abbot. In that letter, they asked governors for law enforcement help at the border.
"The state of Florida is answering the call. Florida is gonna support Texas and Arizona. We believe securing the southern border is important to our country but specifically, we believe it will benefit the people of Florida," said DeSantis.
He blamed specific crimes on people in the country illegally as well as an increase in Fentanyl in Florida on the border policies of the Biden administration.
"All the victims of what's happening, whether its criminal activity, the people that are being trafficked, the people that are going to end up suffering because of the drugs pouring in, you know this really did not have to happen. Arizona and Texas need support, we're standing up and we're gonna help fight back with them," DeSantis said.
The announcement from Florida caught Cochise County Sheriff Mark Dannels by surprise. But he told AZPM that he would be happy to accept the help.
"Having that extra body, extra law enforcement trained body with my deputies obviously is most important because we run single units, we come across a group we come across a pursuit that we're involved with just having that extra officer safety measure with another law enforcement is great," said Dannels.
This year, Governor Ducey has taken a hardline stance against the Biden Administration and border policy.

Ducey offered National Guard troops to counties that wanted help with border-related issues.
Pima and Santa Cruz counties chose not to accept the troops, but Yuma, Cochise, and Pinal counties all accepted the offer. Yuma has 50 National Guard troops, the largest group assigned to the border for the latest deployment.

A spokesperson for Governor Ducey said the details about the use of the Florida law enforcement officers are "being worked out."
DeSantis said he expects when the officers go to the border, they will be there for about two weeks. He also did not have a timetable or offer details about what the officers would specifically do in Arizona or Texas.