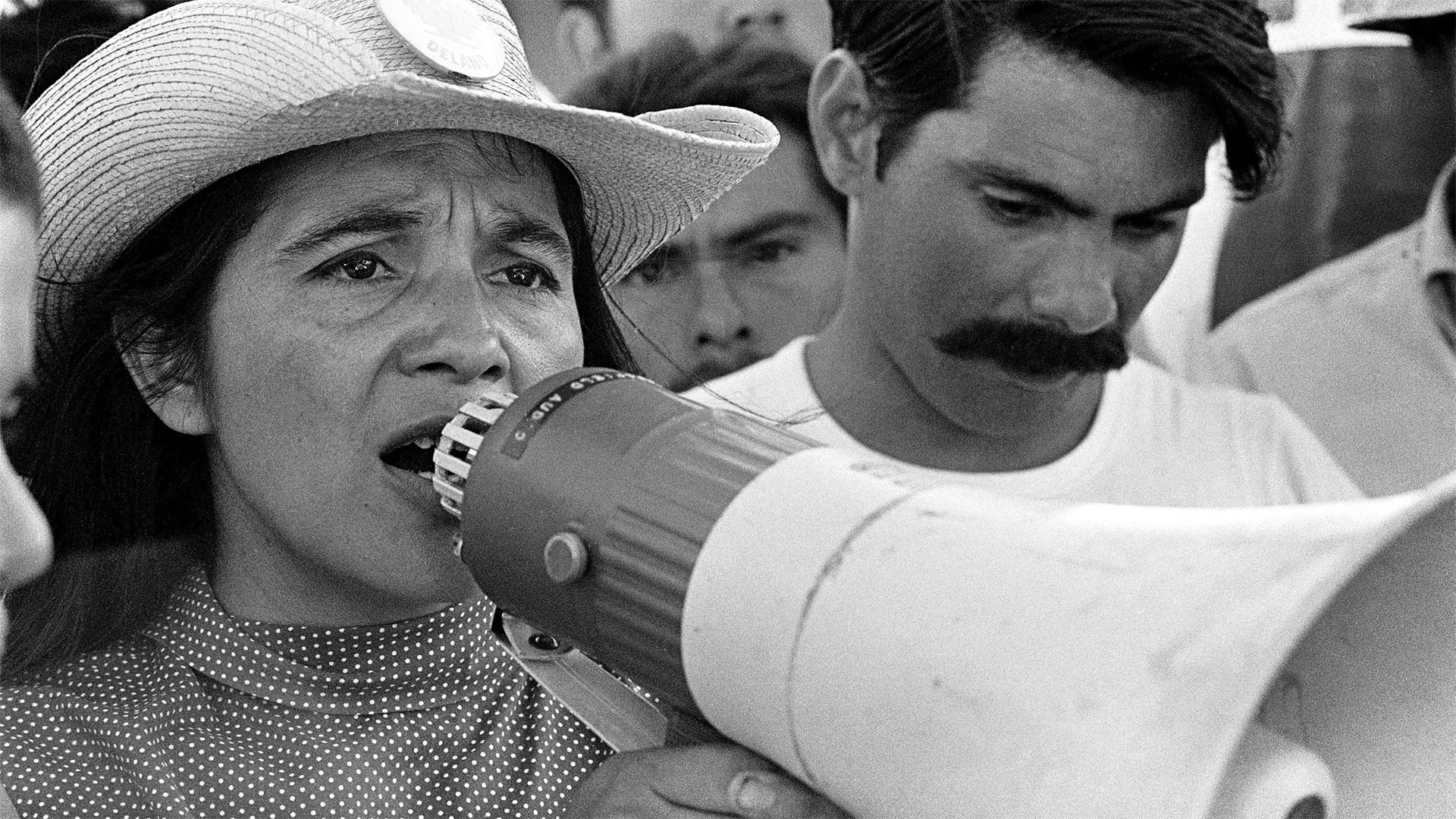 United Farm Workers leader Dolores Huerta organizing marchers on the 2nd day of March Coachella in Coachella, CA 1969.
PBS
Women's History Month Programs on PBS 6 and PBS 6 PLUS
March 1-31, 2019
Stream a variety of PBS programs featuring strong, influential women on AZPM Passport any time, on any device.
RED denotes "new" program.
Full schedules are available online. Schedule is subject to change.
List includes first air only. See schedule for repeats tv.azpm.org.

Great Performances: Joni 75: A Birthday Celebration
PBS 6: Saturday, March 2 @ 8:30 p.m.
The songs of legendary singer-songwriter Joni Mitchell are among the most sublime musical landscapes of human emotion ever created. On the occasion of Mitchell's 75th birthday on November 7, 2018, an all-star line-up of performers gathered at the Dorothy Chandler Pavilion in Los Angeles to celebrate her singular musical artistry, including Brandi Carlile, Emmylou Harris, Norah Jones, Chaka Khan, Diana Krall, Kris Kristofferson, Los Lobos with La Marisoul, Graham Nash, Seal, James Taylor and Rufus Wainwright, performing Mitchell's songs from throughout the varied stylistic periods of her groundbreaking career.

Quincy Jones Presents Sheléa
PBS 6: Sunday, March 3 @ 9:30 p.m.
Known for his eye for spotting new talent, music legend Quincy Jones has called Sheléa one of the greatest talents of her generation. A vocalist, songwriter, pianist, arranger and producer, Sheléa also credits composer and producer David Foster as a mentor and has toured with him extensively. Now all three major talents appear in this new PBS special, taped in Los Angeles in front of an intimate audience of invited guests.

Warrior Women
PBS 6 PLUS: Sunday, March 3 @ 4pm
Warrior Women is the untold story of American Indian Movement activists who fought for civil rights in the '70s, anchored by one of the Red Power Movement's most outspoken Lakota leaders, Madonna Thunder Hawk, and her daughter Marcy Gilbert.

Afropop: Mama Africa: Miriam Makeba!
PBS 6 PLUS: March 3 @ 9 p.m.
Using archival performance footage and interviews with those who knew her best and with Makeba herself, the documentary examines the life of the iconic South African singer and activist.

Breaking Through the Clouds: The First Women's National Air Derby
PBS 6 PLUS: Sunday, March 10 @ 3 p.m.
In August of 1929, twenty women pulled on britches, snapped on goggles and climbed into their cockpits to race across the country. It was the first women's national air derby. There was the media darling, the Hollywood starlet, the aviatrix record breakers and the unforgettable foul-mouthed wife of a preacher. Together these women were flying in the face of anyone who believed women belonged on the ground. Breaking Through The Clouds is the documentary that tells their story.

Afropop: Mama Colonel
PBS 6 PLUS: March 10 @ 9 p.m.
Set in the Democratic Republic of Congo, the program follows Honorine Munyole, known as Mama Colonel, as she leads a special police force charged with addressing violence against children and women in a country struggling to heal the wounds of war.

Independent Lens: The Judge
PBS 6 PLUS: Sunday, March 10 @ 10 p.m.
Take a rare glimpse into Shari'a law (Islamic law), an often misunderstood legal framework for Muslims, told through the eyes of the first woman judge to be appointed to the Middle East's religious courts.

Women Outward Bound
PBS 6 PLUS: Saturday, March 16 @ 1 p.m.
This film profiles the first group of young women to participate in an Outward Bound survival school course in 1965, and chronicles their experiences in the wild. At a reunion 47 years later, the group reminisce about the lessons they learned and the memories they made, with some surprising revelations. They didn't realize it at the time, but they were a part of changing the course of history. The documentary takes the viewer on a journey over many decades with rare archival footage, family home videos, photos and stunning aerial footage of the lush yet challenging Boundary Waters Canoe Area Wilderness.

Graceful Voices
PBS 6 PLUS: March 17 @ 11:30 p.m.
Behind the grand gates of Coral Gables is the MacFarlane Homestead Historic District, established as a black residential neighborhood by real estate developer George Merrick, where many Bahamian immigrants built homes that have been in their families for generations. Graceful Voices captures the stories and experiences of the Bahamian and African American women who were born there, forged lifelong friendships, and developed a passion for their community. Knowing that their determined voices could make a difference, these resilient women stuck together and forced change. They fought desegregation and injustice, and they did so gracefully. Their powerful and sentimental memories shed a light on the history that is still being built.

Louisa May Alcott: American Masters PBS 6: Monday, March 18 @ 1 p.m.
Examine the literary double life of this celebrated author, who wrote scandalous works under a pseudonym. Elizabeth Marvel and Jane Alexander star.

Orchard House: Home of Little Women
PBS 6: Monday, March 18 @ 2:30 p.m.
The 350-year-old home in Concord, Massachusetts where Little Women was written is highlighted.

Royal Wives at War
PBS 6: Monday, March 18 @ 3 p.m.
Take a fresh look at the abdication crisis of 1936 through dramatized monologues by the two women at its heart, the Queen Mother and Wallis Simpson, as they look back at the events that led to Edward VIII's decision to give up the throne.

Holly Near: American Masters
PBS 6: Monday, March 18 @ 9 p.m.
Experience the power of song in the struggle for equality through the story of feminist singer and activist Holly Near, who for the last 40 years has worked on global social justice coalition building in the women's and lesbian movements.

Great Performances: Julius Caesar
PBS 6 PLUS: Saturday, March 20 @ 9 p.m.
Experience Shakespeare as never before in an all-female production from the Donmar Warehouse set in a prison.

Great Performances: Birgit Nilsson: A League of Her Own
PBS 6 PLUS: Saturday, March 23 @ 9 p.m.
Celebrate the life of Swedish soprano Birgit Nilsson, the face of opera in the 1950s-70s. This performance-documentary showcases her greatest roles, including Elektra and The Ring Cycle, in rare footage, plus interviews with Placido Domingo and more.

Hollywood at Home: Jane Eyre
PBS 6: Saturday, March 23 @ 9 p.m.
Charlotte Bronte's gothic heroine (Joan Fontaine) loves her moody employer (Orson Welles), who keeps a dark secret hidden from her.

Loretta Lynn: American Masters
PBS 6: Sunday, March 24 @ 2 p.m.
Explore the country legend's hard-fought road to stardom. From her Appalachian roots to the Oscar-winning biopic Coal Miner's Daughter, Loretta Lynn struggled to balance family and her music career and is still going strong more than 50 years later.

Eva Hess: American Masters
PBS 6 PLUS: Sunday, March 24 @ 3 p.m.
Discover the story of an artist whose groundbreaking work changed the course of art history. The 1960s creative communities in New York and Germany were never the same after her short but highly influential career.

Women, War & Peace, Season 2
PBS 6: Monday, March 25 & Tuesday, March 26 @ 9 p.m. & 10 p.m. Women, War & Peace spotlights the stories of women in conflict zones from Bosnia to Afghanistan, and Colombia to Liberia, placing women at the center of an urgent dialogue about conflict and security and reframing our understanding of modern warfare." Actors Matt Damon, Geena Davis, Tilda Swinton, and Alfre Woodard narrate.

Finding Your Roots: Relatives We Never Knew We Had
PBS 6: Tuesday, March 26 @ 8 p.m.
Actresses Tea Leoni and Gaby Hoffmann's lives have been shaped by family mysteries. They are introduced to the identities and life stories of their biological ancestors, thanks to DNA detective work.

Anne Morgan's War
PBS 6: Thursday, March 28 @ 1 p.m.
Anne Morgan's War chronicles how American heiress Anne Morgan poured both her own fortune and the fruits of intense fundraising into rebuilding Picardy, a region in northern France, which had been devastated by the Great War. Utilizing film and photographs from Anne's rich archive, and letters written by the volunteers, Anne Morgan's War brings to life the adventures of these real-life heroines and provides an up-close and personal view of the post-WWI period from 1917-24. It also demonstrates one of the early instances of volunteer humanitarian aid in rebuilding after a disastrous war - in an effort completely managed by women.

Life of Crime
PBS 6: Saturday, March 30 @ 9 p.m. Set against the backdrop of iconic moments in British history - London's Brixton riots in 1985, the death of Princess Diana in 1997, and the present day - Life of Crime stars Hayley Atwell as an impulsive rookie policewoman who becomes obsessed with tracking down the killer of a 15-year-old girl.

Independent Lens: Dolores
PBS 6: Sunday, March 31 @ 4 p.m. Meet the indomitable Dolores Huerta, who tirelessly led the fight for racial and labor justice alongside Cesar Chavez, becoming one of the most defiant - and unheralded - feminist activists of the 20th century.

Call the Midwife, Season 8
PBS 6: Sundays, March 31 @ 8 p.m.
This moving, intimate, funny and true-to-life series, based on the best-selling memoirs of the late Jennifer Worth, tells colorful stories of midwifery and families in London's East End in the 1950s-60s. Jenny Lee, a young woman raised in the wealthy English countryside, has chosen to become a nurse and now, as a newly qualified midwife, has gone to work in the poorest area of the city. Attached to an order of nursing nuns at Nonnatus House, Jenny is part of a team of women who minister to expectant mothers, many of whom give birth at home in appalling conditions. The drama follows Jenny as she meets her patients and learns to love the people who live in the East End.

Mrs. Wilson on Masterpiece, Season 1
PBS 6: Sundays, March 31 @ 9 p.m.
Meet Alison Wilson, a recent widow who discovers her spy novelist husband lived a double life. Determined to uncover the truth about the man she loved, she soon finds herself at the center of a mystery that proves truth can be stranger than fiction. Ruth Wilson stars in the role of her real-life grandmother.