The Arizona Public Media® Community Advisory Board is composed of citizens who represent the diverse interests of the communities served. The board advises Arizona Public Media® Radio and Television station management on a wide variety of issues relating to southern Arizona public broadcasting.
To learn more about how you can get involved with Arizona Public Media® and help us become an even more vibrant part of the Southern Arizona community, e-mail a Board member and one will contact you to discuss how you can help.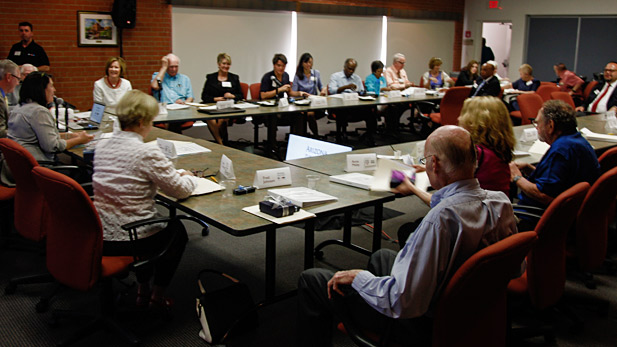 A meeting of the Community Advisory Board. (Photo: AZPM)
Arizona Public Media® employs an open meeting policy whereby interested members of the public are welcome to attend. The board meets five times a year; upcoming meetings are posted on the meeting calendar below.
You may send your questions or concerns to the Arizona Public Media Community Advisory Board at any time through the CAB Contact form. Comments received will be sent to the chair of the Community Advisory Board. Management will ensure that your message is presented to the Executive committee of the CAB at its next regular meeting. The Executive Committee may include your issue or comments as an agenda item at an upcoming meeting of the full CAB. You will be notified via email at the disposition of your issue. Thank you for your interest in Arizona Public Media.