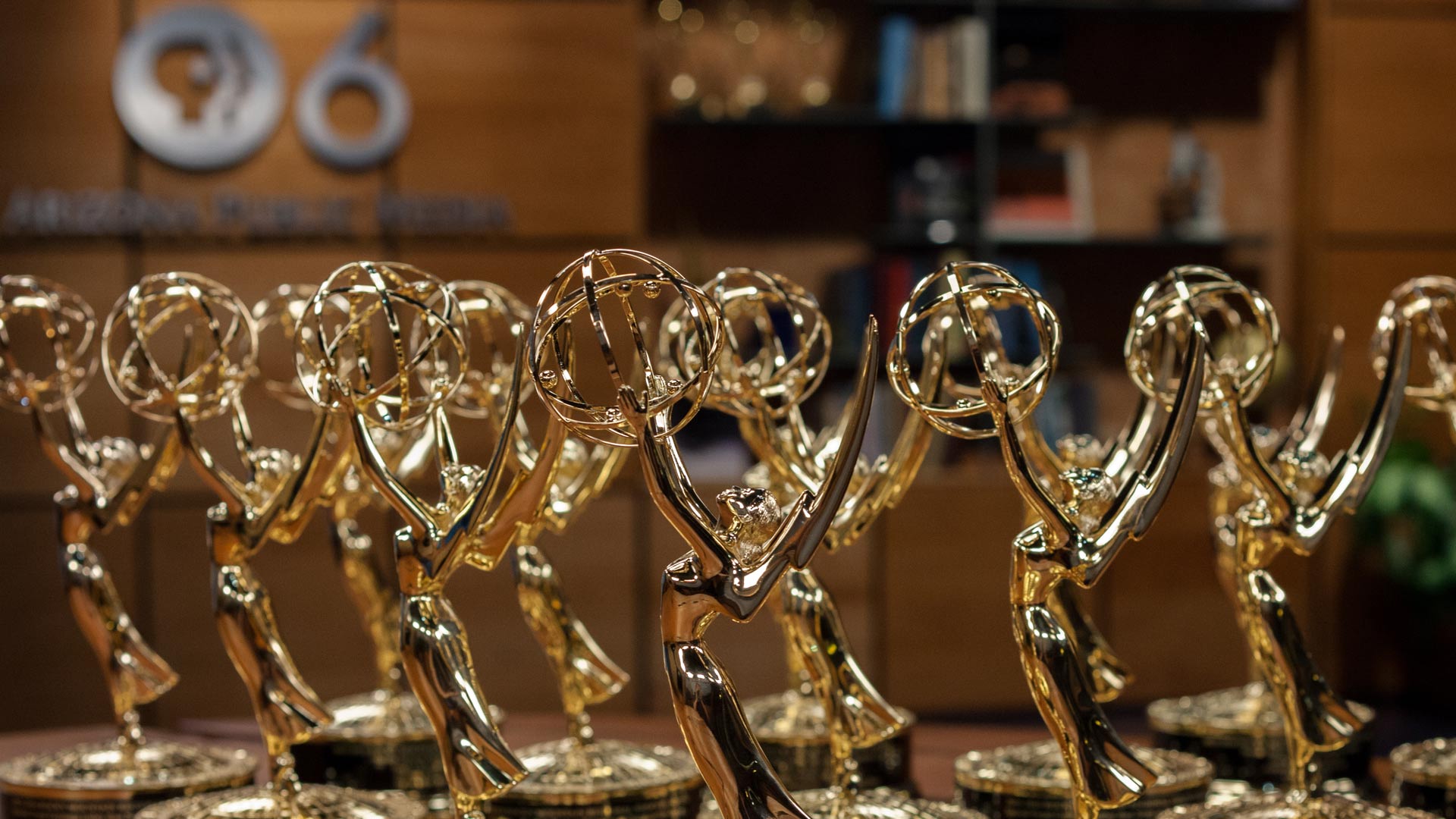 AZPM is proud to be recognized by the Rocky Mountain Southwest Chapter of the National Academy of Television Arts and Sciences.
AZPM Staff
Arizona Public Media received 12 individual Emmy® Awards for five projects in five categories at the Rocky Mountain Southwest Chapter of the National Academy of Television Arts and Sciences awards gala in Scottsdale on September 14th. This year's honorees include a first-time win for Arizona 360, a show/series win for Arizona Illustrated, and first-time Emmy® Awards for Vanessa Barchfield, Arizona Illustrated Producer/Reporter; Brian Deevers, AZPM Graphic Designer; Kassandra Lau, Arizona 360 Series Producer; Lorraine Rivera, Arizona 360 Producer & Host.
"It takes a village to land an Emmy," said Jack Gibson, AZPM Chief Executive Officer. "I am grateful to everyone who has supported the winners and nominees in the continued production of the stellar content that enriches our community."

The 2019 AZPM Emmy® winners are:
Category: ARTS/ENTERTAINMENT - NEWS SINGLE STORY/SERIES/FEATURE
Arizona Illustrated "Sean Parker's Universe"
Andrew Brown, Producer

In fewer than seven years, Tucsonan Sean Parker went from novice to internationally celebrated photographer and cinematographer. He now has an online audience of more than 600,000 followers. His fascination with photography has taken him all over the globe, from Iceland to Australia, working with some of the most recognizable media companies and brands in the world.
Category: POLITICS/GOVERNMENT - PROGRAM SPECIAL
Arizona 360 "El Paso Road Show"
Lorraine Rivera, Producer/Host
Kassandra Lau, Producer
Nathan Huffman, Videographer

Arizona 360 travels to El Paso, Texas where the Trump campaign hosted a rally for border security. Along the way, Lorraine Rivera visits community members, business owners and law enforcement in Southeastern Arizona, New Mexico and Texas to see how they interpret rhetoric from Washington, D.C. about a crisis at the southern border, and what solutions they believe would improve border security.
Category: SPORTS FEATURE SEGMENT
Arizona Illustrated "When Sarah Runs"
Sandra Westdahl, Videographer/Editor
Vanessa Barchfield, Producer
Brian Deevers, Graphic Animator
Michael McKisson, Aerial Videography

27-year-old Tucson-based nurse and distance runner Sarah Sellers trains every day, but unlike many runners who dominate the big races, she wasn't a professional runner until recently. She had only run one marathon when she entered the best-known race in the country…and placed second in the Boston Marathon earlier this year.
Category: HUMAN INTEREST-PROGRAM FEATURE/SEGMENT
Arizona Illustrated "Halfway Home"
Gisela Telis, Writer/Producer
Robert Lindberg, Editor

More than 650,000 Americans are released from prison every year. They face an uphill climb when transitioning to civilian life, including barriers to employment and housing that leave many unmoored, unsupported, and unable to move forward. Danny Howe made that climb himself after serving time in prison—and now he's helping other formerly incarcerated people rebuild their lives too.
Category: MAGAZINE PROGRAM - PROGRAM/SPECIAL OR SERIES
Arizona Illustrated
Mitchell Riley, Series Producer
Tom McNamara, Host
Arizona Illustrated continues its legacy of engaging southern Arizona's viewers with thought-provoking, diverse stories that reflect our community. Through stunning photography and powerful storytelling, meet the people that make Arizona unique and vibrant. Hosted by Tom McNamara.
In the last five years, AZPM staff members have won 57 individual Emmy awards, including the prestigious Governor's Award for the 2016 original documentary Passing On, and the Overall Excellence Award in 2015.
---
Arizona Public Media (AZPM) is an editorially independent, nonprofit public service of the University of Arizona (UA) and provides three television program services (PBS 6, PBS 6 Plus, and PBS Kids), four radio services (NPR 89.1, Classical 90.5, Jazz 89.1 HD2 and the BBC World Service) and a variety of online program offerings at azpm.org. AZPM is funded through the generous support of annual and sustaining members, the business community through program underwriting, fee-for-service production activities, the Corporation for Public Broadcasting, and direct and in-kind support from UA.
Arizona Public Media® and AZPM® are registered trademarks of the Arizona Board of Regents, which holds the FCC broadcast licenses for all AZPM stations, for the benefit of the University of Arizona. More information about AZPM, including program schedules and Video-on-Demand offerings, can be found online at azpm.org.