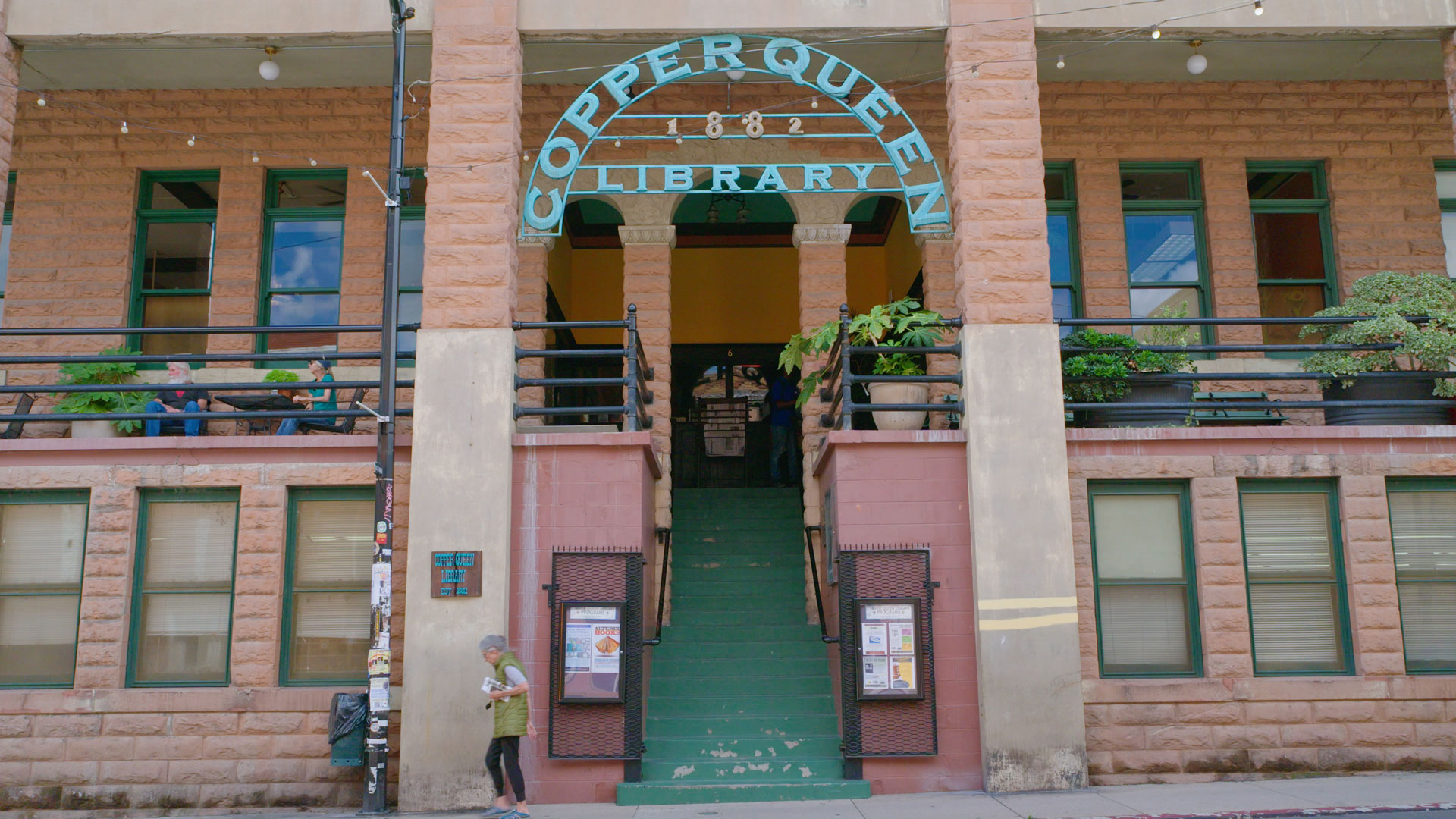 The National Educational Telecommunications Association (NETA) announced yesterday that the Arizona Illustrated segment, Copper Queen Library, was among one of the recipients of the 55th Annual Public Media Awards. The Public Media Awards honor member stations' finest work in community engagement, content, education, marketing/communications, independent productions, and overall excellence. The winning segment tied for first place in Education Content with Milwaukee PBS.
Produced by the award-winning team of Tony Paniagua and John DeSoto, Copper Queen Library originally aired on an episode of Arizona Illustrated in December 2022 and highlights the history and present day operations of the state's oldest continuously operating library in Bisbee, Arizona. Awards were judged by a group of expert panelists from within the public media system, as well as industry professionals working outside of public media.
Tony Paniagua, Producer
John DeSoto, Videographer/Editor

The Copper Queen Library in Bisbee is the oldest continuously operating library in Arizona and it's been getting national recognition in recent years. In 2019, the Library Journal named it as the best small library in the country, and in 2022, it was the only library in the state to be among 30 finalists for the 2022 National Medal for Museum and Library Service. The Copper Queen's building is historic and has prominent architectural features while offering modern services. These include computer classes, a seed bank, and a tool rental program at the adjunct facility which operates at a former public school in a different section of the city.
---
About NETA
The National Educational Telecommunications Association (NETA) is a professional association representing 302 member stations in 49 states, the Virgin Islands, and the District of Columbia. NETA - 6 - provides leadership, general audience content, educational services, professional development, and trusted financial management services, including human resources and benefits administration, to individual public media licensees, their affinity groups, and public media as a whole. For more information, visit netaonline.org.
About AZPM
Arizona Public Media (AZPM) is an editorially independent, nonprofit community service of the University of Arizona and provides three television program services (PBS 6, PBS 6 Plus, and PBS Kids), four radio services (NPR 89.1, Classical 90.5, Jazz 89.1 HD2, and the BBC World Service) and a variety of online program offerings at azpm.org. AZPM is funded through the generous support of annual and sustaining members, the business community through program underwriting, fee-for-service production activities, the Corporation for Public Broadcasting, and direct and in-kind support from the University of Arizona.

Arizona Public Media® and AZPM® are registered trademarks of the Arizona Board of Regents, which holds the FCC broadcast licenses for all AZPM stations, for the benefit of the University of Arizona. More information about AZPM, including program schedules and Video-on-Demand offerings, can be found online at azpm.org.