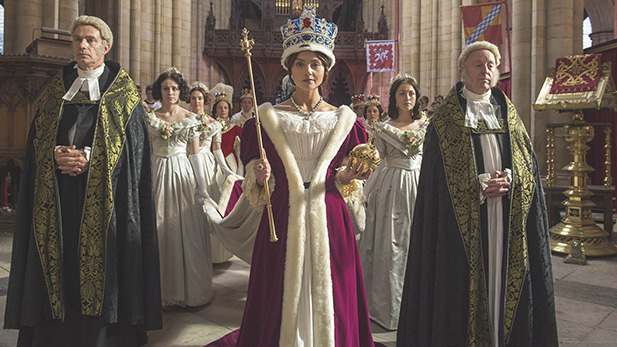 Jenna Coleman as Queen Victoria

Courtesy of ITV Plc
TUCSON, AZ - November 1, 2016 - Jenna Coleman (Doctor Who) stars as the young Queen Victoria at the outset of her epic reign, which set the stage for an entire era that would be named in her honor.
Scripted by bestselling novelist Daisy Goodwin (The Fortune Hunter), Victoria airs in seven magnificent parts, fit for a queen, on MASTERPIECE, January 15, 2017 on PBS 6.
Following Victoria from her accession to the throne at age 18, through her education in politics, courtship and marriage, Victoria paints a portrait of a monarch who was raised to be the pawn of her powerful elders but who wasted no time in showing the empire who was in charge.
The stellar cast includes Rufus Sewell (The Man in the High Castle) as Lord Melbourne, the British prime minister who was Victoria's father figure and intimate friend; Tom Hughes (Dancing on the Edge) as the handsome, brilliant and awkward Prince Albert, who stole Victoria's heart after a rocky start; and Alex Jennings (Churchill's Secret) as Leopold I, King of Belgium, Victoria and Albert's matchmaking uncle who had dreams of a dynasty for his obscure royal line—which he amazingly achieved.
Paul Rhys (Borgia) plays Sir John Conroy, the rumored lover of Victoria's mother, the Duchess of Kent, a German princess played by German actress Catherine H. Flemming. Conroy pictures himself as the de facto ruler of the realm—if only he can get the duchess appointed regent for the immature queen. And Peter Firth (South Riding) appears as Victoria's conniving uncle, the Duke of Cumberland, who is convinced that he rightfully belongs on the throne and diligently conspires to get there.
In Victoria, writer Daisy Goodwin imaginatively depicts what it was like for an ill-educated, emotionally deprived teenager to wake up one morning and find that she is the most powerful woman in the world. That it happened at all was practically a miracle. Victoria was queen only by virtue of ill luck and unfruitful marriages on the part of her uncles, who failed to produce legitimate heirs to the crown. Furthermore, her immediate predecessors were so disliked as kings that the institution of the monarchy seemed to be doomed. Victoria charts how the new ruler rose to the challenge and weathered a series of crises—some of her own making—without ever losing her youthful charm and innate sense of justice, which made her popular with her subjects.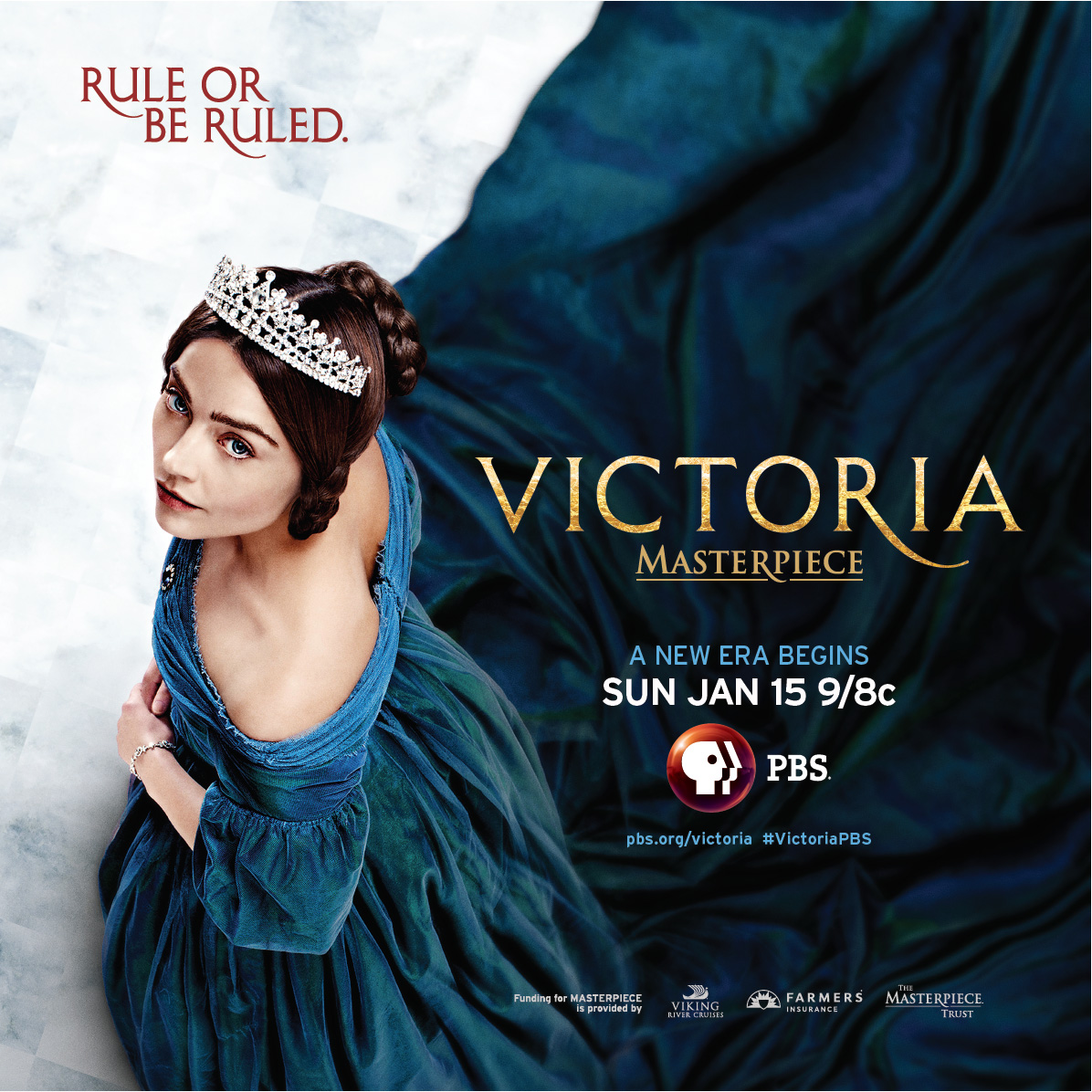 Goodwin has been careful to stay faithful to the facts, while reading between the lines to fill in the gaps where the early Victorians were scrupulously silent. The result is a gripping historical pageant that reveals a side of Victoria that is at odds with her later reputation for prudery and a high moral tone. In other words, Victoria was not a Victorian as we use the term.
"She was very, very keen on sex," says Goodwin, adding, "with her husband. She had nine children. She didn't lie back and think of England, at all!"
Victoria's name is another case of our inheriting the wrong idea. There were so many Victorias named in tribute to the queen, during and after her reign, that it comes as a surprise to learn that when she was christened Alexandrina Victoria at her birth, both names were practically made up. Previous British queens were Jane, Mary, Elizabeth, or Anne.
The regnal name by which a king or queen is to be officially known is up to the sovereign. In choosing to be called Queen Victoria, could she have been signaling that she would be a queen like no other? Victoria is a coproduction of Mammoth Screen and MASTERPIECE. It is created, written and executive produced by Daisy Goodwin. The director is Tom Vaughn (He Knew He Was Right). The directors are Sandra Goldbacher and Olly Blackburn.
The producer is Paul Frift (Restless). The executive producers are Dan McCulloch and Damien Timmer for Mammoth Screen and Rebecca Eaton for MASTERPIECE, presented by WGBH Boston. It is distributed internationally by ITV Studios Global Entertainment.
---


About MASTERPIECE The top-rated primetime show on PBS, MASTERPIECE is celebrating its 45th anniversary in 2016. MASTERPIECE is presented on PBS by WGBH Boston. Rebecca Eaton is executive producer. Funding for the series is provided by Viking River Cruises with additional support from public television viewers and contributors to The MASTERPIECE Trust. MASTERPIECE is known for presenting iconic shows such as Upstairs Downstairs, Prime Suspect, The Forsyte Saga, Poldark, Sherlock and Downton Abbey.

About PBS PBS, with 350 member stations, offers all Americans the opportunity to explore new ideas and new worlds through television and online content. Each month, PBS reaches nearly 100 million people through television and nearly 33 million people online, inviting them to experience the worlds of science, history, nature and public affairs; to hear diverse viewpoints; and to take front row seats to world-class drama and performances. PBS' broad array of programs has been consistently honored by the industry's most coveted award competitions. Teachers of children from pre-K through 12th grade turn to PBS for digital content and services that help bring classroom lessons to life. PBS' premier children's TV programming and its website, pbskids.org, are parents' and teachers' most trusted partners in inspiring and nurturing curiosity and love of learning in children.

About WGBH WGBH Boston is America's preeminent public broadcaster and the largest producer of PBS content for TV and the Web, including Frontline, Nova, American Experience, Masterpiece, Antiques Roadshow, Arthur, Curious George and more than a dozen other prime-time, lifestyle, and children's series. WGBH also is a major supplier of programming for public radio, and oversees Public Radio International (PRI). As a leader in educational multimedia for the classroom, WGBH supplies content to PBS LearningMedia, a national broadband service for teachers and students. WGBH also is a pioneer in technologies and services that make media accessible to those with hearing or visual impairments. WGBH has been recognized with hundreds of honors. wgbh.org.

About Mammoth Screen Mammoth Screen is one of the UK's leading production companies. Current productions include Poldark II, based on the novels by Winston Graham and adapted by Debbie Horsfield, and The Witness for the Prosecution, an adaptation by Sarah Phelps of the Agatha Christie story, both for BBC ONE; NW, adapted by Rachel Bennette from the novel by Zadie Smith, and The City and the City, adapted by Tony Grisoni from the novel by China Miéville, both for BBC TWO; Endeavour IV, the Inspector Morse prequel series written by Russell Lewis and Victoria, written by Daisy Goodwin, both for ITV, and Agatha Raisin, based on novels by MC Beaton and adapted by Stewart Harcourt for Sky One.

About ITV Studios Global Entertainment ITV Studios Global Entertainment (ITVS GE) is one of the world's leading international TV distribution, home entertainment, publishing, merchandising and licensing businesses. ITVS GE distributes celebrated content across all genres from both its in-house production business, ITV Studios, and in collaboration with leading producers from around the world. Part of ITV PLC, which includes the UK's largest commercial broadcaster, ITV Studios Global Entertainment has offices in London, Hong Kong, Los Angeles and Sydney.