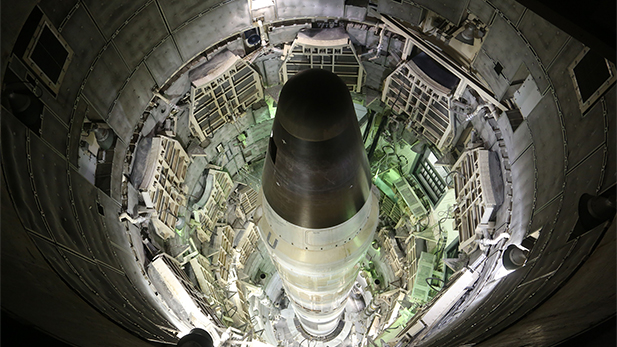 Command and Control is the long-hidden story of a deadly 1980 accident at a Titan II missile complex in Damascus, Arkansas. Portions of the film were shot in an abandoned Titan II missile silo in Arizona.

Courtesy of WGBH
BOSTON, MA - DECEMBER 15, 2016 — A cautionary tale of freak accidents, near misses, human fallibility, and extraordinary heroism, Command and Control exposes the terrifying truth about the management of America's nuclear arsenal and shows what can happen when the weapons built to protect us threaten to destroy us. The film recounts, in chilling, minute-by-minute detail, the story of a deadly 1980 accident at a Titan II missile complex in Damascus, Arkansas.
Through the first-person accounts of Air Force personnel, weapon designers and first responders who were on the scene, the film reveals the unlikely chain of events that caused the accident and the feverish efforts to prevent the explosion of a ballistic missile carrying the most powerful nuclear warhead ever built by the United States — 600 times more powerful than the bomb that destroyed Hiroshima. Directed by Academy Award-nominated filmmaker Robert Kenner (Food Inc.) and based on the critically acclaimed book of the same title by Eric Schlosser (Fast Food Nation), Command and Control premieres on American Experience Tuesday, January 10, 2017 at 8:00 p.m. on PBS 6.
On the evening of September 18, 1980, Airmen David F. Powell and Jeffrey L. Plumb were performing routine maintenance at the Titan II silo in Damascus, Arkansas. At the age of 21, Powell was considered a highly experienced missile technician; Plumb, who had just turned 19, was still in training. As the two stood on a platform near the top of the Titan II, a socket fell from Powell's wrench, plummeted 70 feet and, shockingly, punctured the missile. A stream of highly explosive rocket fuel began pouring into the silo.
Nothing like this had ever happened to a Titan II before and the Air Force had no procedures in place to deal with the event. For the next eight hours, the leadership of the Strategic Air Command (SAC) frantically struggled to figure out how to prevent a massive explosion and retain control of the thermonuclear warhead — a weapon so powerful that it could destroy much of Arkansas and deposit lethal radioactive fallout across the East Coast.
"The story of the Damascus accident is one that nobody really knows, and in fact, I'm not sure anybody's supposed to know," said Mark Samels, producer of Command and Control and American Experience executive producer. "As safe and secure and as well-designed and well-operated as our nuclear weapons system may be, it's subject to the x-factor. And the x-factor is human fallibility. The most powerful weapons that we've ever created as human beings have a threat built into them. And that threat is us."
"Today the U.S. still has approximately 7,000 nuclear weapons. Command and Control teaches us that these weapons not only pose a threat to our enemies, but also to ourselves," said Kenner. "After an accident, everyone will be asking why we didn't do something. We need to be asking these questions before it's too late."
Woven through the Damascus story is a riveting history of America's nuclear weapons program, from World War II through the Cold War, much of it based on recently declassified documents. A cautionary tale filmed in an abandoned Titan II missile silo in Arizona, Command and Control forces viewers to confront the great dilemma that the U.S. has faced since the dawn of the nuclear age: How do we manage weapons of mass destruction without being destroyed by them?
---
About American Experience
For more than 28 years, American Experience has been television's most-watched history series. The series has been hailed as "peerless" (The Wall Street Journal), "the most consistently enriching program on television" (Chicago Tribune) and "a beacon of intelligence and purpose" (Houston Chronicle). On air and online, the series brings to life the incredible characters and epic stories that have shaped America's past and present. Acclaimed by viewers and critics alike, American Experience documentaries have been honored with every major broadcast award, including 30 Emmy Awards, four duPont-Columbia Awards and 17 George Foster Peabody Awards; the series received an Academy Award® nomination for Best Documentary Feature in 2015 for Last Days in Vietnam. Visit pbs.org/americanexperience to learn more.
Exclusive corporate funding for American Experience provided by Liberty Mutual Insurance. Major funding provided by the Alfred P. Sloan Foundation. Additional funding for Command and Control provided by the John D. and Catherine T. MacArthur Foundation, the Corporation for Public Broadcasting and public television viewers. American Experience is produced for PBS by WGBH Boston.
Additional funding for a national impact campaign for Command and Control provided by the John D. and Catherine T. MacArthur Foundation and Carnegie Corporation of New York.

About AZPM
AZPM is an Emmy® award-winning, member-supported media organization serving all of Southern Arizona. AZPM has six public television channels and three radio stations, including PBS 6, PBS Kids and NPR 89.1. AZPM produces local content from its digital studios on the campus of the University of Arizona and is provided as a community service and educational resource. More information about AZPM, including program schedules and Video-on-Demand offerings, can be found online at azpm.org.
Arizona Public Media® and AZPM® are registered trademarks of the Arizona Board of Regents.
Twitter: @azpmnews, @azpm | Facebook: azpublicmedia | You Tube: arizonapublicmedia