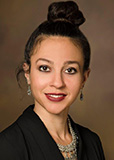 April 11, 2016 - TUCSON, AZ - Arizona Public Media Producer/Reporter Gisela Telis has been honored with the University of Arizona's prestigious Award for Excellence.
The annual University Awards for Excellence​ recognize eleven employees for outstanding achievements in activities beyond normal duties. Telis was nominated for outstanding service to the university community and/or visitors for contributing to public service and outreach via her exceptional reportage on mental health issues.
In addition to public recognition for her outstanding contributions to the community on behalf of AZPM and the University of Arizona, Telis will receive a university-funded monetary award.
Before joining AZPM in October 2010, Gisela Telis worked as a freelance writer, producer and photographer covering science and the environment for national publications, including the Washington Post, Christian Science Monitor and High Country News. She was also the producer of InterViews, a podcast series exploring the lives of leading researchers for the National Academy of Sciences, and the editor of Champions for Change, a book about athletes and explorers working to combat climate change.
Gisela used to do astrophysics research before the American Association for the Advancement of Science Mass Media Fellowship put her to work at NPR. She has also worked as a reporter for the Alamogordo Daily News in New Mexico, and has along the way received the New Mexico Press Association E.H. Shaffer Award for investigative reporting, an Institutes for Journalism and Natural Resources Pacific Northwest Fellowship, and an Arizona Artist Project Grant. She was a 2011-2012 Rosalynn Carter Mental Health Journalism Fellow.
University Senior Vice President for Academic Affairs & Provost, Andrew Comrie will present the awards at a ceremony on Tuesday, April 26 in the Student Union Memorial Center's Grand Ballroom.
---
About AZPM
AZPM is an Emmy® award-winning, member-supported media organization serving all of Southern Arizona. AZPM has six public television channels and three radio stations, including PBS 6, PBS Kids and NPR 89.1. AZPM produces local content from its digital studios on the campus of the University of Arizona and is provided as a community service and educational resource. More information about AZPM, including program schedules and Video-on-Demand offerings, can be found online at azpm.org.
Arizona Public Media® and AZPM® are registered trademarks of the Arizona Board of Regents.
Twitter: @azpmnews, @azpm | Facebook: azpublicmedia | You Tube: arizonapublicmedia