April 27, 2016 - TUCSON, AZ - Arizona Public Media Producer/Reporter Gisela Telis received an honorable mention from the National Press Foundation for her reporting on the lack of mental health services in rural areas, competing against news organizations from across the United States.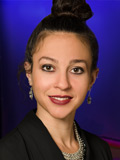 The Carolyn C. Mattingly Award for Mental Health Reporting is given in memory of the Potomac, Maryland philanthropist and activist. Mattingly's family decided to establish the award in the aftermath of her tragic death in 2014.
The award is open to any journalist at a U.S. based new organization, including print, broadcast and online. The award recognizes exemplary journalism that illuminates and advances the understanding of mental health issues and treatments for the illness.
Before joining AZPM in October 2010, Gisela Telis worked as a freelance writer, producer and photographer covering science and the environment for national publications, including the Washington Post, Christian Science Monitor and High Country News. She was also the producer of InterViews, a podcast series exploring the lives of leading researchers for the National Academy of Sciences, and the editor of Champions for Change, a book about athletes and explorers working to combat climate change.
Gisela used to do astrophysics research before the American Association for the Advancement of Science Mass Media Fellowship put her to work at NPR. She has also worked as a reporter for the Alamogordo Daily News in New Mexico, and has along the way received the New Mexico Press Association E.H. Shaffer Award for investigative reporting, an Institutes for Journalism and Natural Resources Pacific Northwest Fellowship, and an Arizona Artist Project Grant. She was a 2011-2012 Rosalynn Carter Mental Health Journalism Fellow.
---
About AZPM
AZPM is an Emmy® award-winning, member-supported media organization serving all of Southern Arizona. AZPM has six public television channels and three radio stations, including PBS 6, PBS Kids and NPR 89.1. AZPM produces local content from its digital studios on the campus of the University of Arizona and is provided as a community service and educational resource. More information about AZPM, including program schedules and Video-on-Demand offerings, can be found online at azpm.org.
Arizona Public Media® and AZPM® are registered trademarks of the Arizona Board of Regents.
Twitter: @azpmnews, @azpm | Facebook: azpublicmedia | You Tube: arizonapublicmedia