May 12, 2016 – TUCSON, AZ - Arizona Public Media (AZPM) Executive Producer John Booth will be inducted into the National Academy of Television Arts and Sciences' Silver Circle at the Annual Emmy® Gala in October.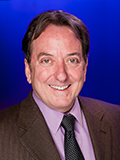 AZPM
The Silver Circle Award recognizes individuals who have worked in the industry for a minimum of 25 years, with the majority being spent in the Rocky Mountain Region (Arizona, New Mexico, Utah, Wyoming, and El Centro, California). ​
With a 30+ year career in broadcast journalism, Booth has worked in all aspects of production, including videography, editing, directing and producing. His body of work includes national PBS programs such as The MacNeil/Lehrer NewsHour, Frontline and Nova. Booth has also produced and written documentary programs including: Sinking the Lusitania; Occupied Japan and episodes of The Great Lodges of the National Parks and Great American Railway Journeys.
Booth's work has earned him multiple accolades including Telly and CINE awards, a Chicago International Film Silver Hugo Award, several regional Emmys® and two NHK Japan Prizes, an international competition established by NHK in 1965 to recognize excellence in educational television.
Click here for a current list of Silver Circle members.
---
About AZPM
AZPM is an Emmy® award-winning, member-supported media organization serving all of Southern Arizona. AZPM has six public television channels and three radio stations, including PBS 6, PBS Kids and NPR 89.1. AZPM produces local content from its digital studios on the campus of the University of Arizona and is provided as a community service and educational resource. More information about AZPM, including program schedules and Video-on-Demand offerings, can be found online at azpm.org.
Arizona Public Media® and AZPM® are registered trademarks of the Arizona Board of Regents.
Twitter: @azpmnews, @azpm | Facebook: azpublicmedia | You Tube: arizonapublicmedia