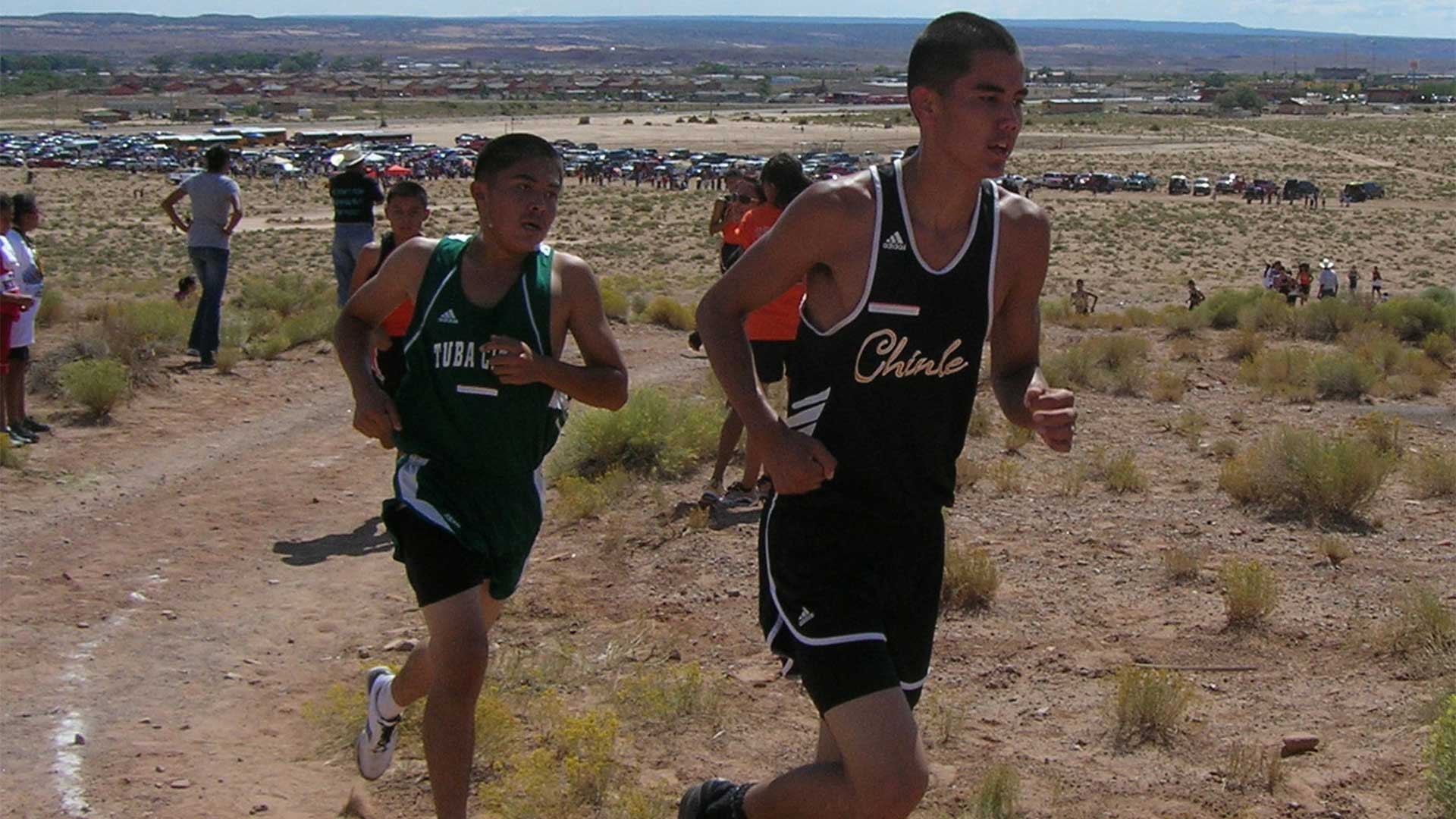 RACING THE REZ offers a rare view into the surprising complexity and diversity of contemporary Navajo and Hopi reservation life, from the point of view of five teenage boys.
2012 Wolf Hill Films
Celebrate the history, culture, and traditions of American Indians and Alaska Natives through a collection of films and special programming on PBS 6 and PBS 6 PLUS.
Native American Heritage Month Programs
November 1 - 30, 2017
Television highlights include:
RED denotes "new" program.
Full schedules are available online. Schedule is subject to change.
List includes first air only. See schedule for repeats tv.azpm.org.
Spirit In Glass: Plateau Native Beadwork
(PBS 6: Monday, November 6th at 1130pm)
This one-hour documentary celebrates the spectacular beadwork of the Northwest Plateau People. The film provides a rare opportunity to experience Plateau culture through the eyes and hearts of artists, who share their history, motivation, and the beadwork that plays an important role in binding their culture together.

Tracing Roots: A Weaver's Journey
(PBS 6: Tuesday, November 20th at 630pm)
Tracing Roots is a portrait of an artist and a mystery. The film follows master weaver and Haida elder Delores Churchill on a journey to understand the origins of a spruce root hat found with Kwaday Dan Ts'inchi, the Long Ago Person Found, a 300-year-old traveler discovered in Northern Canada in a retreating glacier.

Remembering the Songs: Music of the Zuni, Navajo & Salish Peoples
(PBS 6: Monday, November 20th at 930pm)
A music and lecture performance providing a unique look at the musical traditions of Zuni, Navajo and Salish communities and the importance of songs to these people through the stories of three song keepers and music makers from native communities. Many songs have been lost, but this program shares some of the songs that remain.

Seeking Water from the Sun
(PBS 6: Tuesday, November 21st at 630pm)
Arizona scientists are exploring how to use solar energy to bring clean water to the Navajo Nation. Watch online

Medicine Woman
(PBS 6: Tuesday, November 21st at 11pm)
She was America's first Native doctor, breaking barriers of race and gender to heal her traumatized people. A century later, Native women from many tribes follow in the footsteps of Dr. Susan La Flesche Picotte (1865-1915). Medicine Woman documents their stories.

Medicine Game
(PBS 6: Wednesday, November 22nd at 11pm)
The journey of two brothers from the Onondaga Nation driven by a single goal; to play lacrosse for Syracuse University. In their darkest hour, with their dreams crumbling around them, the boys look to family and Native teachings for guidance. It is their search for identity that transitions a playful coming of age story to an important study of modern Native American life.

Navajo Math Circles
(PBS 6 PLUS: Sunday, November 5th at 3pm)
Navajo students engage in a lively collaboration with mathematicians. Using concepts from Native culture and a unique student-centered approach, the project aims to spark interest in math and science and create greater educational opportunities.

Racing the Rez
(PBS 6 PLUS: Sunday, November 5th at 4pm)
For Navajo and Hopi Tribes, running is more than a sport. The film moves beyond stereotypes of the past and present as two high school boys' cross country teams--Tuba City and Chinle--compete for the state championship title.

Johnny Cash's Bitter Tears
(PBS 6 PLUS: Sunday, November 12th at 3pm)
The story behind Johnny Cash's lost Native American-themed concept album.

Sand Creek Massacre
(PBS 6 PLUS: Sunday, November 12th at 4pm)
What would lead approximately 675 volunteer soldiers to attack a peaceful settlement of Cheyenne and Arapaho Indians in southeastern Colorado Territory? On November 29, 1864, Colonel John Chivington led a group to do just that, resulting in the deaths of over one hundred men, women, and children.

LaDonna Harris: Indian 101
(PBS 6 PLUS: Sunday, November 19th at 3pm)
The story of Comanche activist Ladonna Harris who led an extensive life of Indian political and social activism and is now passing on her traditional cultural and leadership values to a new generation of emerging indigenous leaders.

Lineage: Tlingit Art Across Generations
(PBS 6 PLUS: Friday, November 24th at 1pm)
Lineage: Tlingit Artists Across Generations shines a light on Tlingit masters, their apprentices, and their descendants. It is a story of legacy, and of how generations renew the spirit and form of their ancestral visual culture with every chip carved, fiber woven, bead sewn, and step danced. This is a story of cultural awareness and resurgence, all told through the perspectives of the Indigenous artists, illuminating cultural lifeways and ways of being and knowing that have fostered an art form that has long fascinated and beguiled viewers across the world.

Tending the Wild
(PBS 6 PLUS: Saturday, November 25th at 12pm)
Tending the Wild shines a light on the environmental knowledge of indigenous peoples across California by exploring how they have actively shaped and tended the land for millennia, in the process developing a deep understanding of plant and animal life. This documentary examines how humans are necessary to live in balance with nature and how traditional practices can inspire a new generation of Californians to tend their environment.

Standing on Sacred Ground #101 - #104
(PBS 6 PLUS: Saturday, November 25th at 1pm - 5pm)
Around the world, indigenous people stand up for their traditional sacred lands in defense of cultural survival, human rights, and the environment.

Apache 8
(PBS 6 PLUS: Sunday, November 26th at 4pm)
For 30 years, the all-female Apache 8 unit has protected their reservation from fire and also responded to wildfires around the nation. This is the compelling story of that wildland firefighter crew from the White Mountain Apache Tribe.


PBS 6 (KUAT 6.1 & 27.1)

Spirit in Glass: Plateau Native Beadwork Nov 6th at 1130pm
Tracing Roots: A Weaver's Journey Nov 20th at 630pm
Remembering the Songs: Music of the Zuni, Navajo & Salish Peoples Nov 20th at 930pm
Seeking Water from the Sun Nov 21st at 630pm
Medicine Woman Nov 21st at 11pm
Medicine Game Nov 22nd at 11pm



PBS 6 PLUS (KUAT 6.3 & 27.3)

Navajo Math Circles Nov 5th at 3pm
Racing the Rez Nov 5th at 4pm
Johnny Cash's Bitter Tears Nov 12th at 3pm
Sand Creek Massacre Nov 12th at 4pm
LaDonna Harris: Indian 101 Nov 19th at 3pm
Lineage: Tlingit Art Across Generations Nov 24th at 1pm
Tending the Wild Nov 25th at 12pm
Standing on Sacred Ground #101 - #104 Nov 25th at 1pm
Medicine Game Nov 26th at 3pm
Apache 8 Nov 26th at 4pm