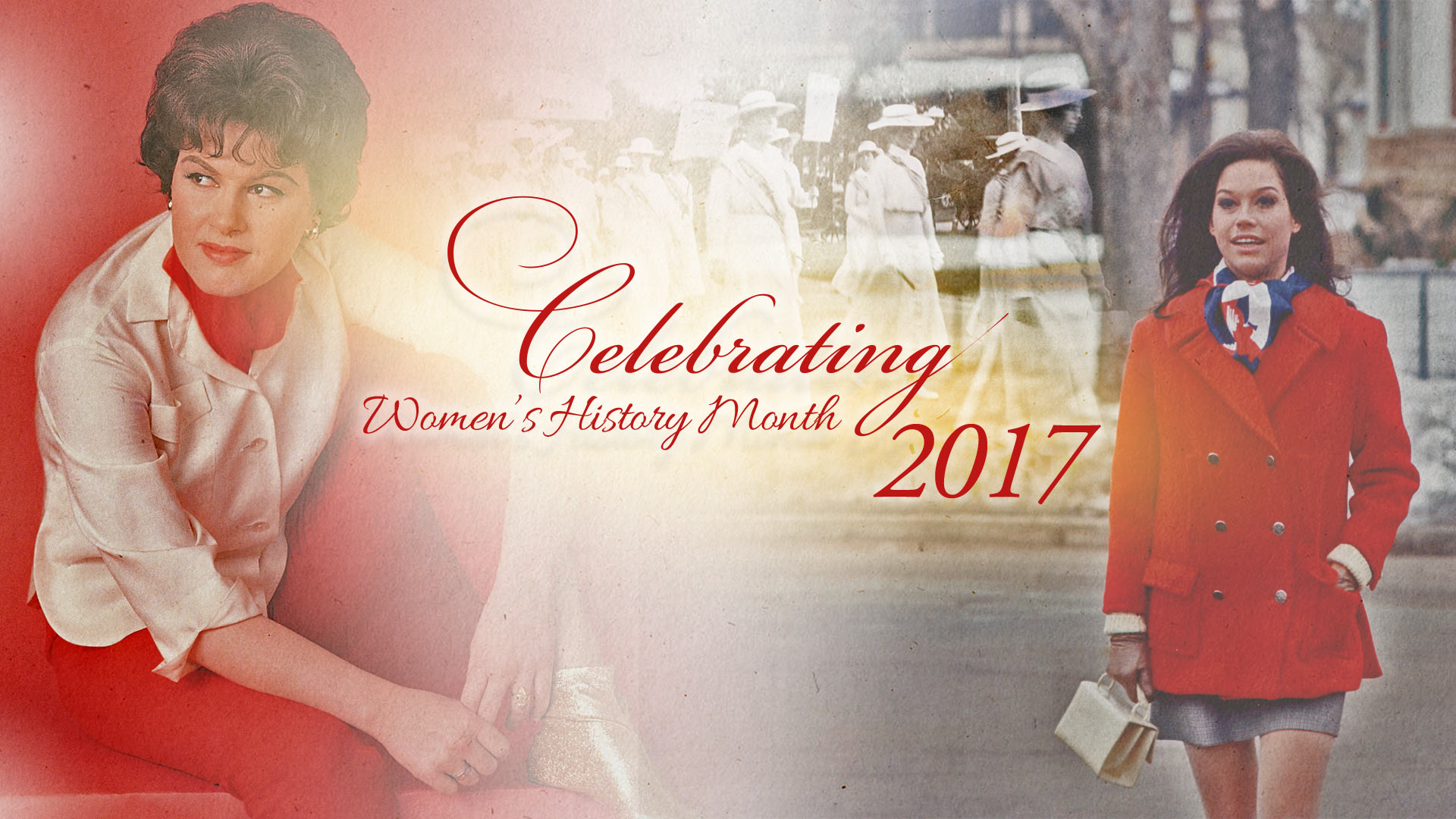 AZPM celebrates Women's History Month all through the month of March.
Throughout the month of March, Arizona Public Media celebrates Women's History Month by featuring an extensive lineup of special programming. PBS 6 and READY/WORLD offer viewers the opportunity to explore the rich, vibrant history as well as the political, scientific, social and cultural contributions of women to society.
Television highlights include:
RED denotes "new" program.
Full schedules are available online.
List includes first air only. See schedule for repeats tv.azpm.org.



Searching for Augusta: The Forgotten Angel of Bastogne
(PBS 6: Thursday, March 2 at 3:00 p.m.)
Augusta Chiwy was a black nurse at a US military aid station during the Battle of The Bulge.
Patsy Cline: American Masters
(PBS 6: Saturday, March 4th at 4pm)
The life and legacy of the groundbreaking singer who defined modern country music are celebrated.
Victoria on Masterpiece: Young England
(PBS 6: Sunday, March 5th at 9pm)
Follow Victoria's (Jenna Coleman) dramatic story, from the time she becomes queen in 1837 at age 18 through her relationship with Lord Melbourne (Rufus Sewell), her first prime minister, and her courtship and marriage to Prince Albert (Tom Hughes).
Heart: Live at Royal Albert Hall w/The Royal Philharmonic Orchestra
(PBS 6: Sunday, March 5th at 1030pm) The legendary rockers perform "Magic Man" and more with The Royal Philharmonic Orchestra in London.
Penny: Champion of the Marginalized
(READY/WORLD: Tuesday, March 21st at 730pm) (PBS 6: March 25th at 330pm) Celebrated criminal defense attorney and art collector Penny Cooper is a role model and pioneer.
Perfect 36: When Women Won the Vote
(PBS 6: Thursday, March 23rd at 330pm)
(READY/WORLD: Friday, March 24th at 730pm)
The years of debate about women's suffrage and the vote to ratify the amendment are chronicled.
Elizabeth I: War on Terror
(PBS 6: Thursday, March 23rd at 10pm)
In 1586, spymaster Sir Francis Walsingham foiled a plan by terrorists to kill Queen Elizabeth.
Soldier On: Life After Deployment
(PBS 6: Sunday, March 26h at 2pm) (READY/WORLD: Wednesday, March 29th at 7pm) Three women confront the challenges of readjusting to civilian life after their military service.
Independent Lens: Ovarian Psycos
(PBS 6: Monday, March 27th at 10pm)
(READY/WORLD: Wednesday, March 29th at 6pm)
Ovarian Psycos Cycle Brigade are committed to collectively confronting racism and violence.
To Walk Invisible: The Bronte Sisters on MASTERPIECE
(PBS 6: Sunday, March 26th at 9pm)
Charlotte, Emily and Anne Bonte, all unmarried, faced a bleak future. Unable to rely on their alcoholic brother and near blind father to provide for them, they were force to work as governesses to privileged and often unruly children. This is the story of how – against all odds – they had their genius for writing romantic novels recognized in a male-dominated 19th century world.
Queen at 90
(PBS 6: Sunday, March 30th at 10pm)
Members of the British royal family share their memories of the Queen as a monarch and mentor.
PBS 6 (KUAT DT6-1)

Searching for Augusta: The Forgotten Angel of Bastogne Mar 2 at 3pm
Age Reversed w/Miranda Esmonde-White Mar 4 at 10am
Patsy Cline: American Masters Mar 4 at 4pm
Victoria on Masterpiece: Young England Mar 5 at 9pm
Heart: Live at Royal Albert Hall w/the Royal Philharmonic Orchestra Mar 5 at 1030pm
Mary Tyler Moore: A Celebration Mar 9 at 8pm
Forever Painless w/Miranda Esmonde-White Mar 9 at 930pm
Suze Orman's Financial Solutions for You Mar 10 at 1230pm
Carol Burnett's Favorite Sketches Mar 14 at 230pm
Beyond the Powder: The Legacy of the First Women's Cross-Country Air Race Mar 19 at 7am
Black Women in Medicine Mar 19 at 8am
Closing the Gap: 50 Years Seeking Equal Pay Mar 19 at 9am
American Masters #2704: Dorothea Lange: Grab a Hunk of Lightning Mar 21 at 8pm
Arizona Illustrated #313: The Architect: Judith Chafee Mar 23 at 3pm
Perfect 36: When Women Won the Vote Mar 23 at 330pm
Elizabeth I: War on Terror Mar 23 at 10pm
Powder & The Glory Mar 25 at 2pm Penny: Champion of the Marginalized Mar 25 at 330pm
Soldier On: Life After Deployment Mar 26 at 2pm
Women's List: American Masters Mar 26 at 3pm
Carol Burnett: The Mark Twain Prize Mar 26 at 4pm
To Walk Invisible: The Bronte Sisters on MASTERPIECE Mar 26 at 9pm
Independent Lens: Ovarian Psycos Mar 27 at 10pm
Queen at 90 Mar 30 at 10pm

READY/WORLD (KUAT DT6-3)
American Masters #2606: Alice Walker: Beauty in Truth Mar 1 at 6pm
Erma Bombeck: Legacy of Laughter Mar 1 at 7pm
Storied Life of Millie Benson Mar 5 at 330am
POV #2702: American Revolutionary: The Evolution of Grace Lee Mar 5 at 8pm
Makers #402: Women in Hollywood Mar 6 at 6pm
Finding Elizabeth's Soldiers Mar 7 at 12pm
Makers #201: Women in Comey Mar 8 at 12am
Janis Joplin: American Masters #2706 Mar 8 at 6pm
American Masters #2805: Carole King Mar 9 at 12am
My Love Affair w/the Brain: The Life & Science of Dr Marian Diamond Mar 9 at 6pm
American Masters #2604: Billie Jean King Mar 10 at 630pm
Women's List: American Masters Mar 11 at 2pm
Great Performances at the Met #1010: Elektra Mar 11 at 3pm
Loretta Lynn: American Masters #2806 Mar 11 at 10pm
POV #2610: The World Before Her Mar 12 at 8pm
Independent Lens #1702: India's Daughter Mar 12 at 9pm
Makers #204: Women in Politics Mar 13 at 6pm
Farmher The Documentary Mar 14 at 12pm
America Reframed #503: Radical Grace Mar 14 at 6pm
POV #2905: Iris Mar 15 at 630pm
Julia Robinson and Hilbert's Tenth Problem Mar 16 at 6pm
Secrets of the Dead #1502: Cleopatra's Lost Tomb Mar 16 at 7pm
Pioneers of Television #301: Funny Ladies Mar 18 at 10pm
Mary Tyler Moore: A Celebration Mar 18 at 11pm
Loreena Mckennitt: Nights from Alhambra Mar 19 at 2pm
Makers #206: Women in War Mar 20 at 6pm
Finding Traction Mar 21 at 12pm
Women of '69, Unboxed Mar 22 at 12am
Evening w/Valerie Jarrett Mar 22 at 3am
Medicine Woman Mar 23 at 7pm
Breaking through the Clouds: The First Women's National Air Derby Mar 24 at 6pm
Perfect 36: When Women Won the Vote Mar 24 at 730pm
American Masters #2704: Dorothea Lange: Grab a Hunk of Lightning Mar 25 at 10pm
Wings for Maggie Ray Mar 26 at 12am
Beyond the Powder: The Legacy of the First Women's Cross-Country Air Race Mar 26 at 3am
Independent Lens #1615: Born to Fly: Elizabeth Streb Vs Gravity Mar 26 at 11pm
What Love Is – The Duke Pathfinders 50 Mar 27 at 2am
Georgia O'Keeffe: A Woman on Paper Mar 28 at 730pm
Soldier On: Life After Deployment Mar 29 at 7pm
*Independent Lens #1811: Ovarian Psycos Mar 29 at 6pm