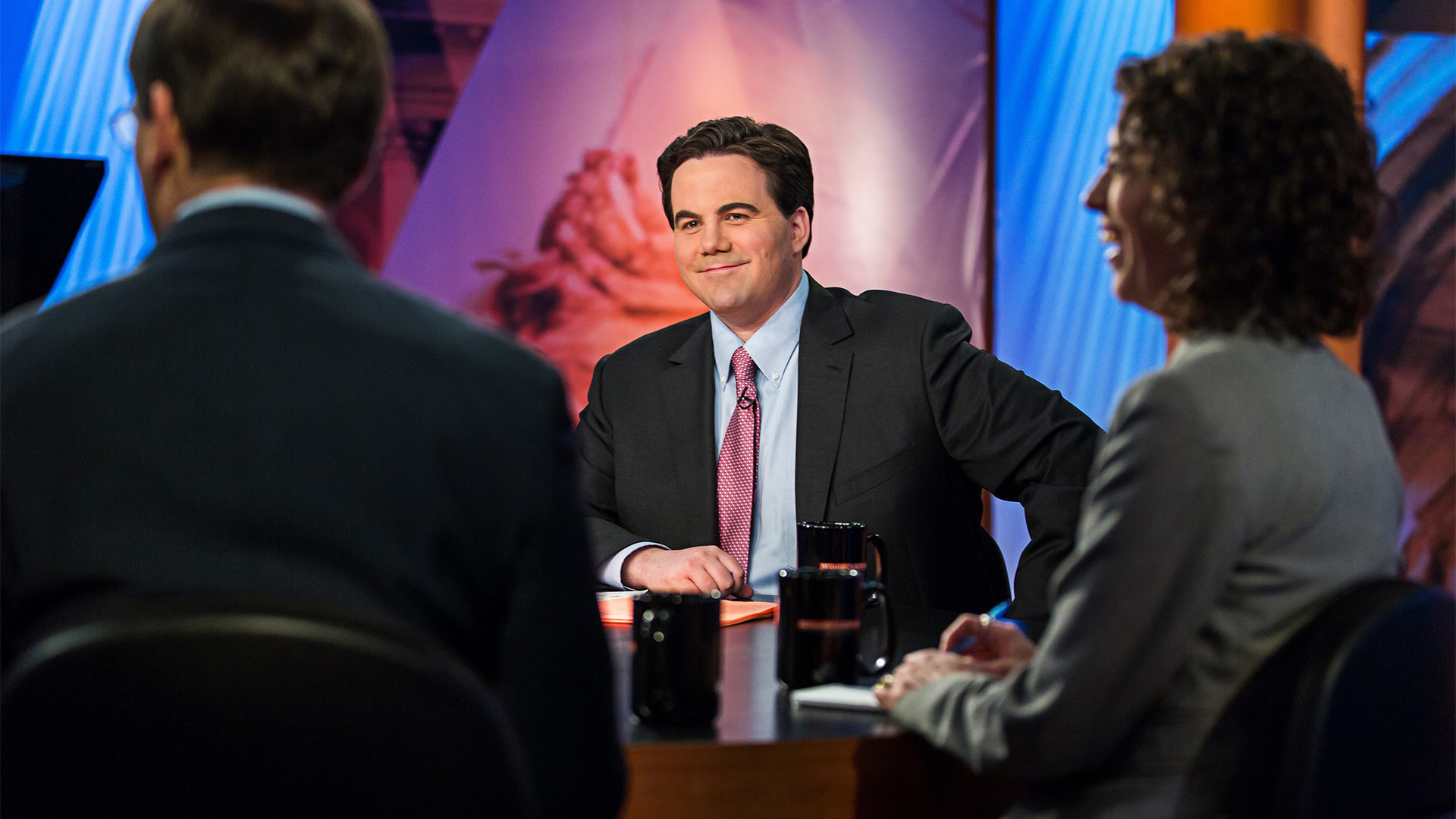 Robert Costa, Moderator of Washington Week, on the set of the weekly news analysis series that airs Fridays at 8:00 p.m. on PBS 6.
Scott Suchman
WETA President and Chief Executive Officer Sharon Percy Rockefeller announced recently that the selection of Washington Post political reporter Robert Costa as the new Moderator of Washington Week, the Peabody Award-winning weekly PBS news analysis series, which is produced by WETA. The previous Moderator of Washington Week was the distinguished journalist Gwen Ifill, who passed away in November 2016 and who served as moderator and managing editor since October 1999. Several guest moderators, including Costa, have filled in on a temporary basis since Ifill's passing.

Costa, 31, will retain his full-time position with The Washington Post, reporting daily on Congress and the White House. He officially joins Washington Week as Moderator beginning Friday, April 21, 2017. Costa will oversee the weekly roundtable discussion of journalists on the respected television program, which broadcasts live each Friday at 8 p.m. ET on PBS stations nationwide and on digital content platforms. In addition to his role moderating the roundtable discussion, Costa will file periodic social media reports during the week on behalf of Washington Week, expanding its digital footprint to keep pace with today's fast-paced news environment.

Costa will be the eighth moderator in Washington Week's 50-year history. His coverage of presidential campaigns and Capitol Hill has drawn widespread praise, and Costa brings to the program a deep understanding of today's changing political landscape. He has appeared as a panelist on Washington Week dating back to 2014, and more recently as a frequent guest moderator.

"We are delighted that Robert Costa is joining our WETA Washington Week team," said Rockefeller. "An enormously accomplished reporter and analyst, Bob's depth of reporting is part of our Washington Week tradition. The sense of urgency, curiosity and thoroughness that infuses his incisive work, and his enthusiasm for politics, well serves Washington Week, which is a Friday-night staple for public television viewers who value a deeply substantive discussion. His experience and his ongoing work with The Washington Post bring a unique perspective and wonderful energy."

"It is truly an honor and privilege to moderate a program with such a rich legacy, integrity and a commitment to providing viewers with informed analysis of the biggest stories. It is more important than ever for reporters to have a gathering place for non-partisan and lively conversations, and I am grateful to both WETA and The Post for their support," Costa said. "It's also deeply humbling to follow Gwen, who was a friend and mentor to me and so many journalists. Her spirit and love for Washington Week will guide us now and long into the future."

Costa will join Washington Week with nearly a decade of reporting experience. His reporting and writing during last year's election included closely covering Donald Trump's political ascent and following Sen. Bernie Sanders' campaign ahead of the California Democratic primary, among many other assignments. His congressional reporting has taken him throughout the country as well, focusing on both politics and policy and giving special attention to the challenges facing party leaders. Prior to joining The Washington Post in January 2014, Costa was a reporter and then Washington Editor for National Review, directing a team of reporters and where his reporting on the 2013 U.S. federal government shutdown earned acclaim.

Costa, who will continue to serve as a political analyst for NBC News and MSNBC, has appeared frequently on television in recent years, in particular on NBC's Meet the Press, MSNBC's Morning Joe and Hardball, and PBS' PBS NewsHour and Charlie Rose, where he once served as an intern.

"It is my pleasure to congratulate Robert as he takes on this important role," said Paula A. Kerger, President and CEO, PBS. "Washington Week has long been an important part of PBS' news and public affairs offerings, with its trusted journalism and informed discussion. We are happy that Robert will help ensure that the program's legacy continues."

"As an extraordinary political reporter and analyst, Robert Costa is a terrific choice to moderate Washington Week," said Patricia Harrison, President and CEO, Corporation for Public Broadcasting. "Costa's fresh perspective, political knowledge and media savvy will be appreciated by current and new viewers of Washington Week."

A native of Yardley, Pennsylvania, Costa earned a master's degree in 2009 from the University of Cambridge, where he studied Winston Churchill and was an active member of the Cambridge Union debating society. A year earlier, he earned a bachelor's degree in American Studies from the University of Notre Dame, where he is a member of the board of trustees and on the advisory committee of the John W. Gallivan Program in Journalism, Ethics, and Democracy.

The first Washington Week Moderator was John Davenport, public affairs director for WETA. His successors include Lincoln Furber, former CBS newscaster; Max Kampelman, prominent Washington, D.C. attorney; Robert MacNeil, eventual co-anchor of The MacNeil/Lehrer NewsHour; Paul Duke, veteran NBC journalist; Ken Bode, former NBC and CNN correspondent; and Gwen Ifill, who, as Chief Congressional and Political Correspondent for NBC News, had been a frequent Washington Week panelist since 1992, and who also became co-anchor and managing editor of PBS NewsHour.

Washington Week is known for its depth, balance and civil discourse. The program features a roundtable of journalists from print, broadcast and online news organizations who provide analysis of the week's major national news stories and their impact on the lives Americans. For 50 years — dating back to the premiere broadcast on February 23, 1967 — Washington Week has delivered the most interesting, informative and reporter-driven conversation of the week. It is the longest-running primetime news and analysis program on television and was recognized for its journalism excellence with a 2008 Peabody Award, among other honors.

Washington Week is a production of WETA Washington, D.C. Executive Producers are Jeff Bieber and Dalton Delan. The Series Producer is Alla Lora. The Multimedia Producer is Matt Loffman. Washington Week is currently carried by more than 90 percent of the 350 PBS stations around the country and reaches 97 percent of U.S. television households. Since 1975, the program has been carried by the American Forces Network to U.S. service personnel and civilians at U.S. Department of Defense locations around the world. Major funding for Washington Week is provided by The Boeing Company, Newman's Own Foundation, the Yuen Foundation, the Corporation for Public Broadcasting and PBS. For more information about Washington Week, visit pbs.org/washingtonweek
---
About WETA Washington, D.C.
WETA Washington, D.C., is one of the largest-producing stations of new content for public television in the United States. WETA productions and co-productions include PBS NewsHour, Washington Week, The Kennedy Center Mark Twain Prize, In Performance at the White House, The Library of Congress Gershwin Prize for Popular Song and documentaries by filmmaker Ken Burns and scholar Henry Louis Gates, Jr. The WETA studios and administrative offices are located in Arlington, Virginia. More information on WETA and its programs and services is available at weta.org.