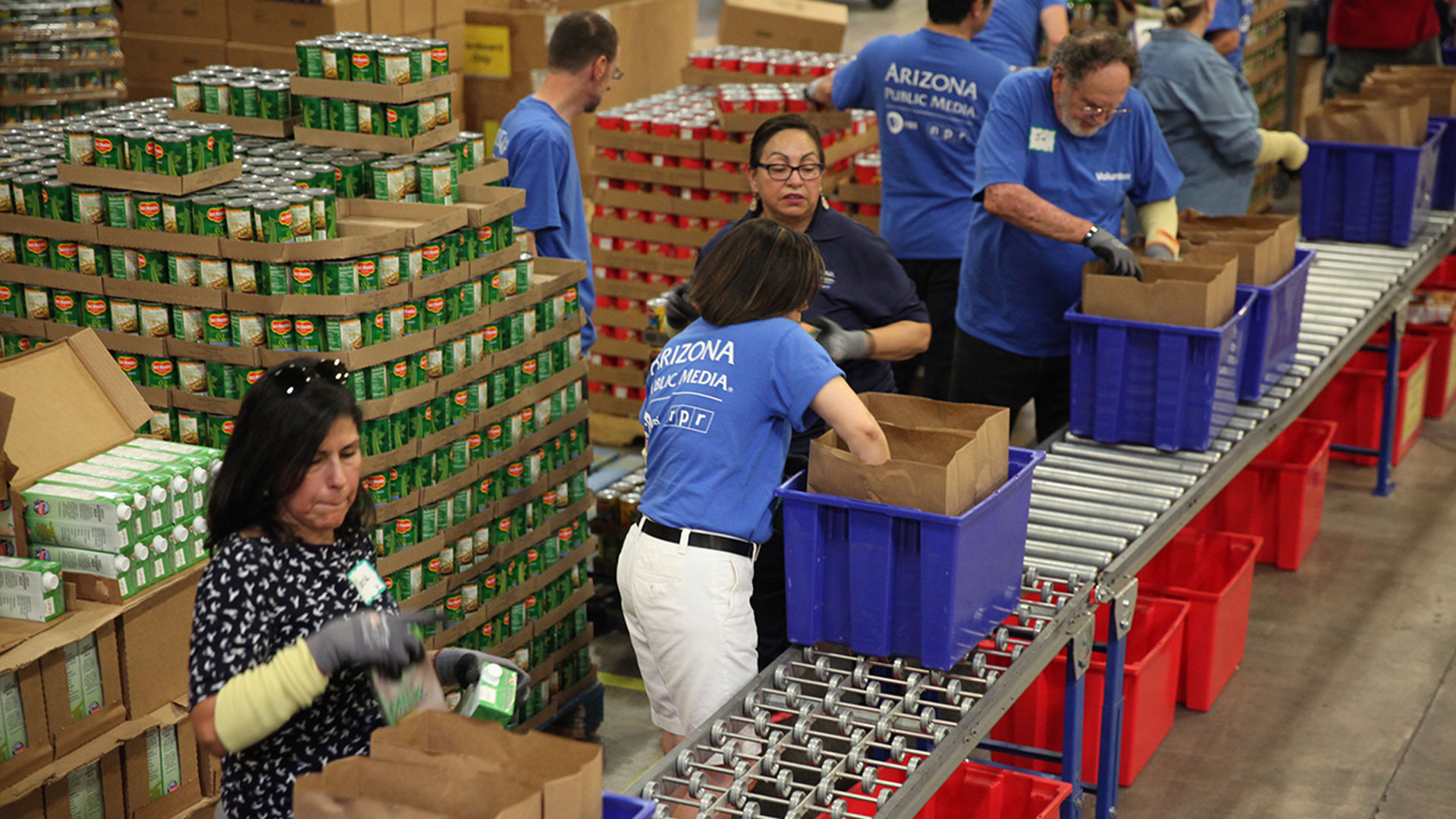 AZPM volunteer group at the Community Food Bank of Southern Arizona
AZPM
As we reflect on the past year, I am encouraged by the challenges we have overcome and the accomplishments that we have celebrated, all of which would not have been possible without your support. In the last 12 months, Arizona Public Media has launched two new public affairs programs, Arizona 360 on PBS 6 and The Buzz on NPR 89.1 FM, as well as a brand new series, Spotlight on the Arts, reflecting the current local arts scene. AZPM's new radio station, KUAS 88.9 FM in Sierra Vista, a project 11 years in the making, has extended our reach to audiences throughout southeastern Arizona. Plans to extend NPR service to listeners in Catalina and Saddlebrooke are nearing completion and should be implemented within the next few months. Overall, we have experienced growth and success in our radio endeavors. Our stations are streamed online more than 35,000 times a month and enjoyed by people all over the world, including as far away as Japan. Online radio page visits for NPR 89.1 is up nearly 43% year over year and just over 9.5% for Classical 90.5.
In 2018, AZPM staff were honored with 12 individual Emmy® Awards for five projects across five categories, and with seven regional Edward R. Murrow Awards for news reporting. Preceding the midterm elections, AZPM hosted three debates between candidates for Governor, Congressional District 2 and Congressional District 3. The Your Vote 2018 reporting from AZPM's award-winning news department provided audiences with ongoing, unbiased, informational, and in-depth political journalism. AZPM's online election coverage received more views than any previous year, including during the 2016 Presidential Election. AZPM.org received over 66,000 unique visitors, roughly 56% of whom were new users, with 232,465 pageviews during election week alone. Overall web traffic is up 13% over the previous year.
AZPM connected with the community through multiple public screenings and discussions to highlight various PBS programs, including Native America, Mayo Clinic: Faith, Hope, Science, Civilizations, and The Great American Read. AZPM staff members volunteered with local organizations including the Community Food Bank of Southern Arizona, Habitat for Humanity, Pima Animal Care Center, and Ronald McDonald House. During the #RedForEd movement earlier this year, AZPM was in the midst of the city-wide demonstration, broadcasting live on Facebook. Through one post AZPM reached the highest number of total engagements among public media pages nationwide on that day. Since then, AZPM has continued to elevate our presence among our followers on every social network. AZPM staff are driven to make an impact in Southern Arizona through corporate social responsibility efforts and by providing insightful, educational, and thought-provoking content to our audiences.
People are also enjoying our programs through non-traditional platforms. AZPM Passport is a member benefit that allows you to stream your favorite PBS and AZPM shows any time on any device. Through targeted promotional efforts over the last few months, the number of logins on AZPM Passport is up 21% over last year with a 78% increase in watch time.
Combined television and radio campaigns have allowed us to compress the time spent fundraising on air and to reach a wider audience. The final membership campaign for 2018 is already underway and runs through December 7th (radio) and December 9th (television), with a combined goal of attracting 2,850 members. For more about how you can make your final year-end gift, please visit support.azpm.org.
Royal drama returns to PBS 6 in January with season three of MASTERPIECE: Victoria, starring Jenna Coleman as the young queen and Tom Hughes as her husband Prince Albert. Picking up in 1848, the latest installment of the series depicts a turbulent and uncertain time for both Europe and the monarchy. AZPM will host a free preview screening of the first hour of season three at the Green Valley Community Performance & Art Center on January 6th, in Saddlebrooke on January 7th, and at The Loft Cinema on January 8th. Tune in to PBS 6 on January 13th at 9 p.m. for the world-premiere broadcast.
Finally, I would like to take a moment to thank you for your continued support and wish you and your loved ones joyous celebrations this holiday season. From our AZPM family to yours, Happy Holidays.
Sincerely,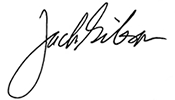 Jack Gibson
Chief Executive Officer