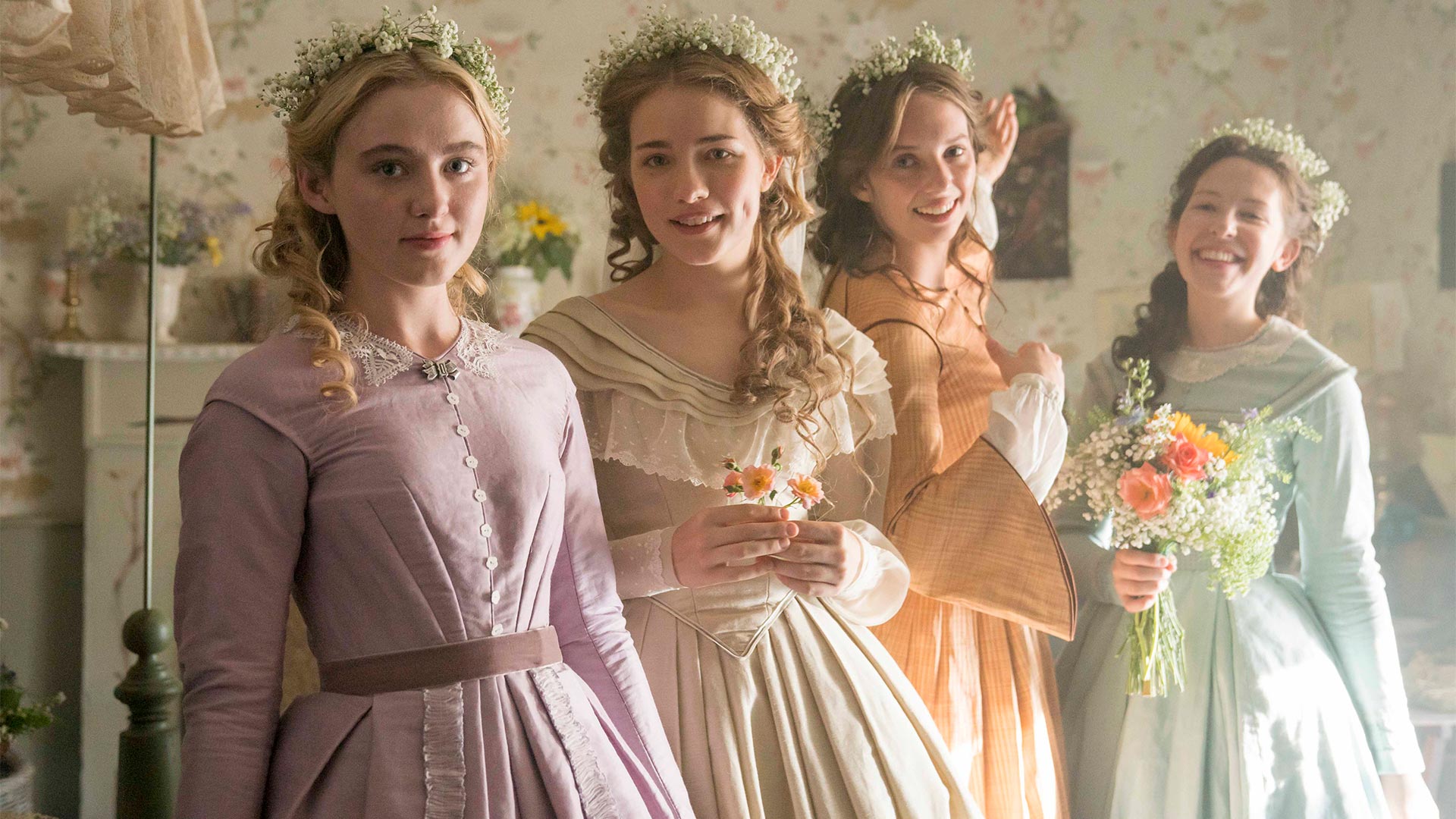 PBS presents the MASTERPIECE remake of Little Women. Shown (Left-Right): Kathryn Newton as Amy, Willa Fitzgerald as Meg, Maya Hawke as Jo, and Annes Elwy as Beth.
MASTERPIECE on PBS, BBC and Playground
Throughout March, AZPM celebrates Women's History Month by featuring an extensive lineup of special programming on PBS 6 and PBS 6 PLUS giving viewers the opportunity to explore the rich, vibrant heritage as well as the political, scientific, social and cultural contributions of women to society.
Women's History Month Programs
March 1-31, 2018
Television highlights include:
RED denotes "new" program.
Full schedules are available online. Schedule is subject to change.
List includes first air only. See schedule for repeats tv.azpm.org.


Changing Face of…The Queen
(PBS 6: Thursday, March 1 at 8pm)
For six decades, the face of Queen Elizabeth II has been the most familiar symbol of United Kingdom, appearing on British currency and at all major national events. Whether clad in tweed or the crown jewels, she's instantly recognizable as one of the most iconic women in the world. By examining the way the Queen's royal image and wardrobe have changed over the course of her life, the documentary THE CHANGING FACE OF... THE QUEEN tells the story of the royal family - and Great Britain itself - in the modern era.

Little Women: A Timeless Story
(PBS 6: Sunday, March 11th at 8pm)
Preview the upcoming MASTERPIECE remake of Little Women. As engaging today as in 1868, Louisa May Alcott's story follows sisters Jo (Maya Hawke), Meg (Willa Fitzgerald), Beth (Annes Elwy) and Amy (Kathryn Newton) who, together with Laurie (Jonah Hauer-King), journey to adulthood. The cast also includes Emily Watson, Angela Lansbury, Dylan Baker and Michael Gambon. Women Outward Bound
(PBS 6: Tuesday, March 27th at 12pm)
WOMEN OUTWARD BOUND profiles the first group of young women to participate in an Outward Bound survival school course in 1965, and chronicles their experiences in the wild. It also captures how one month in the woods taught them they could do more than they ever thought possible. During their experience, the young women forged a special bond, and at a reunion 47 years later, the group reminisce about the lessons they learned and the memories they made, with some surprising revelations. They didn't realize it at the time, but they were a part of changing the course of history. The documentary takes the viewer on a journey over many decades with rare archival footage, family home videos, photos and stunning aerial footage of the lush yet challenging Boundary Waters Canoe Area Wilderness. In the end, this film proves that girls could always handle the difficult challenges given by nature-they just needed to be given the chance. Independent Lens: Dolores
(PBS 6: Tuesday, March 27th at 8pm)
Meet the indomitable Dolores Huerta, who tirelessly led the fight for racial and labor justice alongside Cesar Chavez, becoming one of the most defiant - and unheralded - feminist activists of the 20th century. Mankiller
(PBS 6: Tuesday, March 27th at 10pm)
Learn about the legacy of Wilma Mankiller, who overcame sexism to emerge as the Cherokee Nation's first woman Principal Chief. Through archival footage and interviews, Mankiller examines the life of one of the country's most important woman leaders. Balancing the Scales
(PBS 6 PLUS: Wednesday, March 7th at 12pm)
BALANCING THE SCALES provides an insightful look at the story of female lawyers in America. The film chronicles pioneering attorneys, including twins Ruby and Ruth Crawford (who first began practicing law in the 1940s), as well as contemporary stories detailing the challenges that women in the legal profession still face today. Also explores the persistent cultural bias that childcare is primarily a woman's role and societal views about the value of caregiving vs. the value of professional careers. Media Coverage and Female Athletes
(PBS 6 PLUS: Wednesday, March 7th at 1pm)
Forty percent of all sports participants are female, yet women's sports receive only 4% of all sport media coverage and female athletes are much more likely than male athletes to be portrayed in sexually provocative poses. To highlight why this matters and address these disparities, the Tucker Center for Research on Girls & Women in Sport at the University of Minnesota, in partnership with Twin Cities PBS, have produced a groundbreaking documentary that uses research-based information to examine the amount and type of coverage given to female athletes. Apache 8 (PBS 6 PLUS: Monday, March 19th at 1pm)
For 30 years, the all-female Apache 8 unit has protected their reservation from fire and also responded to wildfires around the nation. This is the compelling story of that wildland firefighter crew from the White Mountain Apache Tribe.

Extraordinary Women (series)
(PBS 6: March 19th, 20th, 21st, 22nd, and 23rd at 12pm)
Iconic women of the 20th century including Hedy Lamarr, Audrey Hepburn, Amelia Earhart, Dr, Ruth Westheimer and Maria Montessori are profiled.


PBS 6 (KUAT 6.1 & 27.1)

Changing Face of…The Queen Mar 1st at 8pm
Little Women: A Timeless Story Mar 11th at 8pm
Extraordinary Women: Hedy Lamarr Mar 19th at 12pm
Vera Season 6 Mar 19th & 20th at 1pm – 4pm
Extraordinary Women: Audrey Hepburn Mar 20th at 12pm
Extraordinary Women: Amelia Earhart Mar 21st at 12pm
Extraordinary Women: Dr Ruth Westheimer Mar 22nd at 12pm
Extraordinary Women: Maria Montessori Mar 23rd at 12pm
Call the Midwife Season 6 Mar 24th & 25th at 1pm – 6pm
Call the Midwife, Season 7 Mar 25th at 8pm – 10pm
Dark Angel on MASTERPIECE Mar 25th at 10pm
Julia Robinson and Hilbert's Tenth Problem Mar 26th at 12pm
Women Outward Bound Mar 27th at 12pm Independent Lens: Dolores Mar 27th at 8pm Mankiller Mar 27th at 10pm
Julia Child: American Masters Mar 28th at 12pm
Tale of Two Sisters Mar 28th at 1pm
Alice Waters: American Masters Mar 29th at 12pm
Carol King: American Masters Mar 30th at 12pm

PBS 6 PLUS (KUAT 6.3 & 27.3)

Raising Ms. President Mar 1st at 1pm
Girls' Life Mar 1st at 2pm
Anne Morrow Lindbergh: You'll Have the Sky Mar 2nd at 230pm
Pollyanna Mar 2nd at 6pm
Makers: Women in Hollywood Mar 3rd at 10pm
Mary Tyler Moore: A Celebration Mar 5th at 2pm
Powder & The Glory Mar 6th at 1pm
No Going Back Mar 6th at 230pm
Balancing the Scales Mar 7th at 12pm
Media Coverage and Female Athletes Mar 7th at 1pm
It's All in the Game: The Leta Andrews Story Mar 7th at 2pm
Alice Waters: American Masters Mar 8th at 9am
Georgia O'Keeffe: A Woman on Paper Mar 9th at 2pm
In Her Power Mar 9th at 230pm
Makers: Women in Comedy Mar 12th at 12pm
Amazing Grace Mar 12th at 330pm
Call the Midwife Season 4 Mar 12th – 15th at 6pm – 8pm
Call the Midwife Holiday Special 2015 Mar 16th at 6pm
Makers: Women in Space Mar 19th at 12pm
Apache 8 Mar 19th at 1pm
Call the Midwife Season 5 Mar 19th at 6pm – 8pm
Julia Child: American Masters Mar 22nd at 9am
Call the Midwife Holiday Special 2016 Mar 23rd at 6pm
Women's List: American Masters Mar 25th at 2pm
Makers: Women in Politics Mar 26th at 12pm
Women of '69, Unboxed Mar 26th at 1pm
War Zone/Comfort Zone Mar 28th at 12pm
Mankiller Mar 31st at 1pm
POV: Iris Mar 31st at 3pm
Arizona Illustrated: The Architect, Judith Chafee Mar 31st at 430pm