'Not Broken' is an original production from Arizona Public Media about youth living with mental health challenges.
AZPM
Fall has officially arrived in Tucson and along with cooler temperatures comes a sizzling lineup of new and returning programs on AZPM stations. As we bid a fond farewell to two popular MASTERPIECE series, Poldark and The Durrells in Corfu, we look forward to several October premieres.

One year after Jamal Khashoggi's murder, FRONTLINE's season premiere investigates "The Crown Prince of Saudi Arabia." Tune in or stream starting October 1st at 10 p.m. An all new season of NATURE begins on Wednesday October 2nd with "Octopus: Making Contact." Follow an Alaskan professor as he raises and studies a day octopus in his home, making remarkable discoveries about its extraordinary intelligence, personality and skills. Stay tuned after that for the first of the three-part natural history series Wild Metropolis to discover the extraordinary animals adapting to life in the world's most loved cities, and witness the remarkable ways they meet the challenges of surviving in the newest habitat on the planet.
Beginning Sunday, October 6th, classical music fans can enjoy a new series of weekly Community Concerts featuring the Arizona Friends of Chamber Music on Classical 90.5 FM. The program airs Sundays at 3 p.m. with an encore presentation Thursday nights at 9 p.m. View the full schedule or stream Classical 90.5 FM live from radio.azpm.org/classical. Also on October 6th, Press, the newest series from MASTERPIECE, premieres at 10 p.m. Set in the world of newspapers in London, this razor-sharp and observant contemporary drama explores the current turbulent media landscape and the ethical dilemmas that journalists and editors face each day. Tune in weekly to PBS 6 or binge the entire series on AZPM Passport starting the night of its premiere.
And starting October 7th at 10 p.m. on PBS 6 we premiere a new series, Retro Report, featuring journalists Celeste Headlee and Masud Olufani, who connect the present to the past through four distinct and varied stories. New Yorker humorist Andy Borowitz adds his signature wit.
On October 10th, AZPM will present its original one-hour documentary NOT BROKEN to a University of Arizona audience. Not Broken is a candid yet hopeful documentary about seven young people living with mental illness. Some are youth of color, some identify as LGBTQ, some have survived sexual abuse, poverty, bullying— and all are fighting to live their dreams despite their mental health challenges. The free screening at the University of Arizona's Gallagher Theater will include a panel discussion with participants featured in the film. The screening begins at 6:30 p.m. with a panel discussion at 7:30 p.m. More information about this special presentation is available on the AZPM event page.
Later this month we hope you will enjoy a star-studded concert that includes Garth Brooks, Parliament Funkadelic, and Dionne Warwick in GREAT PERFORMANCES: GRAMMY Salute to Music Legends, October 18th at 9 p.m. on PBS 6. For previews and a complete schedule of television programming, please visit tv.azpm.org.
Three original AZPM documentary projects are currently in production and scheduled for completion later this year. Wild Arizona takes a closer look at the balance between the species in the Arizona desert, while The Arizonans profiles influential and instrumental individuals who have helped shape the history of our state. And early next year, a special 60th Anniversary feature-length documentary highlighting AZPM's six decades of service to the Tucson community will premiere.
And finally, Arizona Public Media has partnered with Tucson Lifestyle magazine on a cross-promotional campaign that will allow eligible AZPM members to receive a complimentary 1-year subscription to the magazine beginning in January. The completely redesigned, bolder Tucson Lifestyle celebrates the people, culture, events, homes, gardens, activities, food, and businesses that make living in Tucson unique and fulfilling. With lush photography, compelling stories, informative listings, and targeted special-interest sections, the new publication dives into all things that make us love where we live. For more information about this special offer, visit azpm.org/tucsonlifestyle.
AZPM's growth and continued impact are only possible because of your support. Thank you.
Sincerely,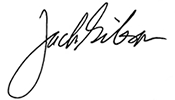 Jack Gibson
Chief Executive Officer