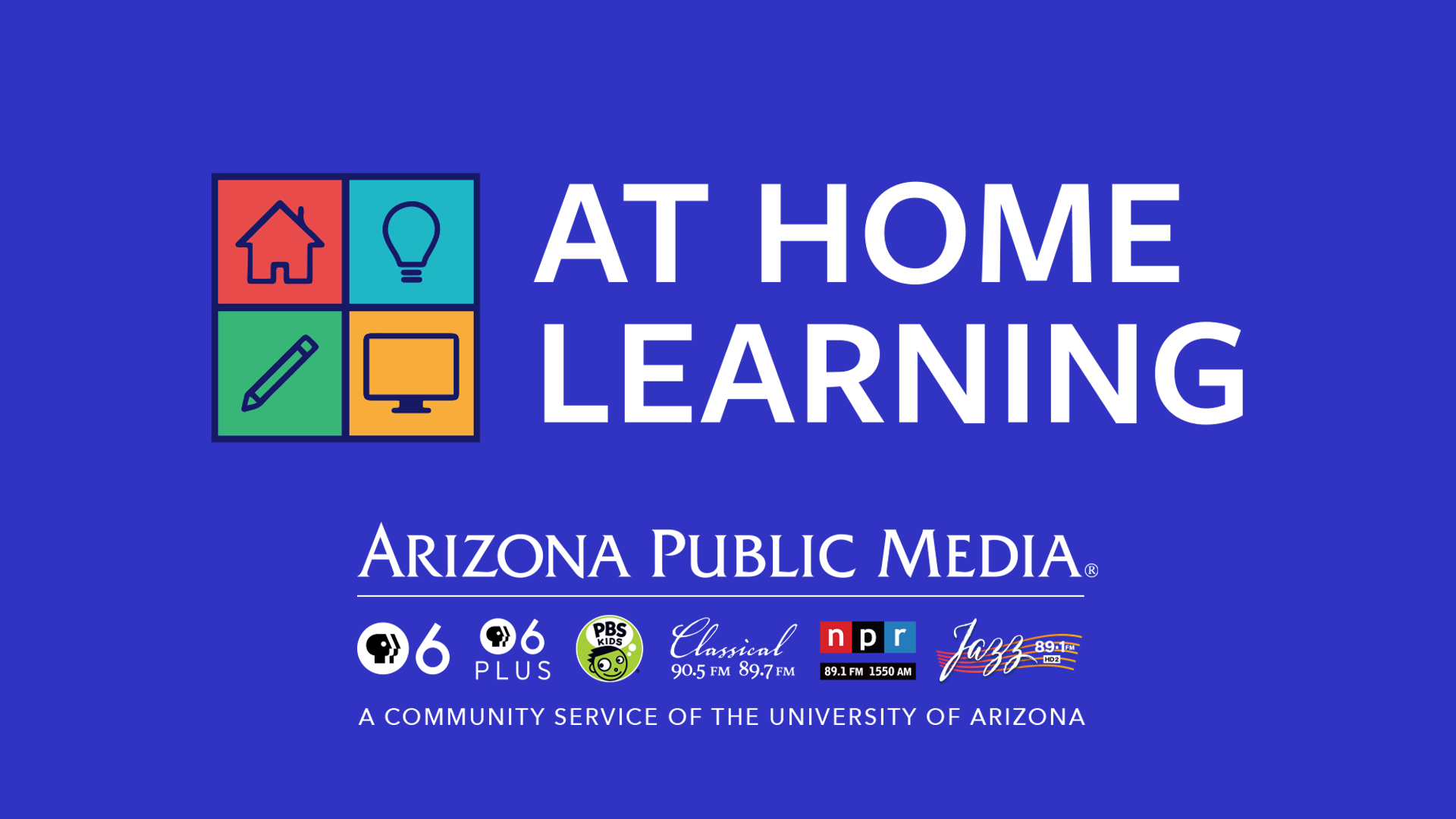 AZPM's At Home Learning initiative will provide free at-home curriculum and daily programming for PreK through grade 12.
As the nation prepares for the beginning of a new school year unlike any other, Arizona Public Media is helping support educators, parents, and caregivers with a variety of free, high-quality, accessible educational media resources. Through PBS KIDS 24/7 (for young learners ages 2-8) and on PBS 6 PLUS (for learners grades 6-12), AZPM will feature broadcast programming linked to at-home learning resources that can be used by educators to supplement distance learning plans, or by parents to provide added enrichment and support for children's educational needs.
PBS KIDS 24/7 offers anytime access to more than twenty series aligned to curriculum goals, from science and math to literacy and life lessons for children ages 2-8. Programs are available over the air on channels 6.2, 27.2, Cox 80, Comcast 395, and live-streamed on the PBS KIDS Video app and pbskids.org. Related parent and teacher resources are also available (see below).
PBS 6 PLUS offers programs on math, science, social studies, and English language arts, curated by educators, and aligned to related digital resources on PBS LearningMedia. Programming targeted at grades 6-12 will air from 12-5 p.m. weekdays over the air on channels 6.3, 27.3, Cox 82, Comcast 396.
PBS LearningMedia: Educators can find at-home learning resources connected to current broadcast programming, professional learning support, lesson planning kits, and more in the PreK-12 Resources for New School Routines collection, which will continue to be updated in the coming weeks. Educator resources in Spanish are also available.
Full episodes, clips, games, and more educational tools for kids ages 2-8 are available at pbskids.org & PBS KIDS Video App.
PBS KIDS for Parents: Parents can find tips, resources, printables, an Activity Finder, and more tools for learning at home with young children, including a special virtual event: Prepping for a Very Different School Year
NEWSLETTERS AZPM Classroom: Provides educational highlights for southern Arizona educators and families, featuring professional development opportunities, relevant educational resources from PBS LearningMedia, local educational content, and PBS Kids and Parents news.
PBS KIDS for Parents: Provides curated resources, including video content, digital games, DIY activities, and parent-directed information to support in-home learning.
---
About AZPM
  Arizona Public Media (AZPM) is an editorially independent, nonprofit public service of the University of Arizona (UA) and provides three television program services (PBS 6, PBS 6 Plus, and PBS Kids), four radio services (NPR 89.1, Classical 90.5, Jazz 98.1 HD2 and the BBC World Service) and a variety of online program offerings at azpm.org. AZPM is funded through the generous support of annual and sustaining members, the business community through program underwriting, fee-for-service production activities, the Corporation for Public Broadcasting, and direct and in-kind support from UA.

  Arizona Public Media® and AZPM® are registered trademarks of the Arizona Board of Regents, which holds the FCC broadcast licenses for all AZPM stations, for the benefit of the University of Arizona. More information about AZPM, including program schedules and Video-on-Demand offerings, can be found online at azpm.org.