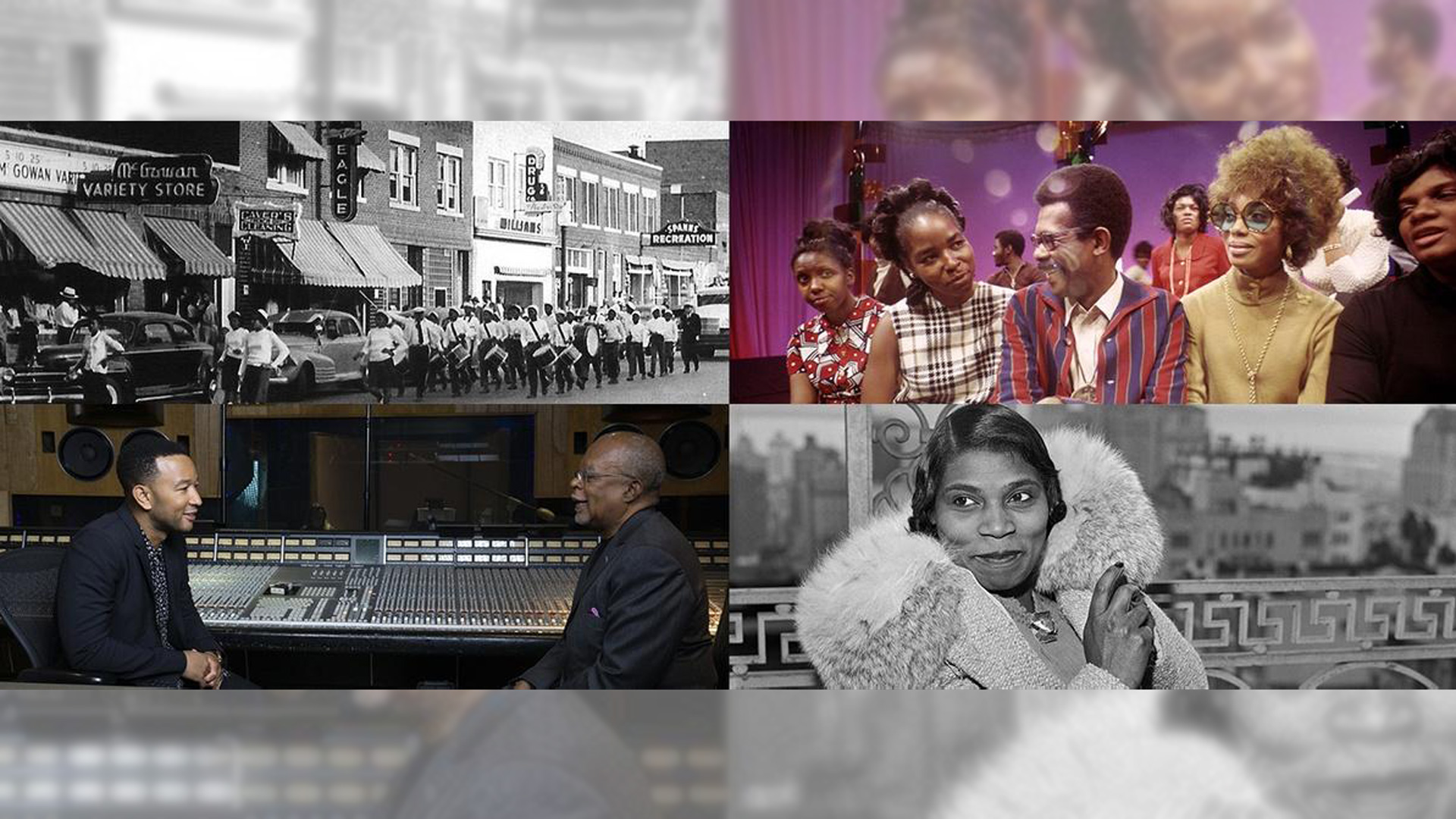 The programs featured above are, clockwise from top left: AMERICAN EXPERIENCE "Goin' Back to T-Town" (Courtesy of Greenwood Cultural Center); INDEPENDENT LENS "Mr. Soul!" (Courtesy of Alex Harsley); AMERICAN EXPERIENCE "Voice of Freedom" (Courtesy of From Original Negative / Alamy Stock Photo); and THE BLACK CHURCH: THIS IS OUR STORY, THIS IS OUR SONG (Courtesy of McGee Media).
This month and throughout the year, PBS presents new programming to commemorate and celebrate African American achievement through powerful documentaries and thought-provoking specials designed to inspire and represent the full range of the American experience.
Tuesday, February 16 and Wednesday, February 17 at 9:00 p.m. on PBS 6, the premiere an intimate series, THE BLACK CHURCH: THIS IS OUR STORY, THIS IS OUR SONG, from executive producer, host and writer Professor Henry Louis Gates, Jr. Featuring interviews from Oprah Winfrey, John Legend, Jennifer Hudson and Bishop Michael Curry, this moving two-part series examines the role of the Church as the site of African American organizing, resilience, autonomy, freedom and solidarity, and uses song to highlight the beliefs and actions that drew African Americans from the violent margins of society to the front lines of change.
On Monday, February 22 at 10 p.m. on PBS 6, audiences will travel back in time to 1968 with "Mr. SOUL!", a vibrant documentary from INDEPENDENT LENS that chronicles the public television variety show "SOUL!" The film takes a close look at developer and host Ellis Haizlip and the show that celebrated all facets of Black culture and earned critical praise and public support as one of the first platforms to expand the image of African Americans on television.
In addition, PBS will offer new programming examining the fundamental questions of race, segregation and the American spirit. On Monday, February 15 at 9 p.m. on PBS 6, explore the fascinating life of Marian Anderson, the celebrated singer who triumphed at the Lincoln Memorial after being barred from performing at Constitution Hall because she was Black, in AMERICAN EXPERIENCE "Voice of Freedom." In FINDING YOUR ROOTS "Write My Name in the Book of Life," airing Tuesday, February 16, at 8 p.m. on PBS 6, Professor Henry Louis Gates, Jr. helps musician Pharrell Williams and filmmaker Kasi Lemons uncover extraordinarily rare first-person accounts of their enslaved ancestors.
SAY IT LOUD, from PBS Digital Studios, will also return for a second season this February. Hosted byEvelyn Ngugi of "Evelyn from the Internets," SAY IT LOUD explores the complexity of the Black experience and finds joy in the many ways Black Americans have influenced American life. The show gives viewers a comedic take on everything from identity and pop culture to Black pride movements and Black Twitter. Also premiering from PBS Digital Studios in February are new episodes from music education series SOUND FIELD, delving into the life of Nigerian musician and activist, Fela Kuti, and "Redlining & Generational Wealth Gap (w.t.)," from the personal finance show TWO CENTS. PBS DIGITAL STUDIOS will also curate a Black History themed playlist featuring wide-ranging topics from some of its most popular series.
Available on the PBS website, a collection of videos that delve into race and racism in the United States, to educate audiences, as part of its commitment to tell every part of the story. This curated playlist seeks to add historical context on race, to reveal the impact of racism on Black Americans, and to educate Americans on how inequality permeates through society.
PBS Black History Month programming will be available for streaming on all station-branded PBS platforms, including PBS.org and the PBS Video app, available on iOS, Android, Roku, Apple TV, Amazon Fire TV and Chromecast. Station members will be able to view all episodes via AZPM Passport. A full schedule of television programming for the month is available on azpm.org.
Each Saturday and Sunday afternoon in February, NPR 89.1 will feature special Black History Month programming, pre-empting The Ted Radio Hour Saturdays at 1 p.m. and Rick Steves Sundays at 3 p.m. Saturday programs include SAY IT LOUD: Great Speeches on African-American Identity; THE INVENTION OF RACE: The Long History of Racial and Racist Ideas; STAGE OF SEIGE: Mississippi Whites and the Civil Rights Movement; and W.E.B DUBOIS from Philosophy Talk. Sunday programs include WITNESS: BLACK HISTORY MONTH (BBC); HOMEMADE STORIES: THE STRUGGLE IS REAL; CAN DO: STORIES OF BLACK VISIONARIES, SEEKERS, AND ENTREPRENEURS; and MUSIC OF THE CIVIL RIGHTS MOVEMENT. Tune in or stream these programs when they air on radio.azpm.org.
Airing on Classical 90.5 on Sunday, February 6 at 6 p.m., LANGSTON HUGHES: I TOO SING AMERICA: collaborations with composers and musicians, and on Sunday, February 13 at 6 p.m., LIFT EVERY VOICE: songs, stories, and interviews with today's Black artists and scholars. Full schedules for both NPR 89.1 and Classical 90.5 are available online.