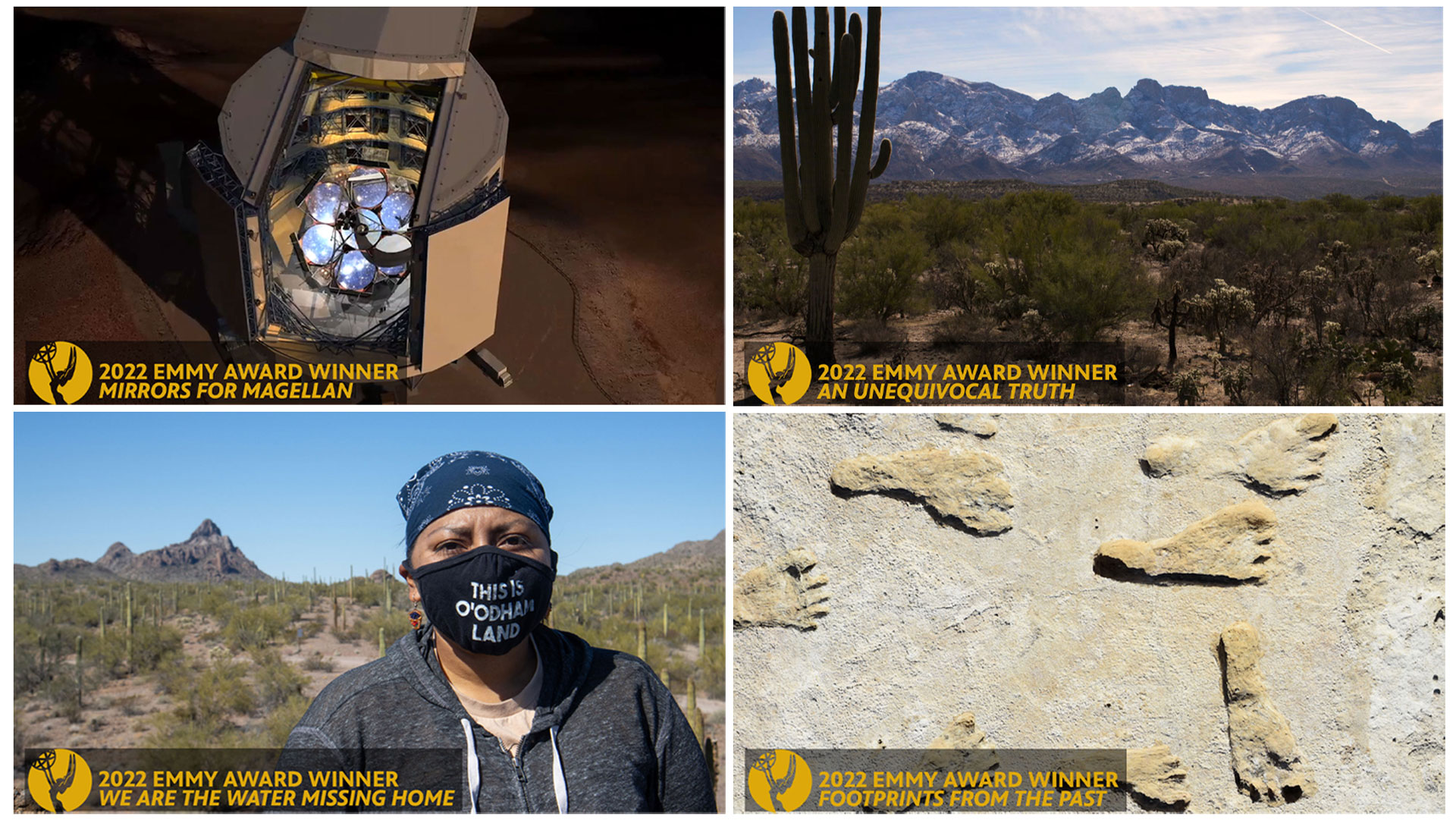 Arizona Public Media staff received 10 individual regional Emmy​​® Awards for four projects across four categories. Clockwise from top: Mirrors for Magellan, TECHNOLOGY CONTENT; An Unequivocal Truth, WEATHER CONTENT; Footprints From the Past, HISTORICAL/CULTURAL SHORT-FORM CONTENT; We Are the Water Missing Home, NEWS SERIOUS FEATURE SINGLE REPORT.
Dear Friends,
I am delighted to announce that AZPM was well-represented in the Rocky Mountain regional Emmy® awards ceremony in Phoenix on October 1. AZPM staff earned 10 individual awards for four projects across four categories, more than any other station in Tucson and more than any other public media broadcaster in Arizona. A list of the Emmy award-winning projects with links to view the winning segments appears at the end of this letter.
Ken Burns' The U.S. and the Holocaust, which aired September 18-21, is still available to stream with the PBS Video App. A Spanish language version is available here, and a wealth of educational resources for Arizona Grade 6-12 teachers is available on AZPM's PBS Learning Media page. The preview screening and panel discussions held September 6 at the Tucson Jewish Community Center and September 7 at the Community Performance and Art Center in Green Valley were exceptionally well-received. The panel discussions that followed each screening are available for viewing at community.azpm.org/holocaust.
As a particularly poignant follow-up to the broadcast, AZPM is recording the stories of local Holocaust survivors who are willing and able to talk about their experiences. Their stories will be archived on AZPM's website, shared with other area organizations, and incorporated into AZPM's Holocaust Remembrance Day programming beginning in January 2023.
AZPM News is your source of up-to-the-minute election coverage, including the broadcast of Your Vote 2022: The Arizona U.S. Senate Debate which will be broadcast live at 6 p.m. Thursday, October 6 on PBS 6 and NPR 89.1. On Fridays at 8:30 p.m. starting October 8 and leading into the midterm election, AZPM will present local election coverage, information about the candidates, and analysis of the issues hosted by award-winning journalist Liliana Soto, Assistant Professor of Practice at the University of Arizona School of Journalism, where she teaches broadcast classes and is also an assistant director for the school's Bilingual Journalism Program. Soto has more than a decade of experience in broadcast news with a specialization in bilingual investigative journalism, immigration, the U.S.-Mexico border, Latino issues, marginalized communities, and Mexican-centric Latin Culture. Soto worked as an enterprise/investigative journalist at ABC 15 News in Phoenix and was one of the founders of the Central Texas chapter of the National Association of Hispanic Journalists.
Also in progress are radio features that preview all statewide candidates, ballot questions, and local federal races (Congressional Districts 2, 6, and 7), as well as two special episodes of The Buzz that examine campaign finance and the newly drawn Southern Arizona congressional districts. Election night coverage will feature live radio and TV updates and detailed stories on AZPM's dedicated Your Vote 2022 webpage.
As part of its comprehensive election coverage, AZPM has launched a new podcast this month. Fact Check Arizona puts a public radio twist on your typical fact check. We'll start by looking at the accuracy of a statement, but we'll also bring you context, further analysis, and expert thoughts on what a particular statement tells us about a certain race for office or Arizona politics in general. Catch new episodes every Monday. Listen on iTunes, Apple Podcasts, Spotify, Stitcher, and NPR One, or on AZPM's Fact Check Arizona podcast page.
Southeastern Arizonans may notice a new voice on the air from AZPM's new Sierra Vista News Bureau, based on the campus of the University of Arizona/Sierra Vista. AZPM's embedded reporter, Summer Hom, will focus exclusively on Cochise County issues and events. The Sierra Vista News Bureau is a natural outgrowth of the improvements made to the radio broadcast signal via KUAS-FM 88.9, serving our Southeastern Arizona neighbors.
The latest documentary series by renowned scholar Dr. Henry Louis Gates, Jr., Making Black America: Through the Grapevine, premieres Tuesday, October 4, at 9 p.m. The new four-part series highlights the vibrant cultural and social spaces at the heart of the African American experience and recounts the establishment of the Prince Hall Masons in 1775 through the formation of all-Black towns and business districts, Historically Black Colleges and Universities, destinations for leisure, and the social media phenomenon of Black Twitter. Professor Gates sits with noted scholars, politicians, cultural leaders, and old friends to discuss this world behind the color line and what it looks like today. Making Black America takes viewers into an extraordinary world that defines Blackness in ways that transformed America itself. New episodes air Tuesdays at 9 p.m. through October 25.
In addition to providing on-demand viewing of current favorites like Annika and Guilt on MASTERPIECE, Van Der Valk, Miss Scarlet and the Duke, and Magpie Murders, AZPM Passport is adding some familiar favorites from the past. Revisit Reilly, Ace of Spies starting October 6, Rumpole of the Bailey starting October 20, and Lovejoy starting October 27. Other blasts from the past include Pie in the Sky, Antiques Road Trip, and The Mayor of Casterbridge. Whether these are old favorites or unfamiliar to you, there's always something new to discover on AZPM Passport.
Just as programming from NPR helps us understand the national and global issues that affect us all, AZPM's local radio programming helps to shine a light on life here in Southern Arizona. Mark McLemore, host of the popular weekly radio program Arizona Spotlight, has an uncanny knack for ferreting out the fascinating, the unusual, and the offbeat interests of the people who make Southern Arizona special. Through conversations with people who make headlines as well as people who shun headlines, Arizona Spotlight never fails to draw attention to the most interesting goings-on in Tucson and around the state. Listen on NPR 89.1 Thursdays at 8:30 a.m. and 6 p.m., and Saturdays at 3 p.m., or subscribe to the podcast on iTunes, Apple Podcasts, Spotify, and NPR One so you never miss an episode. Also making its debut soon is Mark McLemore's new podcast Let's All Go to the Lobby. Movie buffs won't want to miss four devoted movie lovers talking about films from any time and anywhere. Watch for it wherever you get your podcasts.
Classical 90.5 honors the 150th anniversary of the birth of English composer Ralph Vaughan Williams on October 12 with an all-day marathon of his works in chronological order. Tune in early in the day to hear favorites like Fantasia on a Theme of Thomas Tallis (1910) and The Lark Ascending (1914); stay tuned throughout the day to hear infrequently heard later works such as the Concerto in F minor for Bass Tuba and Orchestra (1954) and ending with his Ninth Symphony composed in 1958, just a few months before his death at age 85.
And don't miss Classical 90.5's special Halloween-themed marathon on October 31, with a fantastic mix of the familiar and the less-familiar. Among the more unusual works is The Devil's Trill, a tour-de-force sonata for violin and continuo by Venetian Baroque composer Giuseppe Tartini, who dreamed that the devil stood at the foot of his bed playing a violin. Upon waking, Tartini desperately wrote down what he had heard in the dream but never felt he adequately captured the surpassing beauty, technical brilliance, and unearthly ferocity with which the devil had played. Nevertheless, The Devil's Trill remains one of the most challenging and beloved showpieces for the violin.
You are the reason that Arizona Public Media exists and the reason we are so proud to serve Southern Arizona with news, entertainment, and education. I am grateful for your ongoing support.
Sincerely,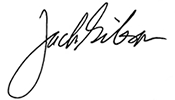 Jack Gibson
Chief Executive Officer


P.S. Please click on the links below to view AZPM's Emmy® award-winning projects.
NEWS SERIOUS FEATURE SINGLE REPORT
We Are the Water Missing Home
Andrew Brown
Alisa Reznick
Mya Long

HISTORICAL/CULTURAL SHORT-FORM CONTENT
Footprints From the Past
Bryan Nelson
John DeSoto

TECHNOLOGY CONTENT
Mirrors for Magellan
Bryan Nelson
Robert Lindberg

WEATHER CONTENT
An Unequivocal Truth
Bryan Nelson
Robert Lindberg
Mya Long