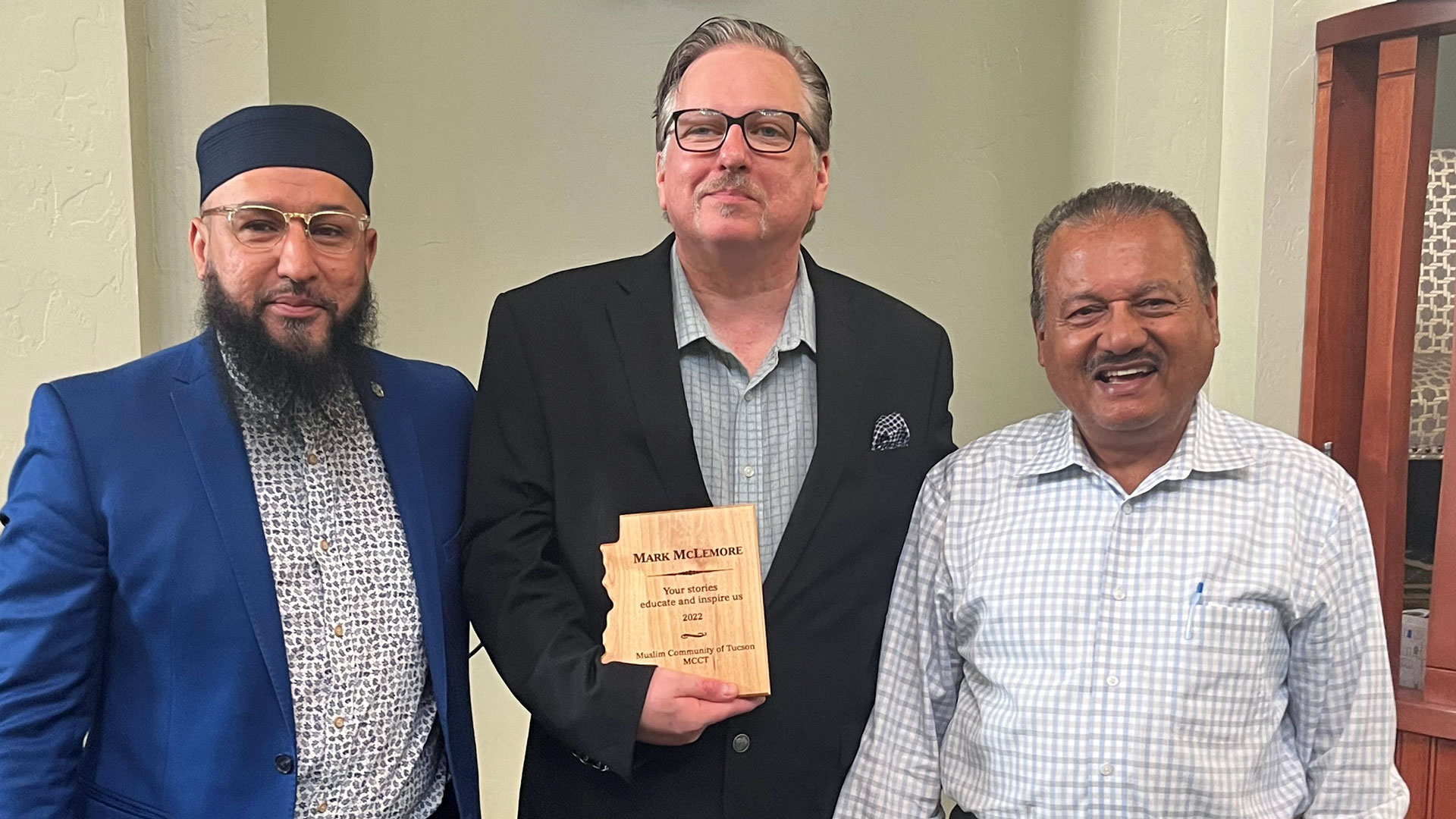 Left to Right: Imam Hassan Syed Ali, Mark McLemore, and Maqsood Ahmad at the Muslim Community Center of Tucson on July 1, 2022.
Mark McLemore, Arizona Public Media producer and host of Arizona Spotlight on NPR 89.1, was recently honored by the Muslim Community Center of Tucson as a Community Ally.
In a small assembly, last Friday, McLemore was recognized by the congregation for the inclusive and positive portrayals of Muslim traditions and culture in the stories he produces for AZPM.
"As a content creator for AZPM, I spend a lot of my time looking for and connecting with different voices in our community who may not get much exposure," said McLemore.
The MCCT accepts nominations for non-Muslim members of the community to be recognized for highlighting the Center's civic contributions, including MCCT's support for refugees arriving in Tucson, food and clothing drives, and interfaith communication. After working with McLemore to facilitate interviews for his show, MCCT member Maqsood Ahmad nominated him for the honor.
Some of the stories featured on Arizona Spotlight that contributed to this recognition include:
Arizona Spotlight features in-depth interviews with artists, authors, and people behind the headlines. It airs Thursdays at 8:30 a.m. and 6 p.m. on NPR 89.1. Stream every episode or subscribe wherever you get your podcasts. Explore more at radio.azpm.org/arizonaspotlight.

---
Arizona Public Media (AZPM) is an editorially independent, nonprofit public service of the University of Arizona (UA) and provides three television program services (PBS 6, PBS 6 Plus, and PBS Kids), four radio services (NPR 89.1, Classical 90.5, Jazz 89.1 HD2 and the BBC World Service) and a variety of online program offerings. AZPM is funded by the generous support of annual and sustaining members, the business community through program underwriting, fee-for-service production activities, the Corporation for Public Broadcasting, and direct and in-kind support from UA. Arizona Public Media® and AZPM® are registered trademarks of the Arizona Board of Regents, which holds the FCC broadcast licenses for all AZPM stations for the benefit of the University of Arizona. More information about AZPM, including program schedules and Video-on-Demand offerings, can be found online at azpm.org.