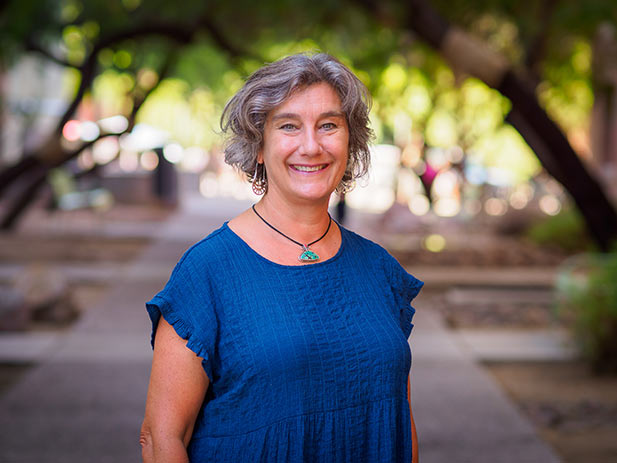 Hildy Ko
Arizona Public Media television program director Hildy Ko announced her retirement effective October 31. Ko has worked in public broadcasting for nearly 30 years.
Her career in television began at KING TV, the NBC affiliate in Seattle. After working as a chef, catering and restaurant manager, prenatal exercise instructor, web copywriter, consultant in the travel industry and a volunteer and tutor in the Seattle Public School System, she joined KCTS 9, the Seattle/Tacoma PBS affiliate where she worked in Marketing and Communications, Development, Traffic and Programming.
In 2016, Ko moved to Tucson to be the Television Program Director for AZPM. In her immediate purview was the transition of offsite master control to PMM. She also managed the selection of programs for broadcast and AZPM Passport, oversaw scheduling for PBS 6 and PBS 6+, linear livestreaming on YouTube TV, along with all related administrative functions. Early on she recognized the unique audience in southern Arizona and stressed the importance of localized programming.
She regularly assisted local and independent producers while serving on editorial committees for ITVS, POV, PBS, WNET, GBH, NHK, Pacific Islanders in Communications and Latino Public Television. She spearheaded AZPM becoming the presenting station for several regional productions including In the Americas with David Yetman, Wild Rivers with Tillie, The West is Burning, and Beyond the Mirage, in addition to AZPM originals like Passing On and Not Broken.
Throughout her time at AZPM, Ko played a significant role in the development of AZPM Passport, a member streaming benefit. She was instrumental in setting up a cross-departmental task force composed of staff from membership, marketing, IT, operations, engineering, and traffic focused on targeted messaging to educate donors about the service. Under her leadership, the task force has increased AZPM Passport streams by nearly 415% since 2018 with minutes watched exceeding 117 million in that same timeframe.
Ko has served on the American Public Television Premium Services Advisory Committee since 2016. She was elected to the Board of the Public Television Programming Association twice, once in 2012 – 2014, and again in 2016 – 2020. She served on the PBS Advisory Council from 2017 – 2021. She conferred on the POV Editorial Committee for seasons 24 – 26, and season 29, and has consulted on programming proposals from PBS, CPB, Latino Public Broadcasting, NHK, ITVS and with independent producers.
Ko has also become a familiar face at conferences and industry gatherings over the years, moderating and participating in panel discussions for PBS KIDS, PBS Passport, ITVS Open Call, Family Pictures USA, and panels focusing on increasing the distribution of DEI content.
Moving forward, AZPM has contracted The Programming Service for Public Television to manage the broadcast schedule for PBS 6 and PBS 6+.