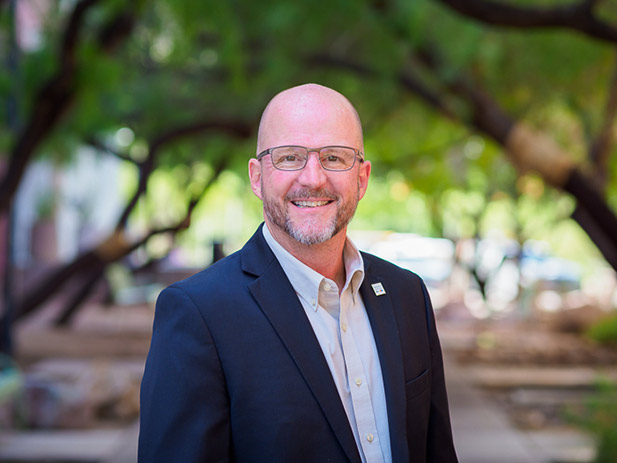 The Society of Motion Picture and Television Engineers (SMPTE) has announced AZPM Chief Technology Officer Ian MacSpadden will be among the honorees at its annual Awards Gala, at the conclusion of the 2023 SMPTE Media Technology Summit on October 19. This year, 17 honors will be bestowed upon 35 individuals and organizations.
"The SMPTE recognizes those behind the scenes whose work the public is often unaware of. Ian's ongoing contributions to media production and broadcast technology make it possible for AZPM audiences and beyond to seamlessly enjoy the best of public media," said Jack Gibson, AZPM Chief Executive Officer. "Additionally, his efforts to share decades of industry knowledge with colleagues and students ensures the future of broadcast for years to come."

MacSpadden's tireless efforts in assisting students and society peers , particularly for his work on the SMPTE Discord Server setup that enables more effective engagement with Student Chapters, earned him the Citation for Outstanding Service to the Society.
MacSpadden has held technology leadership roles in local, national and international television for three decades. For more than fifteen years he has been writing regularly for several professional and industry magazines. He has worked as a member of the board of editors for the SMPTE Journal and most recently joined the membership team, looking to help recruit the next generation into the SMPTE.
More information about the Gala and the 2023 Honorees, including full award citations, can be found on the SMPTE Media Technology Summit website at summit.smpte.org/2023/gala.
---
About SMPTE
SMPTE is the global society of media professionals, technologists and engineers working together to drive the industry forward. The Society fosters a diverse and engaged membership from both the technology and creative communities, delivering a vast number of educational offerings, technical conferences and exhibitions, informational blog posts, career-building networking, and the renowned SMPTE Motion Imaging Journal. For more information, visit smpte.org.


About AZPM
Arizona Public Media (AZPM) is an editorially independent, nonprofit community service of the University of Arizona and provides three television program services (PBS 6, PBS 6 Plus, and PBS Kids), four radio services (NPR 89.1, Classical 90.5, Jazz 89.1 HD2, and the BBC World Service) and a variety of online program offerings at azpm.org. AZPM is funded through the generous support of annual and sustaining members, the business community through program underwriting, fee-for-service production activities, the Corporation for Public Broadcasting, and direct and in-kind support from the University of Arizona.

Arizona Public Media® and AZPM® are registered trademarks of the Arizona Board of Regents, which holds the FCC broadcast licenses for all AZPM stations, for the benefit of the University of Arizona. More information about AZPM, including program schedules and Video-on-Demand offerings, can be found online at azpm.org.