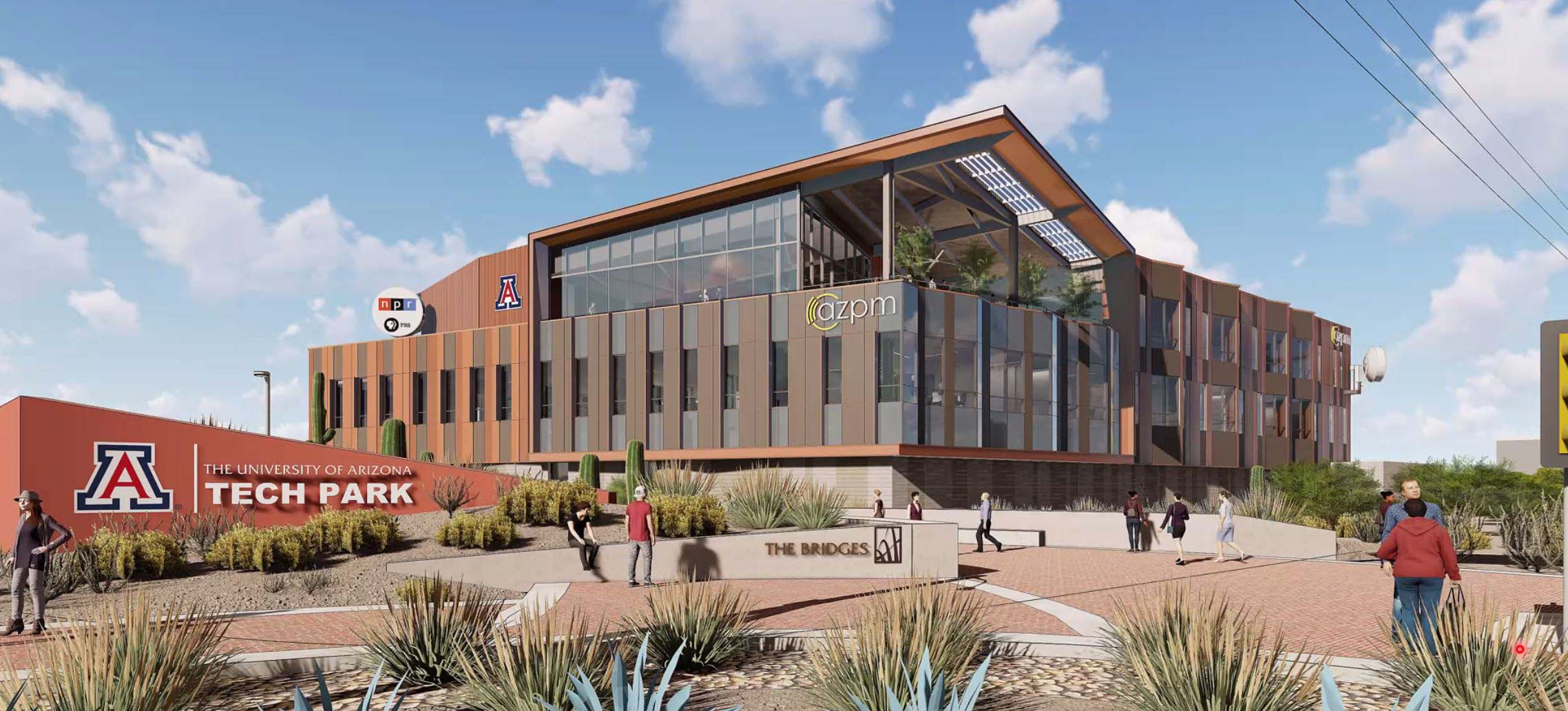 A rendering of the new 'Paul and Alice Baker Center for Public Media' at UArizona's Tech Park at the Bridges.
AZPM
Arizona Public Media (AZPM), Southern Arizona's most trusted resource for news, information, entertainment, educational public media programming, and community engagement, has introduced its visionary public media facility at the University of Arizona Tech Park at the Bridges. As a nonprofit service of the University of Arizona, AZPM has served public interest by providing high quality and editorially independent content for over six decades. Now, as the organization reaffirms its commitment to the community by constructing a new, transformative media hub, they are seeking the final funding needed to get the project over the finish line.
For more than 50 years, AZPM called the basement levels of the University of Arizona's Modern Languages Building home. Today, with three television services, four radio services, and a growing array of digital platforms, it has outgrown its humble beginnings. The new facility – Paul and Alice Baker Center for Public Media – represents not just a physical expansion but a promise to better serve the region.
Jack Gibson, AZPM Chief Executive Officer said, "With the region's needs at the forefront of all decisions, this building means better service, content and community engagement opportunities for Southern Arizona. We invite the community to join us in investing today to transform tomorrow through the 'Bridging Communities Capital Campaign'."
Designed as a public square, this state-of-the-art building will enhance accessibility and provide diverse opportunities for community collaboration. Beyond being a broadcast and media production facility, it will be a hub for public debates, presentations, live performances, tours, community events, and more.
Highlights of this project include a covered entry pavilion for gatherings, a welcoming lobby and reception area, an accessible Community Studio available for rental, radio production and podcast studios open for viewing, TV Studio A with impressive capabilities, and an Audio Performance Studio equipped for recording and live performances.
The 3rd-floor Digital Conference Center and Rooftop Deck promise meeting spaces for innovative community meetings, presentations, and breathtaking skyline views, all available for rental.
This future-ready facility at The Bridges, Tucson's newest and most innovative mixed-use development, is poised to elevate the public media experience for all Southern Arizonans, today and for generations to come.
To support this exciting project and be part of shaping Southern Arizona's future, visit azpm.org/capital.
---
Media Contact: Marielle Babb
mbabb@nupointmarketing.com