(VIDEO: AZPM)
Artists come in different forms, and reach out to their audiences' emotions through various styles of artwork. Painters splatter life onto canvases that are later hung at homes or renounced museums around the world. Then there are architects, whose mediums of expression come in a much larger scale: monuments and buildings.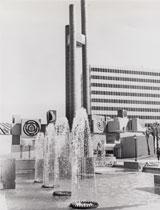 Charles Clement's piece, fountain at Presidio Park. Photo courtesy of Demion Clinco.
Art and architecture have always been intertwined, says Demion Clinco, president of the Tucson Historic Preservation Foundation. "Artists, for milleniums, have ornamented sacred spaces, and have decorated the places where we live and play."
Most prominently, during World War II, Clinco explains that a new vision for architecture and art emerged. Architects and artists began to collaborate more and more. Architects created the spaces, and painters would give them color inside and out. Together, they took this mode of expression to the next level.
In Tucson, a handful of artists began working with architects to develop new concepts that could be integrated into buildings. Charles Alfred Clement is one of these artists.
Clement was born in New York, and moved to Tucson in 1950 to settle down with his wife. Here, he established himself as a freelance artist. Clement worked as a muralist with both mosaics and ceramics, developed architectural sculpture, and painted and developed metal work, Clinco says.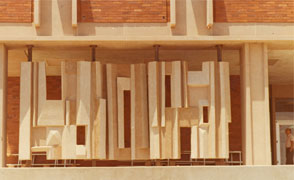 Charles Clement's piece at the University of Arizona. Photo courtesy of Demion Clinco.
"Clement collaborated with architects active in the post World War II era in Tucson," Clinco says. "Including: William Wilde, Cook & Swaim, etc."
His work can be found throughout the city in places, such as the University of Arizona's administration building where there is a fiberglass sculpted screen by Clement; a large cement mural near River Road and Campbell Avenue; Presidio Park; and a memorial in the Jewish quarter of the Evergreen Cemetery, which was one of Clement's last work prior to his death in 1981.
"This memorial serves a poignant reminder of (Clement's) art, and his contributions to the aesthetic beauty of Tucson in the mid-20th century," Clinco says.
The Tucson Historic Preservation Foundation is celebrating some of Tucson's best mid-20th century design and architecture, including the work of artists such as Clement, during Tucson Modernism Week, taking place Oct. 3-6.